46 Years Later, Memories of Abuse at Hands of Olm Priest Still Haunt
By Elizabeth McNamara
Patch
November 21, 2013

http://eastgreenwich.patch.com/groups/around-town/p/46-years-later-memories-of-sexual-abuse-at-hands-of-olm-priest-still-haunt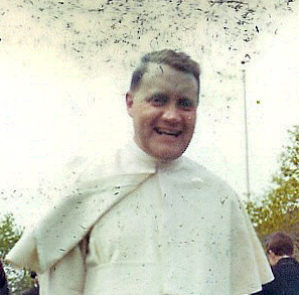 Fr. Brendan Smyth in the 1960s.



Two of those who spoke at a press conference in Providence Wednesday about sexual abuse in the Catholic clergy said they were abused while growing up in East Greenwich.

Helen McGonigle and Jeff Thomas, both of whom say they were abused by Fr. Brendan Smyth in the 1960s while he was at Our Lady of Mercy Church, were in Rhode Island to address the media following stories on NBC 10 detailing the Diocese of Providence notifications to the R.I. State Police about sexual abuse accusations.

Helen McGonigle lived on Dale Hill Drive from 1967 to 1973; she said she was abused by Smyth from 1967 to 1970. Jeffrey Thomas, who grew up next door to McGonigle, said he was abused in 1968.

Smyth was convicted of 141 cases of sexual assault in 1994 in Ireland and died in an Irish prison in 1997. His story is well known in Ireland and the U.K. but remains much less so here in Rhode Island.

McGonigle said she remains frustrated with the diocese's lack of transparency even now, nearly 50 years after Smyth was a priest in Rhode Island. The diocese has been sending abuse reports to the state police since 2003. Channel 10 obtained those police reports but there were no reports from McGonigle and Thomas, who contacted the diocese in 2006 and 2008 respectively.

Smyth came to Our Lady of Mercy in 1965, where he was an associate priest who taught religion classes, coached youth sports and headed scout groups. He returned to Ireland in 1968. It later came out, after Smyth was on trial for abuse in Ireland, that he was sent back to Ireland because of complaints about his behavior toward children.

"He seems dedicated enough to the young people, and in some cases too much," then Bishop Russell McVinney wrote to Smyth's abbot in Ireland in a letter dated Feb. 15, 1968. "So, we feel that for the good of the parish and the souls and for his own sake he should return to his Monastery."

McGonigle first met Smyth soon after her family moved into a house on Dale Hill Drive. He was invited over to bless the house in the summer of 1967. He made McGonigal feel special when they met at school that September by telling her to call him "Fr. Gerry," which was his nickname.

She recounts episodes of abuse taking place in empty classrooms and even her house over the next year and a half, after which Smyth was sent back to Ireland. While he spent some time in a mental hospital, he was allowed to return to Rhode Island on visits and later was assigned to a parish in North Dakota.

The feeling McGonigle got when she saw him on those return visits was, "he's not a safe person." But she said she didn't really know why. When her family moved to Connecticut in 1973, she "totally blocked out" the abuse.

Until 2005.

That was when her sister was suffering from depression and her father mentioned that her sister had learned to drink with Fr. Smyth. The news unlocked something in McGonigle.

"I didn't want to remember this," she said. "I went down this path to save my sister's life."

Unfortunately, her memories came too late for her sister, who died of an overdose in 2005.

McGonigle is certain her sister, who was five years older, was also abused by Smyth. She said she knows the identities of 12 people who were abused by Smyth in East Greenwich, but she suspects there are "dozens" more.

Thomas, a contractor in Massachusetts, said he only recalled his abuse at the hands of Smyth when his own son turned 7, the same age Thomas been when he was abused.

"There's no area of my life this hasn't touched," Thomas said. He said he suffers from anxiety and sleeplessness. While he has anger toward Smyth, Thomas has more anger toward the Catholic Church, in particular the Diocese of Providence.

"It's bad enough to have a pedofile priest," he said, "but what makes it so, so difficult for us survivors is the way the hierarchy of the church has handled it."

After allegations against Smyth surfaced in Ireland, media outlets contacted the Diocese of Providence to see if there were any abuse cases recorded here. The diocese said no, there were not. A headline from the East Greenwich Pendulum at the time read, "Diocese has no complaints against jailed priest."

To date, McGonigle and Thomas have not received an apology. They both have lawsuits pending against the diocese.

An apology wouldn't fix everything, said Thomas, but "it would be a step in the right direction."

A spokeswoman from the diocese said it does not release information about alleged sexual abuse to the press, but it does forward any allegations of abuse to the state police.

The Diocese of Providence issued this statement: "It has been a consistent policy and practice of the Diocese of Providence to report many different issues including those of clergy abuse of minors to law enforcement. The diocese is not aware of any priests currently in ministry, who have credible allegations of sexual abuse of minors against them."

McGonigle said talking about the abuse and speaking up for victims "is getting easier." Still, she said, "it does take it toll. This week coincides with my sister Kathy's birthday and I will never get over that loss. She too was victimized by Fr. Brendan Smyth (aka Fr. Gerry). It is also empowering to be able to speak publicly when I know others cannot."