Gallup Diocese Bankruptcy Raises Question of How Many More Victims There Are
By Olivier Uyttebrouck
The Abq Journal
December 14, 2013

http://www.abqjournal.com/320587/news/victim-lawyers-claim-chapter-11-is-about-hiding-information.html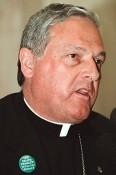 PELOTTE: Apologized to victims in Ariz. in 2005




Gallup Bishop Donald Pelotte drew a standing-room-only crowd in 2005 when he traveled to Winslow, Ariz., to apologize to the victims of sexual abuse by priests who pastored the town's two Catholic parishes.

Clerical sex abuse, Pelotte told a packed St. Joseph's Church, had caused human devastation comparable to Hurricane Katrina. Pelotte singled out two former Winslow priests, Clement Hageman and James Burns, whom he called among the "most abusive priests in the diocese," according to news reports.

Even as Pelotte, who has since died, made his apology in Winslow, the diocese was quietly signing legal settlements with people who alleged that, as children, they were sexually abused by priests.

At the time of Pelotte's apology, Burns was serving an 18-month prison sentence stemming from a 2004 Arizona conviction for sexually abusing a Winslow boy younger than 15 in the 1980s. Burns died in 2010.

And now Hageman is the focus of six of 13 lawsuits, all filed since August 2010 in Arizona Superior Court, alleging sexual abuse by six priests in the Diocese of Gallup from the 1950s to the 1980s. He died in 1975.

Those lawsuits, as well as the likelihood that additional suits would be filed "in the near future," prompted the Gallup diocese on Nov. 12 to file for Chapter 11 reorganization bankruptcy, according to court documents. It is the ninth U.S. diocese to file for bankruptcy in response to sexual abuse lawsuits.

The diocese says its bankruptcy action seeks an equitable way to deal with victims. A plaintiff's lawyer said the bankruptcy is an effort to conceal the extent of clerical sex abuse in the diocese.

The private settlements under negotiation at the time of Pelotte's apology involved no lawsuits or public records being filed – a factor that makes it difficult to determine the full extent of abuse in the diocese.

Bankruptcy court records filed by the diocese last month list 121 "confidential claimants" who have filed abuse claims against the diocese.

One victim told the Journal he believes there are 200 victims in Winslow alone. In fact, at least six priests have been convicted or accused in lawsuits of abusing children in Winslow.

Robert Pastor, a Phoenix attorney who filed the 13 lawsuits, says the true number of sex abuse victims in the diocese remains unknown.

"How many more are there?" he said. "That's part of the mystery of all of this."

A key job of attorneys in the bankruptcy will be to identify alleged victims of sex abuse who have potential claims against the diocese, he said.

The diocese's attorney, Susan Boswell of Tucson, said the claimants list "is a very broad list" that includes all alleged victims known to the diocese, including the 13 who filed lawsuits and those who have settled their claims.

Boswell said she does not know how many cases the diocese has settled, when the settlements were made, or how much the diocese has paid.

What is known is that, in addition to the 13 pending lawsuits filed by Pastor, three other lawsuits have been settled, at least a dozen complaints have been settled without lawsuits being filed and one attorney alone has an additional 18 confidential claimants who have yet to file lawsuits.

Bankruptcy impact

Gallup Bishop James Wall wrote in court records filed in U.S. Bankruptcy Court in Albuquerque that the diocese filed for bankruptcy to find an equitable way to distribute limited funds to all victims of sexual abuse.

The diocese today requires background checks on all adults working with minors, provides sex-abuse awareness training for anyone who works with youths and tells parishioners to report any allegations of abuse, he wrote.

The diocese also provides counseling and support services for anyone sexually abused by priests, Wall wrote. Assuring continued funding for those programs is a key reason the diocese filed for bankruptcy, he wrote.

But attorneys who represent alleged victims say they are running up against complications due to the bankruptcy filing: that the bankruptcy stops lawsuits from proceeding in state courts, halts the discovery process that allows attorneys to seek new information about clerical abuse and seals information about the case from public view.

"I can't depose anyone," said Pastor. "I can't get any more files on priests."

Pastor's first lawsuit, filed in 2010 by a Phoenix man who alleges he was sexually abused by Hageman in the early 1950s, had been scheduled for trial in February. The bankruptcy postpones that trial indefinitely, Pastor said.

Pastor said he took depositions Sept. 18 from Wall and a longtime priest in the diocese. An Arizona judge sealed the depositions but had scheduled a hearing to consider opening them to the public, Pastor said.

The bankruptcy "tied the judge's ability to rule on whether to open the depositions," he said. Diocese officials "don't want people to know what was said in those depositions."

"This bankruptcy is about hiding information," he said. "It is not about finances."

Boswell, the diocese's attorney, said the bankruptcy is intended to create an equitable process for resolving claims against the diocese.

She rejected Pastor's contention that the bankruptcy is intended to suppress information and suggested Pastor take his concerns to the bankruptcy judge rather than express them publicly.

Nor does the bankruptcy shield the diocese from financial responsibility for victims of sexual abuse, she said. Instead, the bankruptcy creates an equitable process for resolving claims by abuse victims.

"This is a very poor diocese," she said. It "simply does not have the resources outside the context of the Chapter 11 to deal with the claims on a one-by-one basis."

The 55,000-square-mile diocese consists of most of northwestern New Mexico and northeastern Arizona, including much of the Navajo reservation and several pueblos. Until 1969, the boundary extended as far west as Flagstaff, Ariz.

Future actions stalled

The bankruptcy also prevents additional lawsuits from proceeding against the diocese, said Richard Fass, a Houston attorney who represents alleged abuse victims.

It "stays all proceedings, and we must pursue our recovery within the bankruptcy court," he said.

Fass represents 18 confidential claimants, according to court records filed by the diocese. He said none of his clients has sued the diocese.

Nor is it likely that lawsuits can be filed after the conclusion of the bankruptcy, Fass said.

"This is not like a class action where you can opt out," he said. "The diocese is asking for the bankruptcy court to extinguish its debts upon the conclusion of the reorganization."

Boswell said that in other church bankruptcy cases, the court typically creates a fund to pay for future claims against the diocese. The judge also appoints a representative to advocate for claimants, she said.

Wall wrote in court records that the diocese has received reports of sexual abuse that have not resulted in lawsuits, either because the cases were settled or the claimants chose not to sue. Wall did not say how many claims have been reported.

Other allegations

In addition to the cases pending against the diocese, three unnamed Navajo men filed lawsuits in Navajo Nation District Court in 2007 and 2009 alleging they were sexually abused as teens in the early 1980s by Charles Cichanowicz, a former Franciscan priest, while he pastored St. Michael's parish in Window Rock, Ariz.

The three men settled for an undisclosed amount of money in 2012 under agreements with the Diocese of Gallup, Cichanowicz and his Franciscan order, said their attorney, Pat Noaker of Minnesota.

At the time the suits were filed, Cichanowicz was working as a substance abuse counselor for adolescents and adults in Indiana.

Cichanowicz could not be reached for comment. A clinic spokeswoman declined to comment about the case.

A settlement agreement required that Cichanowicz never again work with children, Noaker said in a phone interview.

"That was the most important thing to my clients," he said. "My clients were just wild-eyed about the fact that maybe he was going to be able to victimize more children in that role."

St. Michael's in Window Rock is the site of another alleged abuse.

An unnamed Gallup woman alleges that Brother Mark Shomack, also called Mark Schornack, sexually abused her as a girl younger than 15 while she attended school at St. Michaels in the early 1950s, according to one of Pastor's lawsuits.

Shomack, who died in 2012, was assigned to Arizona churches on the Navajo reservation for 20 years.

At least two of the six priests named in Pastor's lawsuits arrived at the Gallup diocese by way of the Servants of the Paraclete, a religious order that in 1947 opened a treatment facility for troubled priests in Jemez Springs.

The Servants of the Paraclete became notorious in the 1990s as a destination for pedophile priests. Many of those priests were later assigned to parish churches throughout the region, giving them access to additional victims. The Servants closed the compound in 1995 after dozens of lawsuits were filed against the religious order and the Archdiocese of Santa Fe.

Priests assigned to the Gallup diocese after stays in Jemez Springs are:

The Rev. John Sullivan – In two lawsuits, a Phoenix woman and a San Diego man, both unnamed, allege that Sullivan sexually assaulted them as children while they attended Madre de Dios parish, where he pastored from 1959-62. Sullivan also pastored Arizona parishes in Kingman, Cottonwood and Seligman. He died in 1999.
The Rev. William Allison – An unnamed Arizona man alleges that Allison sexually abused him as a child in the early 1960s at Our Lady of Guadalupe Church in Flagstaff, Ariz. Allison died in 1987. Allison arrived in Jemez Springs from a diocese in Louisiana around 1958 and was named pastor at Our Lady of Guadalupe in 1959.
In addition to Hageman, Burns and Sullivan, two other priests are alleged to have sexually abused children in Winslow, according to lawsuits. They are:


The Rev. Raul Sanchez – An unnamed Navajo County, Ariz., man alleges that Sanchez abused him while he served as an altar boy at Madre de Dios Church from 1972 to 1977. The diocese did not respond to requests for information about Sanchez' status or whereabouts.
Monsignor James Lindenmeyer – An unnamed Phoenix man alleges that Lindenmeyer abused him as a boy while he attended St. Joseph's Catholic School in Winslow. Lindenmeyer died in 2007. The suit doesn't indicate when the alleged abuse occurred.

Another scandal

Meanwhile, another crisis rocked the diocese in 2009 when church leaders found records showing that a priest in Cuba had faced criminal sexual abuse charges in 1983.

An Arizona grand jury indicted the Rev. John Boland in 1983 on felony charges for allegedly abusing a 14-year-old boy after providing him with liquor at Madre de Dios church in Winslow, where Boland pastored at the time.

A judge dismissed the felony charges in 1983 after Boland entered a negotiated guilty plea to a single misdemeanor count of contributing to the delinquency of a minor, court records show. He received a 16-month suspended sentence.

Boland later pastored at Immaculate Conception parish in Cuba from 2002 until he was placed on leave in February 2009.

Diocese of Phoenix Bishop Tomas J. Olmstead, who served as administrator of the Gallup diocese in 2009, put Boland on administrative leave and barred him from ministry at the Cuba parish. Boland is not named in any pending lawsuits. He lives today in his native Ireland, Pastor said.