Former Los Angeles Priest Pleads Guilty to Molestation in Texas
By Ashley Powers
Los Angeles Times
December 30, 2013

http://www.latimes.com/local/lanow/la-me-ln-john-salazar-priest-plea-deal-20131230,0,6310951.story#axzz2oxdYGmq9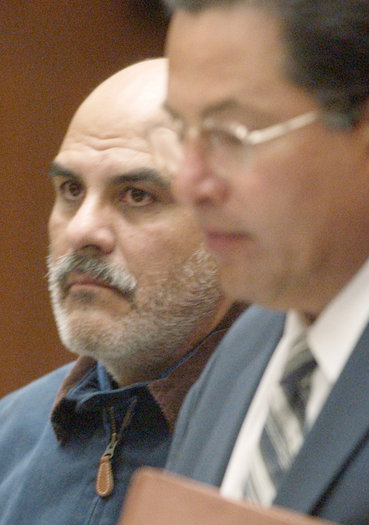 In this file photo, John Anthony Salazar, a former priest accused of sexually assaulting two boys in Los Angeles in the 1980s, appears with his attorney, Daniel Guerrero, right, in Superior Court in Los Angeles for his arraignment in 2003. (Nick Ut / Associated Press / June 30, 2003)



A former priest convicted twice of sex crimes in California and Texas pleaded guilty Monday to a molestation charge, Texas authorities said.

John Salazar, the subject of a front-page story in The Times, was sentenced to 10 years in prison, according to the office of the Swisher County attorney.

Salazar, 58, had been accused of abusing a young man who attended the Church of the Holy Spirit in Tulia, Texas, where Salazar served as pastor. Salazar's lawyer did not return a phone call seeking comment.

The case was the fourth time Salazar has faced a criminal charge.

Salazar was ordained in Los Angeles in 1984. Within three years, he pleaded guilty to abusing two teenage boys and was sent to prison.

Upon his release, he met Bishop Leroy Matthiesen, who took him to the Diocese of Amarillo over the objections of church officials in L.A. Salazar started at the Tulia parish in 1991 and became a beloved figure in the Texas Panhandle community.

In 2002, at the height of the nationwide clergy abuse scandal, Salazar was arrested on suspicion of abusing two boys in Los Angeles in the 1980s. Those charges were dropped when the U.S. Supreme Court struck down the California law used to prosecute decades-old sex abuse cases.

Not long after returning to Texas in 2003, Salazar was accused of sexually assaulting a former parishioner in a hotel room near Dallas. A jury found him guilty, but his conviction was later overturned. He took a plea deal and was released from prison last year.

Salazar is no longer a priest.