Judge Orders Archdiocese to Release Records
By Joseph Leahy and Maria Altman
St. Louis Public Radio
December 31, 2013

http://news.stlpublicradio.org/post/judge-orders-archdiocese-release-records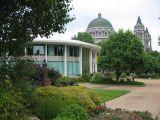 Archdiocese of St. Louis chancery



A judge is giving the Archdiocese of St. Louis until Friday to turn over documents requested in a sexual abuse case or face sanctions.

In a ruling Tuesday, St. Louis Circuit Court Judge Robert Dierker ordered the limited release of the names and locations of clergy proven, admitted or credibly accused of child sex abuse in the diocese.

The records, which will not be made public, pertain to a suit claiming the diocese intentionally failed to protect a young girl who was abused by formerly convicted priest Joseph Ross.

Ross was later defrocked by the Roman Catholic Church.

Dierkerís order is narrower in scope than what was originally requested by the prosecution six months ago, by excluding non-clergy records.

Yet David Clohessy, the director of the Survivors Network of those Abused by Priests, says the ruling is important because it is critical for victims to prove they were put in harmís way.

"Itís not enough just to say 'this priest molested this girl,'" Clohessy said. "The girl also has to prove that church officials knew he was dangerous, put him in her parish without warning anybody and did this kind of deceitful maneuver time and time and time again."

Dierkerís order also creates a special master to oversee the process of the disclosure of the documents.

The archdiocese must pay for that special master, as well as the attorney fees connected to discovery of the records.

In a statement a spokesman with the archdiocese said officials would review the court order.

The court trial for the case is scheduled for next month.