Cavan Priest Jailed for Abuse of Two Boys Aged Ten Years
By Paul Neilan
The Anglo-Celt
March 20, 2014

http://www.anglocelt.ie/news/courtreports/articles/2014/03/20/4020335-cavan-priest-jailed-for-abuse-of-two-boys-aged-ten-years/

There were anguished scenes in Cavan Circuit Court last week when two men drew courage from turmoil to confront their priest abuser and gave evidence of the horrific effects his abuse had on them.

The two men were aged just 10 years when Fr Gerry Kearns abused them both. The Cavan priest, now 73, pleaded guilty in the court to four indecent assaults on one and a single assault on the other male, almost 30 years after his offences.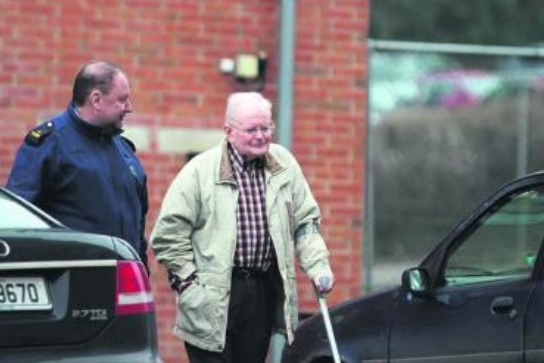 Fr Gerry Kearns is escorted from Cavan Circuit Court last week after being sentenced for indecent assaults on two males, then aged just 10.
The priest, who will serve jail-time for his fondling and molesting of the males at a location in the county, did not speak throughout the three-hour sentencing hearing in contrast to the muffled, tearful moans of the victim and relatives, who sat at opposite ends of the gallery.

Fr Kearns was not charged with rape and during the hearing denied giving the boys alcohol.

Though the victims had already made statements to gardai, which could have been read out to the court, they both made the agonising decision to speak of the harrowing after-effects.

"I lost all trust in everyone," one told the judge. "I felt low all the time, I never trusted anyone, I lost all trust and tried to do away with myself twice."

The victim recalled having his belt opened and his trousers taken down and of having his private parts rubbed, experiencing a "soreness" on his bottom and "staring at a spot on the wall" until the ordeal was over.

Fr Kearns' second victim also took the stand and said the assaults meant he "never had a childhood".

He said he suffered "blackouts", had "years of counselling", was "surrounded by guilt" and was beset by trust issues and burdened with "carrying secrets".

He recalled "going home [from school after sports] full of muck" because he couldn't face a shower and that because of the abuse he "couldn't love", "couldn't have relationships" and that, while he was at a stage in his life when he should, he had "no kids, no job... I've none of that".

"I've serious scars on me," he said, saying he was "just trying to find a way to live".

Judge Pauline Codd said the victims felt "degraded, isolated, powerless, sick, surrounded by guilt and had trust destroyed".

Fr Kearns was given given one year in jail for the offences - with the remainder of the sentence suspended - for "an abuse of trust and position" and said the effects of the assaults had severe consequences on his victims.

[]