Defrocked Priest James Janssen Says, "I'm Very Sick"
By Brian Wellner
Quad-City Times
May 2, 2014

http://qctimes.com/news/local/crime-and-courts/defrocked-priest-james-janssen-says-i-m-very-sick/article_a5c49447-bccd-53f7-ae4f-c2c0332b38a7.html

[James Janssen]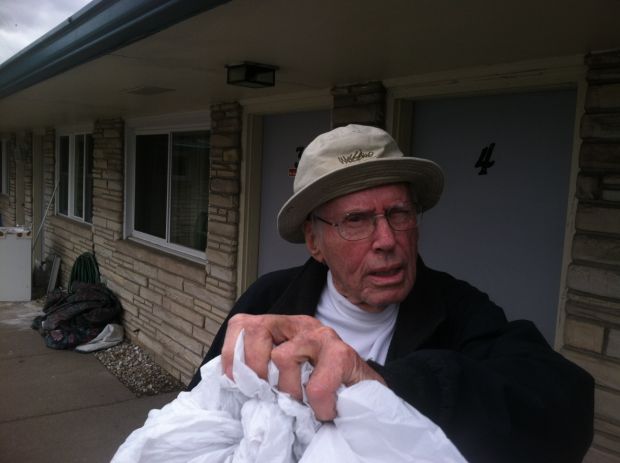 Defrocked priest James Janssen walks out of his apartment Friday at the City Center Motel, Bettendorf. He declined to talk about allegations of abuse in the Diocese of Joliet.



Documents claiming defrocked Davenport priest James Janssen molested an altar boy while serving a stint in the Roman Catholic Diocese of Joliet were released by a Chicago law firm this week.

Janssen, when reached at home Friday morning, declined to talk about the allegations.

"I'm very sick," the 90-year-old Janssen said, attempting to cover his face with a plastic bag to avoid being photographed. "Please, I'm very sick. I don't want to talk about it."

At one point, Janssen, his face practically buried in the plastic bag, tried to unlock a white Toyota Camry parked in front of his apartment. There was an oxygen tank in the passenger seat.

He lives in a room at the City Center Motel off Interstate 74 in Bettendorf.

He boarded a River Bend Transit bus, saying he was on his way to a doctor's appointment.

Janssen called a Quad-City Times reporter Friday afternoon, identifying himself by name and saying he suffers lung cancer and uses a walker. He refused to apologize or make any statement to any of the victims in his case.

"I'm dying of cancer," he said on the phone. "I'm in the fourth and last stage. I use a walker. That's all I've got to say. I have to go."

Janssen, who the Davenport diocese reports was accused of abusing 36 male minors beginning as early as 1953, was laicized, or removed from the priesthood, in 2004 by Pope John Paul II.

Ordained in 1948, he served as a priest for 42 years in 14 parishes, including one in Hinsdale, Ill., which is in the Joliet diocese.

Janssen is accused of sexually abusing an altar boy in 1956 while he was assigned at St. Isaac Jogues in Hinsdale, according to records made public this week by Jeff Anderson & Associates of Chicago. The law firm is representing the alleged victim of another accused priest in the Joliet Diocese. The victim successfully sued to have the files released.

The victim's mother found obscene letters between the boy and Janssen, and she told her parish priest, who wrote to officials in Davenport, the records state. Janssen was allowed to return to Davenport and continue in several assignments, records state.

"The documents disclose a pattern, a practice of transferring bad priests between dioceses," said Davenport attorney Craig Levien, who has represented multiple victims of clergy sex abuse. "Instead of turning him over to police, Janssen was returned to Davenport."

Levien added that the new records indict Joliet as much as Davenport in trying to cover up Janssen's abuse.

"The only ones who didn't know were the parents of the kids he had access to," Levien said.

The Rev. Martin Amos, bishop of Davenport, released a statement Friday about Janssen.

"I am deeply saddened by the news we heard today of the abuse in Hinsdale, Illinois by James Janssen in the 1950s that was found credible by the Diocese of Joliet," Amos said. "I continue to pray and urge everyone to pray that the healing process for the survivors of abuse will continue."

Amos said the diocese does background checks on all clergy, employees and volunteers. A diocese victim assistance coordinator provides assistance to survivors of abuse, he added.

"The people of the Diocese of Joliet pray every day for those who have been abused and for those responsible for it," a statement from the Joliet diocese said.

Janssen was never charged criminally with sex abuse because the statute of limitations ran out. He has consistently denied the allegations.

The Davenport diocese filed for bankruptcy in October 2006 after it lost its first civil sex abuse trial. The diocese, its insurance company and the creditors committee agreed to a $37 million bankruptcy settlement.

More than 150 sex abuse victims were covered by the settlement.

Because of the settlement, the diocese must list credibly accused priests on its website. It lists 32 priests, brothers and lay employees accused of abuse.

It also must release the whereabouts of living credibly accused priests. But it has never released Janssen's whereabouts. Because Janssen has been laicized, he does not report to the diocese, so he is not included on the list.

The Survivors Network of those Abused by Priests, or SNAP, on Friday urged the Davenport diocese to keep updated records of Janssen's history and whereabouts.

"Janssen is likely still dangerous," David Clohessy, SNAP executive director, said. "Older child molesters don't suddenly and magically get cured. In fact, they often become more dangerous because few suspect that a balding, slow-moving, stoop-shouldered grandfatherly looking man is a criminal."