'survivors Network' Demands Information on Priests
WANE
June 19, 2014

http://wane.com/2014/06/19/survivors-network-demands-information-on-priests/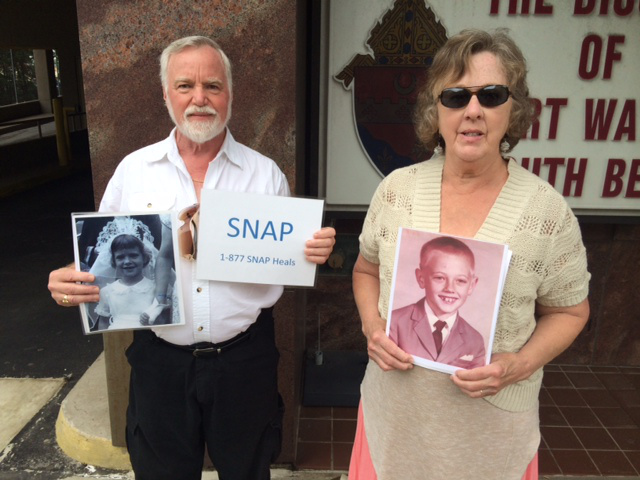 Steven Spaner (left) and Judy Jones (right) holding up photos of victims around the age that they were abused by a priest.



FORT WAYNE, Ind. (WANE) A couple protesters stood at the front of the Fort Wayne-South Bend Diocese office Thursday to encourage Bishop Kevin C. Rhoades to release more information about two priests accused of sexually abusing children.

The protesters are from SNAP, The Survivors Network of those Abused by Priests. They are concerned about the location of two priests. One is Father Cornelius Ryan who served at Saint Joe Hessen Cassel at 11337 Old Decatur Road South from 2011 to 2013. The second, Father James Seculoff was the pastor of Saint Patrick's parish at 2120 Harrison St.

According to Bishop Rhoades, Ryan admitted to sexually abusing a child in Africa about 20 years ago. Seculoff also spent time serving in the Fort Wayne area and resigned amid sexual abuse allegations.

"We would like Bishop Rhoades to please put more information out there for the parents,"Judy Jones from the Midwest SNAP said. "And just what is the status of these two priests? Where they are being kept? Where they are located? If they're too dangerous to be in a parish, they're too dangerous to be out there working in other places where they could be among children."

NewsChannel 15 contacted the diocese office and officials said they have no comment.