In Pope Francis" Church of the Streets, Elitism Doesn't Work
By Jason Berry
GlobalPost
June 20, 2014

http://www.globalpost.com/dispatches/globalpost-blogs/belief/pope-francis-church-the-streets-elitism-doesnt-work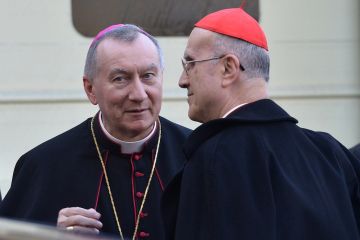 Vatican Secretary of State Pietro Parolin (L) speaks with former Vatican Secretary of State Tarcisio Bertone before the arrival of Pope Francis for a visit at the 'Bambino Gesu' Children's Hospital on December 21, 2013 in Rome. (Alberto Pizzoli/AFP/Getty Images)



In the latest installment of Cardinal Tarcisio Bertone's bad luck blues, the former Vatican secretary of state, 79, has responded to critical news coverage by defending the renovation of his 6,500-square-foot apartment and denying anything was amiss in a $20 million Vatican Bank loan he helped steer to Lux Vide, an Italian TV production company.

The German daily Bild Zeitung cited unofficial sources in reporting last month that a Vatican investigation of Bertone was underway for that transaction.

"I don't understand these attacks," Bertone told ANSA, the Italian news agency. "I am in harmony with the pope…He likes me.

In his airplane news conference returning from Israel to Rome, Francis responded to a question about Bertone's role in the loan. "It's something being studied," the pope said, according to Catholic News Service. "It's not clear. Maybe it's the truth but at this moment it's not definitive."

For six months, Bertone worked to cement good will with the pope by staying on as the second-highest Vatican official under Francis, assisting in the transition.

The secretary of state is traditionally viewed as the pope's prime minister, the public face of a papacy. Bertone was a highly public figure for the shy, retiring Benedict.

When Francis emerged as a commanding personality, at ease in public, Bertone took a long back seat in his final months in office. He was wise to do so. Bertone had baggage, lots of it.

"If anyone was the target of [Vatileaks'] revelations it was Bertone, whose clumsy governance of the Curia saw the Vatican spiral into internecine conflict," writes Philip Willan in The Vatican at War.

A journalist who has written extensively about the Vatican Bank, Willan notes the "chaos watched with disdain by the 'diplomatic' faction surrounding Cardinal Angelo Sodano, a coterie of experienced papal politicians who had exercised an almost absolute power in the waning years of John Paul's pontificate."

A canon lawyer under Cardinal Joseph Ratzinger, Bertone exhibited a loyalty that yielded Benedict's loyalty in return. Bertone showed his own power in naming key officials at the Vatican Bank, officially known as The Institute of Religious Works (IOR).

Yet he was powerless as Francis's advisers engineered the removal of key Bertone appointments in the clean-up operation underway at the bank.

IOR has made no statement about the loan to Lux Vide, a production company run by a friend of Bertone's and former official with Italian state broadcaster RAI.

Even if Bertone emerges unscathed on the loan, his blunders stand in contrast to his coolly professional successor, Cardinal Pietro Parolin.

Parolin was a veteran papal diplomat whose postings included Mexico, Nigeria and Venezuela, as well as desk service in the secretary of state's office. Parolin has been much less public than Bertone, his job is to forge policy as Francis advances broad outlines of reform through stirring rhetoric.

"Bertone was focused on internal Italian issues," a diplomatic source in Rome told GlobalPost on background. "Parolin has a much broader vision of the world and a good analysis of situations. He listens and understands team work. Bertone was like a deputy pope and ran off doing his own thing."

Francis on becoming pope parachuted into "the viper's nest" — as Vittorio Messori, a chronicler of the papacy called the Roman Curia in a 2012 interview with La Stampa. "In the past at least, it was the most efficient state organization in the world," Messori said. "We seemed to be faced with resentment, rivalry, greed, maliciousness and infidelity."

Messori said out loud what many people realized before Benedict resigned. Every bureaucracy has its factions and power struggles; but the Curia was out of control. Bertone held a long leash for his loyalty.

Benedict retreated to his study in the afternoons, writing books on Jesus.

Francis has shown a relentless hands-on approach to power, giving a broad-brush sketch of the church's future that has left many bishops wondering how to adjust their policies in a given country.

"I prefer a church which is bruised, hurting and dirty because it has been out on the streets, rather than a church which is unhealthy from being confined and from clinging to its own security," Pope Francis stated in "The Joy of the Gospel."

Recently in New Orleans the US Conference of Catholic Bishops concluded a summer meeting, with Michael Paulson of the New York Times reporting the bishops are "unsettled" and "revisiting both how they live and what they talk about in light of the new pope's emphasis on personal humility and economic justice."

Archbishop Gregory Aymond of the host city, who has made urban homicide a front-line issue — linking violence and racism as issues confronting the church — struck a contrite note in telling the Times: "We don't, perhaps, at times talk enough about the poor, about the economy, and we don't perhaps talk enough about reaching out those with disabilities, whose whose voices are not heard."

The American bishops are on their own trek in trying to assess how Francis's ethos of Catholicism, "bruised, hurting and dirty" should be absorbed into their approach to issues like abortion and gay marriage, while trying to prod Republicans in Congress to support immigration reform.

One thing the bishops know: Francis is the most popular pope in decades and has given new life to a scandal-stained church. Now what?

Parolin is Francis's political alter ego, a quiet force in the background as the pope raises trafficking into a human rights issue, while comparing clergy sex abuse to satanic rituals. How does the Vatican forge a policy on trafficking while two UN Committees (on Torture and on the Rights of the Child) hammer the Holy See on its well-documented failures in the clergy abuse crisis?

Cardinal Bertone's problems may seem antique compared to the issues that Francis is dealing with, and advocated for, while Parolin works outside the limelight to make policies happen.

The Guardian's John Hooper wrote recently that Bertone's "new residence would be five times bigger than that of the pope, who lives in a one-bedroom suite in the nearby Casa Santa Marta ... Parolin, has similarly modest accommodation in the same building, which serves as a hotel for visitors to the Vatican."

Only now the hotel's permanent residents are serious about systemic changes. Princes of the Church like Bertone who live in the opulent towers are clearing their throats, insisting there's nothing wrong here. Bertone has stated that three nuns share his lodging.

Such is life in the old world of the Vatican, when money flowed like wedding wine and few people cared much where it came from.

GlobalPost religion writer Jason Berry was co-producer of the recent FRONTLINE documentary "Secrets of the Vatican" on PBS, and is author of Render unto Rome: The Secret Life of Money in the Catholic Church.