Tennessee Supreme Court refuses to hear former priest's appeal
Times-News
June 24, 2014

http://www.timesnews.net/article/9078463/tennessee-supreme-court-refuses-to-hear-former-priests-appeal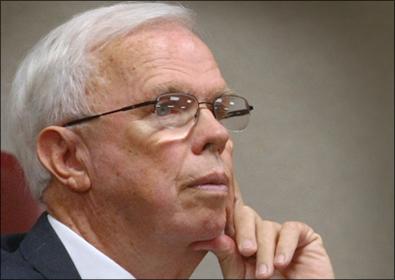 WILLIAM CASEY
KINGSPORT — A former Kingsport Catholic priest accused of molesting a young boy more than three decades ago had his conviction upheld Monday after the Tennessee Supreme Court refused to hear his case.
William Casey, previously of Greeneville, is currently serving a 35-year sentence as a result of his 2011 conviction in Sullivan County Criminal Court on charges of first-degree sexual misconduct and two counts of aggravated rape.
The charges stemmed from the repeated sexual abuse of an altar boy that occurred while Casey was a priest at St. Dominic's Catholic Church in the 1970s.
The Supreme Court denied Casey's appeal without hearing the case. The action upholds the ruling previously issued by the Tennessee Court of Criminal Appeals.
Sullivan County District Attorney General Barry Staubus said he hoped the Supreme Court's decision would provide closure for Casey's victim, Warren Tucker.
"They have 30 days to file for a rehearing, but as it stands now I believe the jury made the right decision and the courts have made the right decision," Staubus said. "I hope the victim, Mr. Tucker, can finally get some closure. It's been a long time and it was tough for him to testify and relive those old memories. So for him, I'm glad we're at this point."
Tucker released a statement Tuesday urging other victims of childhood sexual abuse from that time period to come forward with their stories and contact authorities.
"If you have been abused by a parent, teacher, coach, priest or other religious authority, or by anyone else between the late 1970s to the early 1980s, come forward and seek justice," Tucker said. "Report that or any child abuse to the police and begin your own healing journey."
Casey appealed to the Tennessee Court of Criminal Appeals last year on the grounds his indictment should have been dismissed by the court. Casey claimed that the trial violated his due process rights since he was charged more than 30 years after the crimes were committed.
Attorneys for Casey also argued that errors involving evidence and procedural matters had been committed and that the court failed to give special jury instructions during trial concerning the victim's testimony.
A three-judge panel upheld the conviction in January.
Casey was sentenced to 35 years of incarceration in November 2011 after being found guilty earlier in the year by a Sullivan County jury.
During the trial, Tucker, 49, testified that Casey raped him twice — once when he was 13 and once when he was 14 — and performed oral sex on him in his mother's trailer shortly before his 15th birthday. Tucker told the court he "felt obligated" to reciprocate the act and that he felt powerless to resist what he believed to be a "representative of God on earth."
Tucker also told the court that Casey sexually abused him over 50 times between 10 and 16 years of age, with most of the offenses occurring in Sullivan County. Tucker said others also occurred in Greene County, Tenn., McDowell County, N.C., and Scott County, Va.
In July 2010, Casey pleaded guilty to a single count of crimes against nature in McDowell County after Tucker came forward with the allegations.
A Scott County grand jury indicted Casey in August 2010 on one count of first-degree criminal sexual conduct and two counts of aggravated rape. Those charges are currently pending in Scott County Circuit Court.
Scott County Commonwealth's Attorney Marcus McClung said his office would take into account several factors, including Casey's ability to file a further appeal, before proceeding with the case there.
"We will wait until (the opportunity to appeal) is concluded and contact the victim to see if his thoughts on the case are the same," McClung said. "We will then make a decision whether on not to continue prosecution after careful consideration based on a number of different factors, including but not limited to the desire and need to prosecute by the victim, the threat against the community and the deterrent to future similar crimes."