State Opposes Robinson's Early Release
By Jennifer Feehan
Toledo Blade
June 27, 2014

http://www.toledoblade.com/Courts/2014/06/27/State-opposes-Robinson-s-early-release.html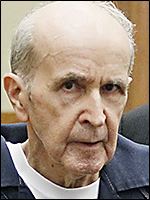 The Ohio Attorney General's Office opposes the release of Gerald Robinson, who is in prison for murder.



The Ohio Attorney General's Office on Thursday filed its opposition to Gerald Robinson's request that he be released from prison because he is dying.

Hilda Rosenberg, an assistant state attorney general, said Robinson has no legal claim to be allowed to return home to Toledo, and urged a U.S. District judge to deny his request for a compassionate release.

Robinson, 76, was convicted of murder in 2006 by a Lucas County Common Pleas Court jury for the 1980 slaying of Sister Margaret Ann Pahl in the sacristy of the former Mercy Hospital chapel. He was sentenced to life in prison with parole eligibility after 15 years.

Last week, his attorney, Rick Kerger, asked a federal judge to release Robinson to the Little Sisters of the Poor or to Robinson's brother and sister-in-law in Toledo, although Mr. Kerger subsequently amended his petition to say that the Little Sisters of the Poor had not agreed to care for Robinson. The former priest is in a hospice unit at Franklin Medical Center, a Columbus hospital run by the Ohio Department of Rehabilitation and Correction.

Robinson, Ms. Rosenberg wrote in her response to the petition for release, "committed a particularly gruesome crime — murder — which the Ohio legislature has determined precludes consideration of compassionate release. [Robinson] does not assert that his care in the prison hospice facility is lacking in any way. He does not argue that his medical needs are not being met or that he is being treated inhumanely."

She said the state could not release Robinson to the care of his brother "where there is minimal supervision and no assurance that he will receive the palliative care he requires."

"Accordingly, even if this court had jurisdiction in this matter (which it does not) and believed that the equities favored his release on compassionate grounds (which they do not), there are practical obstacles to his release," Ms. Rosenberg wrote. "Specifically, there is no facility which has agreed to take over his care and no reasonable alternative plan."

Contact Jennifer Feehan at: jfeehan@theblade.com or 419-213-2134.