Priest Convicted of Killing Nun Dies in Prison
By Kantele Franko And John Seewer
Kansas City Star
July 4, 2014

http://www.kansascity.com/news/nation-world/article672344.html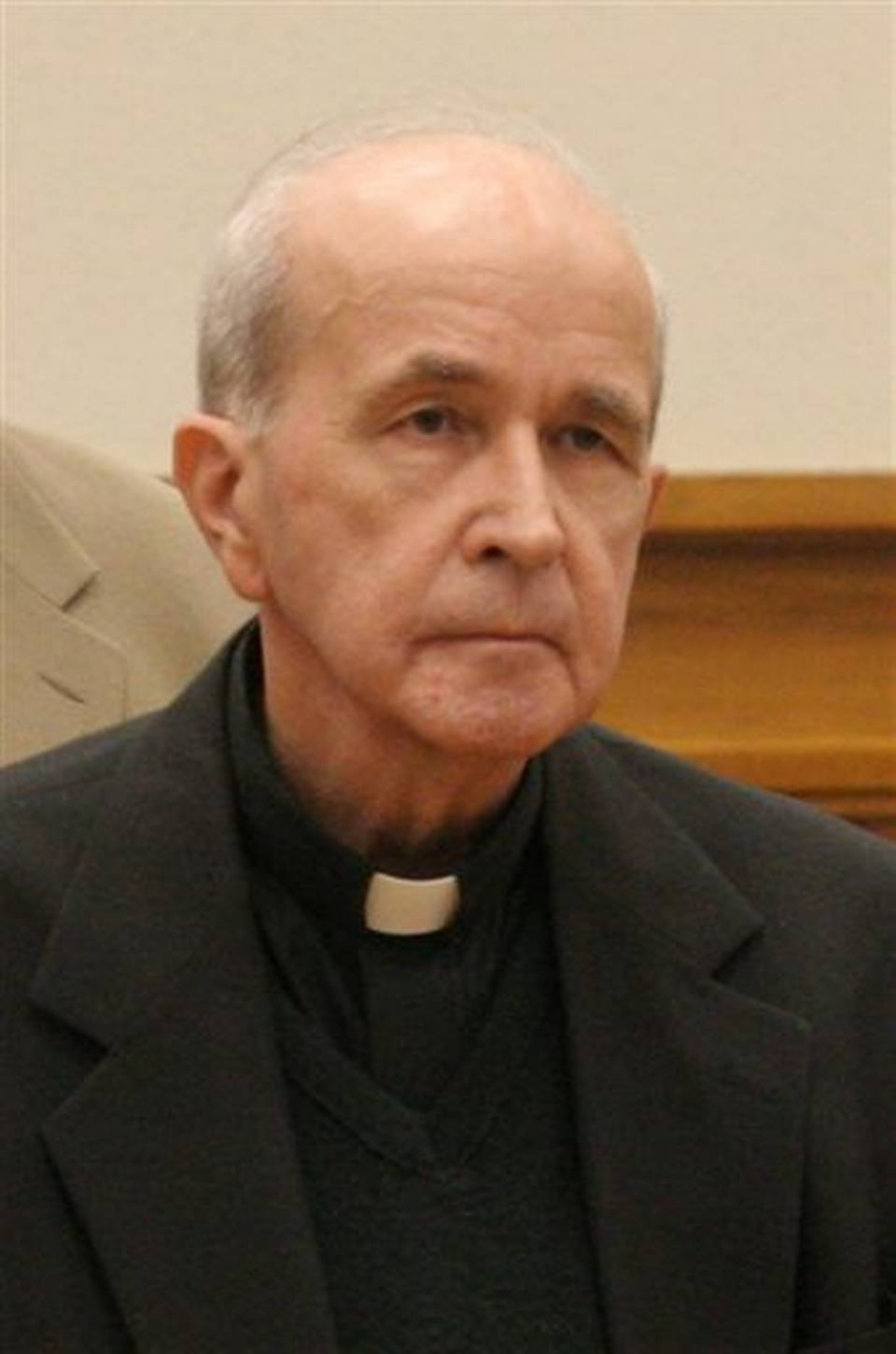 FILE - In this photo made Thursday, May 11, 2006, in Toledo, Ohio, the Rev. Gerald Robinson listens as the verdict is read finding him guilty of killing Sister Margaret Ann Pahl. Robinson, a Roman Catholic priest, died Friday morning, July 4, 2014, at a Columbus prison hospice unit, said his attorney, Richard Kerger. He was 76. A federal court had refused Thursday to release Robinson so he could die in his hometown, Toledo.ANDY MORRISON, POOL, FILE/AP PHOTO



A Catholic priest convicted of killing a nun inside a chapel a day before Easter 1980 died Friday at a Columbus prison hospice unit, a day after a federal judge refused his request to be released to family care so he could die in his hometown of Toledo.

Attorney Richard Kerger said the Rev. Gerald Robinson's sister-in-law told him the priest died Friday morning.

"I'm sure he's in a better place," Kerger said.

Robinson, 76, had been serving a sentence of 15 years to life in what church historians have characterized as the only documented case of a Catholic priest killing a nun.

He had been in a hospice unit since the end of May after suffering a heart attack. A federal judge on Thursday refused to release him to relatives, concluding that the court didn't have jurisdiction to grant such compassionate release.

Robinson was arrested 24 years after the nun's death and was found guilty in 2006 of stabbing and strangling Sister Margaret Ann Pahl at a Toledo hospital where they both worked.

Robinson and Pahl had worked closely together at the hospital where he was a chaplain and she was caretaker of the chapel. He presided at the funeral Mass for her.

The 71-year-old nun was killed while she was preparing the chapel for Easter services in 1980. She was choked and then stabbed 31 times.

Robinson emerged as a suspect when police found a sword-shaped letter opener in his desk drawer two weeks after the killing. He also admitted lying to police, making up a story that someone else confessed to the murder. Yet he was not charged and remained a priest. A year after the killing, he was transferred out of the hospital.

Robinson developed a faithful following in his hometown of Toledo, where he delivered sermons and heard confessions in Polish. He ministered to the sick and dying at nursing homes and hospitals after retiring from three Roman Catholic parishes.

Police arrested him in 2004 after investigators reopened the murder case when a letter surfaced that accused Robinson and other priests of molestation. Police weren't able to substantiate the allegations of sexual abuse, but it led them back to the nun's murder.

Investigators said blood stains on an altar cloth seemed to match the patterns of the letter opener found in Robinson's apartment. New technology not available in 1980 allowed them to connect the killing with the letter opener.

Prosecutors said Robinson tried to humiliate Pahl in her death, her stab wounds formed an upside down cross and a smudge of blood on her forehead meant as a mock anointing.

They blamed the murder on Robinson's simmering anger over Pahl's domineering ways, saying their relationship was strained and that Pahl was upset over the shortening of Good Friday services a day before she was killed.

Robinson, who wore his priest's collar throughout his trial, maintained his innocence while losing several attempts to overturn his conviction. His attorneys said DNA evidence didn't link Robinson to the crime.

A new defense team argued that a now-deceased serial killer could have been the one who stabbed and strangled Pahl. Prosecutors dismissed the theory, saying investigators and even the priest's original attorneys didn't think there was a connection.

Robinson remained a priest after he was convicted, but he was barred from ministry. He told The Columbus Dispatch in an interview three years after the trial that he was stunned by testimony linking him to the murder.

He also said other prisoners called him "Father" and would tell him their sins.