Here's What You Need To Know About Doe vs. Ross; Case Challenges Catholic Church On Abuse
By Rachel Lippmann
St. Louis Public Radio
July 6, 2014

http://news.stlpublicradio.org/post/here-s-what-you-need-know-about-doe-vs-ross-case-challenges-catholic-church-abuse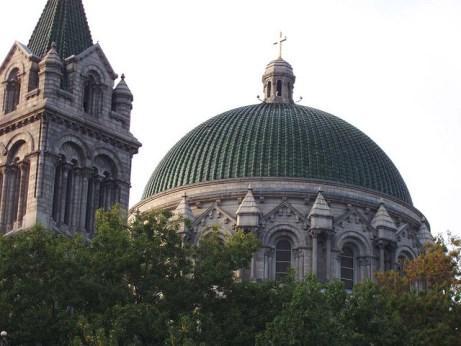 (via Flickr/Scuddr)
It's been more than a decade since the sexual abuse scandal roiling the Catholic Church became public. From the very beginning, the church hierarchy has faced one main criticism – that it was more committed to protecting abusive priests than protecting potential victims. That complaint was bolstered by revelations that church officials ignored credible accusations against priests, shuffling them from parish to parish, all the while failing to tell parishioners about accusations and even convictions.
Monday, in circuit court in downtown St. Louis, jury selection gets underway in Doe vs. Ross – a civil case that accuses the St. Louis Archdiocese of exactly that kind of negligence.
This is not the first time the Archdiocese of St. Louis has faced these allegations. Rebecca Randles, an attorney who has handled priest sexual assault cases throughout Missouri, said at least 80 cases have either been settled or otherwise disposed of in St. Louis. This rundown is meant to outline this particular case - Doe vs. Ross - which Randles said is only the second case in Missouri to go to trial.
WHO ARE THE PARTIES INVOLVED?
Joseph Ross – A defrocked priest now living in Little Rock, Ark., according to court records.
The Archdiocese of St. Louis – The non-profit corporation that serves as the seat of the Catholic Church in St. Louis.
Archbishop Robert Carlson – The man in charge of the day-to-day operations of the non-profit corporation known as the Archdiocese of St. Louis. Carlson was dismissed as a party to the suit in April 2014.
Jane Doe 92 ­– The pseudonym for a young Catholic woman who claims that Joseph Ross repeatedly raped and sodomized her between 1997 and 2001 while he was a priest at St. Cronan in the Botanical Heights neighborhood. Doe was 19 when she filed this suit in 2011.
HOW DID WE GET HERE?
In 1988, while serving as a priest at Christ the King in University City, Ross pleaded guilty to forcibly kissing an 11-year-old boy numerous times during confession. Ross was sentenced to two years' probation. He also spent time at a mental health treatment center outside Washington, D.C. that was known to help priests with sexual disorders, according to the lawsuit. The records of that case were sealed after Ross completed his sentence.
During the investigation into the 1988 incident, police learned that Ross had been arrested twice before for sexual misconduct, and he had also admitted to being accused in the 1970s of molesting an 8th grade boy who was a student at a parish in Woodson Terrace. It does not appear that Ross ever faced criminal charges for that allegation.
Ross was assigned to St. Cronan in 1991, after short stints at parishes in Lemay and Jennings. The Archdiocese never told members of St. Cronan about Ross's earlier sexual assault conviction. The defendant in this case, Jane Doe, says her abuse began in the late 1990s, and always happened at the church.
The location of the alleged assaults is important. In 2011, the state Court of Appeals ruled the Archdiocese could not be sued for the conduct of its employees and priests if the abuse happened off its property.
Ross was defrocked in 2002 – the first priest in the St. Louis Archdiocese laicized for sexual assault – and later arrested in 2008 on criminal charges involving the plaintiff in this case, Jane Doe. The charges were eventually dropped. Jane Doe filed this suit in 2011.
WHAT'S BEING ALLEGED?
Jane Doe and her attorneys initially filed a four-count lawsuit.
1. Sexual abuse and/or battery
This is basically a civil charge of the alleged crimes. It says that Ross "engaged in unpermitted, harmful and offensive sexual conduct and contact upon the person of the plaintiff, a minor." Jane Doe says because of the abuse, she's suffering emotional distress, loss of self-esteem and loss of enjoyment of life.
2. Negligent supervision of a priest
Doe claims that Ross's 1988 guilty plea, plus the additional allegations of abuse and arrests for sexual misconduct, made it clear to the Archdiocese that Ross should not have been allowed to be unsupervised around children.
3. Intentional failure to supervise clergy
Doe claims that the Archdiocese of St. Louis knew specifically of Ross's guilty plea and, more broadly, of sexual misconduct by other archdiocesan clergy but that it "disregarded the risk posed by Ross to individuals who came to him for ministering their psychological, emotional and spiritual needs and their children."
4. Negligent failure to supervise children
This count alleges that the Archdiocese of St. Louis did not take proper steps to reduce the "well-known and foreseeable risk" that some adults working with minors will be abusive, especially in light of Ross's 1988 guilty plea.
On June 27, Judge Jimmie Edwards dismissed counts two and four. He also ruled that neither attorneys for Doe nor for the Archdiocese could raise evidence of other abuse allegations made against Ross in opening arguments, and had to ask his permission to do so with any witnesses.
WHAT WILL DOE HAVE TO PROVE?
"Intentional failure to supervise clergy" stems from the responsibilities in a master-servant relationship outlined in American civil law. The Missouri Supreme Court ruled in 1997 that it is the only civil action available in the state against abusive priests because it does not violate the First Amendment right to freedom of religion.
The Supreme Court outlined the following elements of the crime:
A cause of action for intentional failure to supervise clergy is stated if (1) a supervisor (or supervisors) exists (2) the supervisor (or supervisors) knew that harm was certain or substantially certain to result, (3) the supervisor (or supervisors) disregarded this known risk, (4) the supervisor's inaction caused damage, and (5) the other requirements of the Restatement (Second) of Torts, section 317 are met. This cause of action requires a supervisor.
In others words, Doe must show that:
Ross had direct supervisors in the Archdiocese of St Louis and;
Those supervisors knew that Ross was likely to offend again but;
Ignored that risk by assigning him to another parish and;
The alleged abuse of Doe happened because of that assignment.
In an effort to show that Ross's reassignment was part of a pattern, Doe and her attorneys sought from the Archdiocese of St. Louis a list of names of priests and other church employees who had faced credible allegations of sexual assault, both proven and unproven. After a legal fight that went all the way up to the state Supreme Court, the Archdiocese provided the plaintiffs 115 names. Those individuals had faced 240 allegations of sexual assault.
WHAT'S AT STAKE?
Doe is seeking compensatory and punitive damages, as well as reimbursement of legal costs. She's also asking for the court to do anything else it deems appropriate and just.