Secret Documents Released on Former Priest Accused of Abuse
By Jennie Olson
KSTP
July 9, 2014

http://kstp.com/news/stories/S3498223.shtml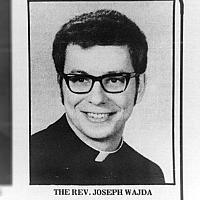 Reverend Joseph Wajda


[with video]



Secret documents have been made public Wednesday that attorneys say show how a former official with the Archdiocese of Saint Paul and Minneapolis mishandled child sexual abuse allegations against former priest Joseph Wajda.

The documents were released as part of a civil lawsuit against the Archdiocese of Saint Paul and Minneapolis, the Diocese of Winona, and former priest Thomas Adamson.

The documents fault Archbishop of St. Louis Robert Carlson, who previously served as a chancellor and auxiliary bishop in the Archdiocese of Saint Paul and Minneapolis from the 1970s to 1990s.

The documents say Carlson and other church officials mishandled and minimized allegations against former priest and accused child molester Wajda, which allowed Wajda to continue to serve as a priest.

According to the documents, Wajda allegedly began abusing children a month after his ordination in 1973. The allegations say church officials, including Carlson, learned in 1981 that Wajda was molesting boys under the guise of counseling but waited five years before sending him to psychiatric care.

Wajda was reassigned to Blessed Sacrament in St. Paul in 1990 and resigned from the Archdiocese in 2003.

Very Rev. Charles Lachowitzer, Vicar General, released the following statement:

"Joseph Wajda is included in the John Jay list, which is posted on our website. We offer our assurances that today we handle things differently regarding priests who have been accused of sexually abusing children. The Archdiocese of Saint Paul and Minneapolis permanently removed him from ministry in 2003. We have requested that the Holy See remove him from the clerical state (laicize). We ask for forgiveness from and pray for hope and healing for all victims of sexual abuse and their families."

See a summary of the documents, a timeline of events, and several full pages of documents here.