Sheehan prepares to step down
By Olivier Uyttebrouck
ABQ Journal
July 13, 2014

http://www.abqjournal.com/428467/news/sheehan-prepares-to-step-down.html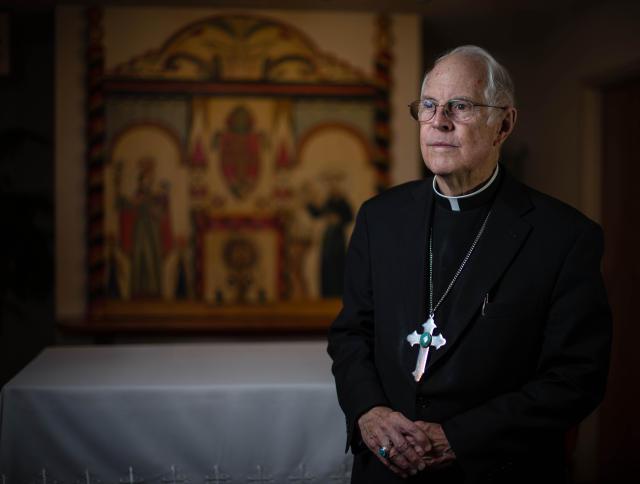 Archbishop of Santa Fe Michael Sheehan turned 75 last week and is required to submit a letter of resignation to the Vatican.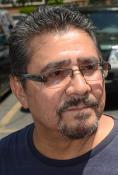 CHAVEZ: Parishioners regained a lot of faith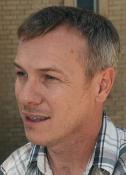 CHASE: Parishioner at Newman Center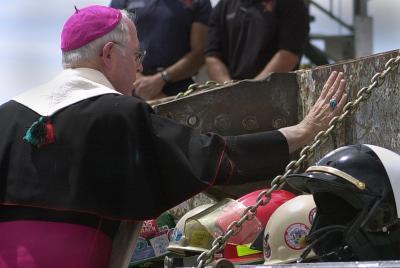 Archbishop Michael Sheehan blesses a steel beam from the World Trade Center brought to Albuquerque and used to rebuild the bell tower at Sacred Heart Roman Catholic Church in Barelas.
New Mexicans first met Michael Sheehan in April 1993 when the 53-year-old bishop was tapped by the Vatican to lead the Archdiocese of Santa Fe in a time of mounting crisis.
The leaderless archdiocese had been rocked by allegations of clerical sexual abuse.
Just three weeks earlier, the popular Archbishop Robert F. Sanchez had resigned after five women alleged he had sexually molested them when they were teenagers. New Mexicans were shocked to hear several women describe those abuses on "60 Minutes," CBS' news program.
Sanchez was one of at least 14 priests accused of sexual abuse at the time Sheehan arrived and lawsuits were beginning to pile up. Sheehan ultimately dismissed an estimated 20 priests as a result of the scandal.
Then-Bishop of Lubbock, Sheehan was met by a phalanx of reporters at his first news conference in Albuquerque.
"I want to put the household of faith in order," Sheehan said following a flight from Texas. "But I cannot do it alone, nor can I do it overnight."
Sheehan celebrated his 75th birthday last week and is required to submit a letter of resignation to the Vatican – a requirement of all bishops when they turn 75.
But the Vatican isn't likely to accept his resignation anytime soon, Sheehan said. The church first must follow a painstaking process to find a successor, which is likely to take months and could take more than a year.
Catholics interviewed last week commend Sheehan for his handling of the priest abuse scandal and his dedication to the church.
"Considering all the things in the past – not his past but other archbishops' – he has regained a lot of faith from a lot of parishioners," said Joseph Chavez, 56, a parishioner at San Felipe de Neri Church.
Sheehan has for years been a leading voice in New Mexico on a wide variety of issues, exerting influence on politicians at all levels through letters and statements at public demonstrations.
In recent years, he has championed a New Mexico law allowing immigrants to obtain driver's licenses, spoken out against same-sex marriage, and last year urged Catholic voters to approve a citywide ban on late-term abortions in Albuquerque. Voters rejected the ban.
This year, Sheehan criticized the Obama administration for provisions in the Affordable Care Act requiring religious employers to cover contraceptive services in their insurance plans.
Sheehan has also shown himself willing to take actions that anger parishioners.
In January, he informed Dominican priests to leave Aquinas Newman Center at the University of New Mexico, where they had pastored since 1950. Sheehan replaced the Dominicans this month with diocesan priests.
Several parishioners said the move had left them with a bitter taste for their longtime archbishop.
"I like (Sheehan), but I'm confused by him at the moment," said Donnie Chase, 40, a Newman Center parishioner. "He served the church well, but I look forward to seeing somebody new."
Sheehan said he wants UNM to produce more vocations, or men who aspire to become priests, and named the archdiocese's director of vocations as Newman Center's pastor.
In 2003, the Vatican again called on Sheehan at a time of crisis after Bishop of Phoenix Thomas O'Brien was charged with a felony for leaving the scene of an accident and resigned. Sheehan served for six months as administrator for the Arizona diocese.
"I've always felt kind of cheated because I became a priest in 1964 to be a parish priest," he said in a recent interview, "and I didn't have much time as a parish priest."
Sheehan said he has no qualms about stepping down as archbishop.
"I've been a bishop a long time, and I'll be glad to hand it on to someone else," he said.
Abbot Joel Garner, leader of the Norbertine community in Albuquerque, said the priest abuse scandal was unfolding quickly in 1993 when Sheehan arrived in New Mexico.
"When (Sheehan) came in, I think he probably had some sense what the local church was going through," Garner said. "I also think that until he was in that role of leadership, he didn't realize how complex it was."
The archdiocese also faced a "very real" threat of bankruptcy, he said.
"It was a sad moment in our history," said Monsignor Richard Olona, who served as chancellor of the archdiocese from 1994 to 1998.
Sheehan acted resolutely to dismiss priests who faced credible allegations of sexual abuse, Olona said.
"I think he did it with honesty and compassion, but with firmness," he said. "His style is to deal with what is in front of him and deal with it the best he can."
Three weeks after his arrival, Sheehan set up a nine-member review board to investigate all allegations of sexual abuse by clergy.
He also imposed a zero-tolerance policy that called for removing priests responsible for sexual abuse. Sheehan initiated a healing process that continues today, Olona said.
Scholars of the Roman Catholic church said at the time that it was rare for an administrator to be appointed directly from Rome, indicating that the Vatican took the crisis seriously. Sheehan was named the 11th Archbishop of Santa Fe in September 1993.
The crisis in New Mexico came a decade before clerical abuse allegations in the Archdiocese of Boston brought the scandal to the nation's attention in 2002.
Also that year, the U.S. Council of Catholic Bishops drafted the Charter for the Protection of Children and Young People to offer guidance to bishops dealing with the crisis.
But in 1993, Sheehan had few examples to follow as he led the archdiocese, Garner said.
"From a historical perspective, you have to remember that this local church, the Archdiocese of Santa Fe, went through this sexual abuse crisis 10 years before the larger church," he said.
"I think because there were very few paradigms – models how to deal with this – I think (Sheehan) did an extraordinary job."
Many trace the severity of the crisis to a Jemez Springs treatment facility for troubled priests run by the Servants of the Paraclete from 1947 to 1993, which brought many abusive priests to New Mexico.
Sheehan acknowledges that he was handed a tough job in New Mexico but plays down the difficulties he faced.
"I promised to be obedient, and whatever they have asked me to do, I've tried to do it," Sheehan said. "I have felt the presence of God in the work that I've had to do."
Sheehan said he tells seminarians "that if you give yourself to the Lord the best you can, he will take care of you and all the little worries that you have."
Sheehan's "little worries" included about 200 lawsuits brought against the archdiocese since the 1990s, he estimated.
Most of the lawsuits were settled with the church and its insurers in the mid-1990s for sums that were never disclosed publicly but were estimated to be in the tens of millions of dollars.
In his first year as archbishop, Sheehan personally apologized to 37 victims of clerical abuse and pledged to meet with all victims. The archdiocese reached settlements with 61 claimants the first year and spent $900,000 to counsel victims and their families.
"He never declined to meet with anybody who was willing to meet with him," said Charles Reynolds, an Albuquerque attorney who served as outside counsel to the archdiocese for three decades.
The archdiocese also sold properties to pay for claims, including an 18-acre site near Interstate 25 and Indian School NE and a 70-acre South Valley property purchased by the Norbertine community in 1995.
Sheehan's successor will likely have to contend with lawsuits filed in recent years.
A total of 21 lawsuits have been filed against the archdiocese since 2012 by Albuquerque attorney Brad Hall on behalf of 20 unnamed men and one woman who allege they were sexually abused by priests from the 1960s through the 1980s. Of those, 11 have been settled for undisclosed amounts.
Reynolds credited Sheehan with a "historic effort" to keep the archdiocese solvent throughout the lawsuits.
"He displayed a lot of basic management skills," Reynolds said. Throughout the process, Sheehan formed groups to advise him and sought candid opinions, with Sheehan making the final decision, he said.
"I remember giving my opinion in a few settings and basically being overruled," he said. "I never felt one twinge of discomfort about that. And as we went forward, they turned out to be good decisions."