LA priest accused of molestation now on Guam
By Jasmine Stole
Marianas Variety
July 21, 2014

http://www.mvariety.com/cnmi/cnmi-news/local/67357-la-priest-accused-of-molestation-now-on-guam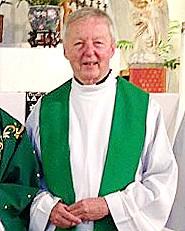 John Wadeson
HAGÅTÑA — An independent network of survivors of institutional sexual abuse released a statement on Friday announcing their disappointment with Guam Archbishop Anthony Sablan Apuron for allowing a priest accused of molestation to work under the Hagåtña archdiocese.
SNAP, or the Survivors Network of those Abused by Priests, said Fr. John Howard Wadeson was accused twice of molesting children in Los Angeles, California.
According to www.bishop-accountability.org Wadeson was accused of molestation by two individuals between the years 1973 and 1977. A report from the Archdiocese of Los Angeles dated Feb. 17, 2004 details the same information about Wadeson.
SNAP's statement did not indicate when Wadeson began working for the local archdiocese, but the island's Roman Catholic newspaper published a photo of Wadeson with Apuron and three others, celebrating the archbishop's 30th anniversary of his Episcopal Ordination in Hawaii. The photo was published in February of this year.
The 2013 Agana Archdiocesan directory lists Wadeson as one of four incardinated priests away from the archdiocese.
The U.S. Conference of Catholic Bishops said "incardination is traditionally used to refer to the attachment of the priest or deacon to a diocesan church headed by a diocesan bishop."
Wadeson's contact information in the directory indicates he is serving at the Neocatechumenal Center in San Francisco, California.
The allegations against Wadeson were "deemed credible" by California church officials, prompting the Archdiocese of LA to prohibit him from working as a priest there, SNAP said.
Wadeson is listed among 46 other priests or monsignors who have no faculty to minister in LA.
Wadeson has not been convicted of abuse, but the Archdiocese of Los Angeles banned him from ministry, which is enough evidence for Apuron to remove Wadeson immediately, the SNAP network said.
"We fear that Apuron is putting Guam's children at risk and protecting a credibly accused predator instead of protecting his flock," the statement added.
It urged Apuron to remove Wadeson from the local ministry and publicize Wadeson's history of work and where he celebrated Mass, as well as explain to parishioners that Wadeson has been accused of abuse by two children and is banned from ministerial practice in Los Angeles.
The Archdiocese of Agana earlier said it is opposed to, will not tolerate and will diligently strive to prevent all forms of sexual misconduct.
The archbishop has also told local clergy that all allegations of sexual misconduct should be taken seriously but an accused priest, deacon or employee has the right to due process, both canonical and civil.
Contact: jasmine@mvguam.com