Apuron 'removes' priest
By Jasmine Stole
Marianas Variety
July 23, 2014

http://www.mvguam.com/local/news/36102-apuron-removes-priest.html#.U9G06vldWSp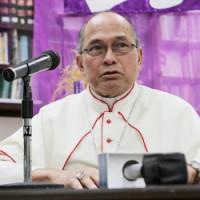 Archbishop Anthony Apuron, in a brief statement yesterday, said the Archdiocese of Agana has a policy regarding sexual misconduct and sexual harassment and takes these matters very seriously. Variety file photo
Accusations of molestation aired

GROWING public concern over Rev. John Wadeson's past prompted Archbishop Anthony Apuron to remove Wadeson from active and public ministry.

Apuron announced Wadeson's removal in a short, two-sentence statement released yesterday.

"In response to concerns in the community regarding Father John Wadeson serving in the Archdiocese of Agana, the Archbishop has decided to remove Father Wadeson from active and public ministry at this time. The Archdiocese of Agana has a policy regarding sexual misconduct and sexual harassment and takes these matters very seriously," the statement said.

Wadeson was accused of molesting two children in California between the years 1973 and 1977. The allegations were deemed credible by the Archdiocese of Los Angeles and Wadeson was prohibited from ministering in the Los Angeles area.

Since 2000, however, Wadeson has been working in some capacity under the Archdiocese of Agana. A 2013 Archdiocese of Agana directory lists Wadeson as one of four "incardinated priests" away from the archdiocese.

Wadeson's past was recently made public in a statement released on July 18, by the Survivors Network of those Abused by Priests. "We are shocked to learn that a priest from Los Angeles – accused twice of molesting children – now works as a priest on Guam," SNAP members wrote. "We strongly urge Guam Catholic officials to oust him."

Unclear

It is unclear from Apuron's statement if Wadeson's removal means he will continue in any capacity at the Neocatechumenal Center in San Francisco, which is where Wadeson is working, according to the local Archdiocese's directory. Calls to the archdiocese had not been returned for clarification.

According to the archdiocese's policy on sexual misconduct and sexual harassment, selection of candidates for the archdiocese, including employees and volunteers, must include background checks and other standard means of assessing a person's potential for sexual misconduct.

The policy also states that upon learning of suspected sexual misconduct, the archbishop is required to promptly verify the report, notify a sexual abuse coordinator, launch an investigation headed by an archdiocesan investigator and direct the accused person not to have contact with the complainant.

If the archbishop determines that sexual misconduct has occurred, the archbishop may place the priest on leave, direct him to therapeutic treatment or evaluation, restrict his ministry or activities or seek or impose appropriate canonical measures or penalties.