Charges against Scranton Priest Dismissed
By Terrie Morgan-besecker
Citizens Voice
August 2, 2014

http://citizensvoice.com/news/charges-against-scranton-priest-dismissed-1.1729267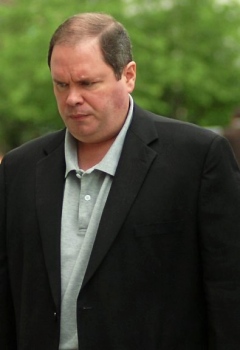 TIMES-SHAMROCK FILE Charges against Scranton priest the Rev. Philip Altavilla were dismissed Friday when a judge ruled the statute of limitations had expired.



All charges against a suspended Diocese of Scranton priest accused of inappropriately touching a teenage girl were dismissed Friday.

Judge Michael Barrasse ruled the statute of limitations had expired on charges of indecent assault, corruption of a minor and criminal attempt at indecent assault against the Rev. Philip Altavilla.

Police charged the Rev. Altavilla, 48, former pastor at St. Patrick's Parish in Scranton, in April after a woman came forward accusing him of indecently assaulting her in 1998.

The woman, then 13, claimed the priest gave her alcohol following a midnight service, then drove her home. Once in the car, he pulled her legs on his lap and began touching her feet and moving his hands up her leg.

Search warrants filed in the case revealed additional disturbing details as two city detectives said the Rev. Altavilla told them he searched the Internet for depictions of women being smothered with chloroform, strangled and sexually assaulted.

The Citizens' Voice does not identify victims of sexual assault.

Paul Walker, the Rev. Altavilla's attorney, said he argued the charges must be dismissed because they occurred outside the statute of limitations, which required the crimes be reported within two years after the victim turned 18. In this case, that meant she had to come forward with the allegations by 2005.

Walker said the state Legislature has since changed the law to extend the statute of limitations to 12 years after the victim turns 18. The new law did not apply to the Rev. Altavilla, however, because the statute of limitations had already expired in 2005 and the new law is not retroactive, he said.

Walker said the Rev. Altavilla was pleased by the outcome, "but the damage is done by the charges."

"He always admitted there was some contact, but he denied it was to the extent she claimed," Walker said. "We did not believe his conduct rose to the level of criminal conduct."

In a prepared statement, District Attorney Andy Jarbola said prosecutors may not like the decision, but they agree with Judge Barrasse's interpretation of the law and will not appeal.

"Unfortunately the laws of Pennsylvania and many other states took too may years to comprehend the true nature of trauma from abuse and its impact on reporting," Jarbola said.

The Rev. Altavilla was suspended by the Diocese following his arrest. Walker said he had not spoken to his client regarding whether he will seek to be restored to his position. Attempts to reach the Rev. Altavilla Friday were unsuccessful.

The Rev. Altavilla will remain on suspension and is barred from exercising priestly ministry while the diocese conducts its own investigation of his conduct, said Dan Gallagher, spokesman for the diocese. A final determination on his future with the church will be made once that investigation is complete.