Pittsburgh diocese suspends Beaver County priest during sex-abuse investigation
By Chris Fleisher
Tribune-Review
August 03, 2014

http://triblive.com/news/adminpage/6553041-74/fitzgerald-diocese-county#axzz39Pjy5MLp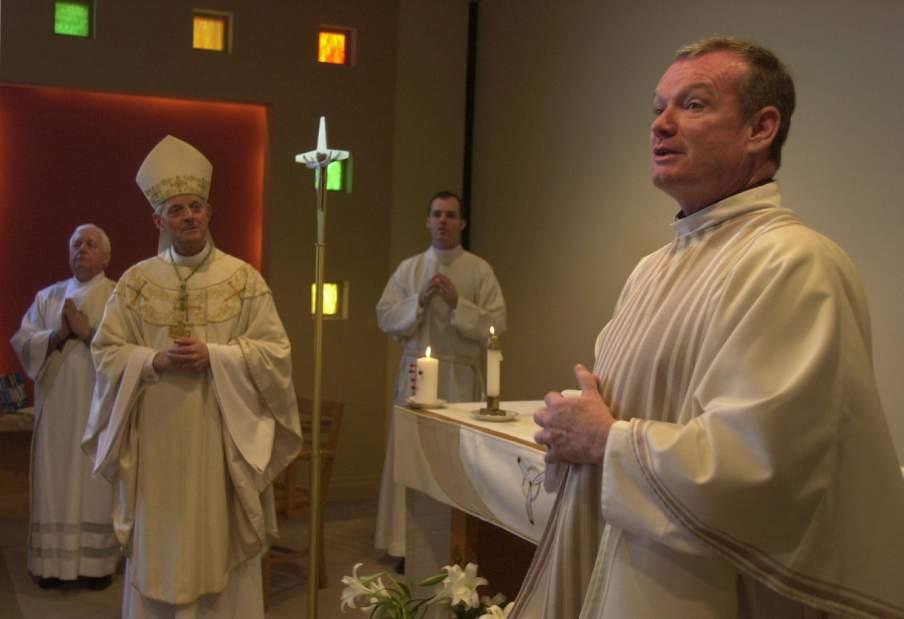 Father Jack Fitzgerald, chaplain at the Pittsburgh International Airport, thanks Bishop Donald Wuerl after the bishop conducted a mass for members of the National Association of Airport Chaplains at the Pittsburgh International Airport, Thursday, May 1st, 2003. KJH-CHAPLAINS1
A Beaver County priest who once served as chaplain at Pittsburgh International Airport and an Air National Guard station has been placed on administrative leave while authorities investigate allegations that he sexually abused a child in the late 1990s.
The Catholic Diocese of Pittsburgh said on Sunday it reported the accusations against the Rev. John "Jack" Fitzgerald, 66, pastor of Our Lady of Peace Parish in Conway, to the district attorneys of Allegheny and Lawrence counties, where the incidents allegedly took place.
Fitzgerald denied committing any acts of sexual abuse, the diocese said. He cannot administer the sacraments, dress in clerical attire or identify himself as a priest while he is on leave. The diocese placed him in a temporary residence, and he could not be reached.
"If a determination is made that Father Fitzgerald did what he is accused of, those restrictions will become permanent," Bishop David Zubik wrote in a letter read to all Masses at Our Lady of Peace this weekend. "If it is determined that the allegation is unfounded, all that is possible will be done to restore Father Fitzgerald's reputation and return him to ministry."
The Rev. Ron Lengwin, diocesan spokesman, said only one person accused Fitzgerald of abuse. Lengwin declined to comment on any specifics of the accusations.
Fitzgerald was the chaplain at Pittsburgh International Airport for 15 years until stepping down in 2009. He was chaplain to the Air National Guard's 171st Air Refueling Wing in Moon from 1986 to 2010. He served as a parochial vicar at seven parishes from the 1970s to 1991; he was also assigned to St. Anthony in Bessemer, Lawrence County from 1991 to 1995 until becoming a part-time priest with St. John Neumann in Franklin Park. He has been pastor at Our Lady of Peace since 2009.
Airport spokeswoman JoAnn Jenny declined to comment, referring questions to the diocese.
Zubik urged anyone with information to contact the diocese or civil authorities.
Mike Manko, spokesman for Allegheny County District Attorney Stephen Zappala's office, said authorities will review the information the diocese provided to determine what course of action is appropriate.
Sunday's bulletin for Our Lady of Peace noted that retired priest the Rev. Gene Lauer will celebrate Masses at the parish through Aug. 13 but makes no mention of Fitzgerald's leave.
The allegations occur amid one of the largest sex abuse scandals in the diocese's history. It is investigating allegations of abuse involving at least 22 former North Catholic High School students going back to the 1940s.
The Vatican said in May that it had defrocked 848 priests who raped or molested children and sanctioned 2,572 with lesser penalties during the past decade.
Contact: cfleisher@tribweb.com