Still No Excuses For Those Who Defend The Society of Saint John
By Thomas A. Droleskey
Christ or Chaos
August 4, 2014

http://www.christorchaos.com/?q=content/still-no-excuses-those-who-defend-society-saint-john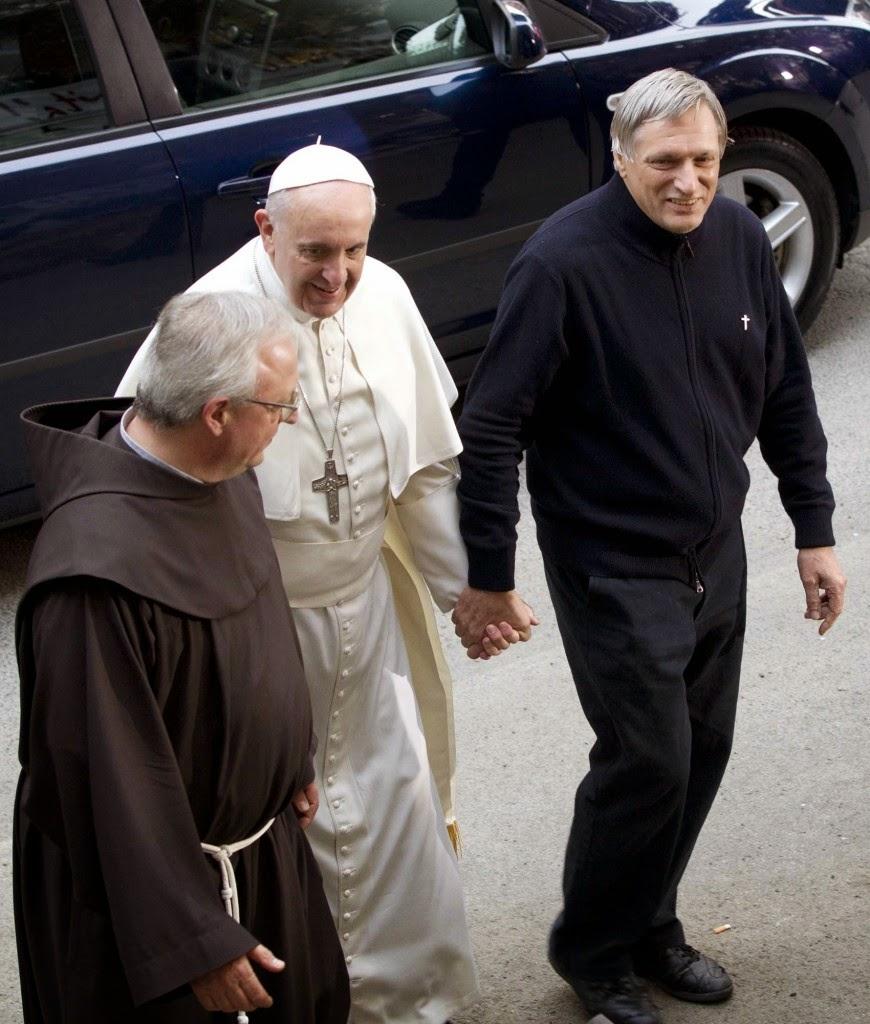 As noted six weeks ago in the preface to the posting of the Special Report on the Society of Saint John that I wrote in September and October of 2000, the investigation that I conducted at the behest of two laymen who had served on the Society's board of advisors before resigning in protest over what they concluded was reckless fiscal mismanagement and a refusal to heed any advice on practical matters. The report was submitted to the Diocese of Scanton and to Father Urrutiogity in the October of 2000, prompting a "Bishop" Timlin to issue a statement to me that is completely laughable in light of all of the evidence that came to light later. Equally laughable is the assertion made on March 22, 2006, by the "papal" nuncio to Paraguay, "Archbishop" Orlando Antonini, to attorney James Bendell that "no trace of this Society remains anywhere in Paraguay."
Those subsequent events demonstrated that an episode involving "skinny dipping" on the property of the Society of Saint John in Shohola, Pennsylvania, in the summer of 2000, which was disturbing in and of itself, was an indicator of far greater problems. Those problems that could have been forestalled in the 1980s in Argentina if then Father Alfonso de Galaretta of the Society of Saint Pius X, then the Society's District Superior in Argentina, had not rejected the conclusion reached by the then rector of the Society's seminary in La Reja, Argentina, Father Andres Morello, Father Urrutigoity had engaged in homosexual behavior as a seminarian.
Alas, Father Alfonso de Galaretta, who was consecrated a bishop by the late Archbishop Marcel Lefebvre in Econe, Switzerland, on June 30, 1988, was predisposed to disbelieve Father Morello, who was consecrated a bishop in 2005, because he, Father Morello, was a sedevacantist. In this way, you see, the truth about then seminarian Carlos Urrutigoity was obscured by the resentment of the action taken by "The Nine" in 1983, thus predisposing Bishop de Galaretta at the time to disbelieve the accusations against Urrutigoity and thus recommend this predator to be accepted at Saint Thomas Aquinas in Winona, Minnesota. A summary of this situation can be found at The Early Years of Father Carlos Urrutigoity's homosexual career.
There is an important lesson to be drawn from this as the then Father de Galaretta had his objectivity clouded by his feud with the then Father Morello. It is part of fallen human nature for those who are at odds with each other on other matters to let personal animus for a particular person (based sometimes on intense dislike of the person or and/or seething resentment at particular injustices that one may have suffered at the hands of one deemed to be an adversary) predispose one to be blinded to the truth about a third party or about a matter of substance (theological, political, scientific, etc.).
Many, although not all, in the "resist while recognize" camp reject anything written by one who has announced his acceptance of the papal vacancy at this time of apostasy and betrayal. Some even resist even examining with dispassionate objectivity any of the evidence brought forth in behalf of the theological principles of the sedevacantist position. "Don't listen to 'so and so,' he's a sedevacantist" is a common refrain in "resist while recognize circles.
It is thus a sad part of the saga of Father Carlos Urrutigoity and the Society of Saint John that the truth about his proclivities was obscured because of the hostility that existed within the Society of Saint Pius X between those who were said to be "loyal" to Archbishop Lefebvre and those who were said to be "disloyal" to him by means of "siding" with "The Nine."
Mind you, this is not to say that seminarian Carlos Urrutigoity could not have found a conciliar "bishop" to have accepted him if Bishop de Galaretta had not recommended him to be accepted at Saint Thomas Aquinas Seminary, although he would not have been a true priest had he been installed to the conciliar presbyterate. It is to say, however, that it is all too frequently the case that people take a sophomoric "If he's for something, I'm against it" or "If he says something is so, then it cannot be so" approach to almost every situation in life, especially those that bring out longstanding hatreds or resentments against a particular person or persons.
As noted in Led by Thoroughly False Spirits, part two, Bishop Bernard Fellay, the Superior General of the Society of Saint Pius X, certainly did his due diligence to warn "Bishop" James Clifford Timlin of the Diocese of Scranton about Father Urrutigoity's homosexual behavior. He is to be commended for this. By that time, however, the behavior, which was not the reason for his expulsion from the Society, could not be denied.
There is perhaps a simpler way of looking at all of this: If it looks like a duck, waddles like a duck and quacks like a duck, you've got yourself a duck on your hands. It does not take a great deal of "insight" for one to recognize clear signs indicative of homosexual behavior. As the late John Joseph "Jackie Boy" Sullivan reminded us in class with him at Holy Apostles Seminary in the 1983-1984 academic year, it was the case in his days at Saint Bernard's Seminary in Rochester, New York, in the late-1930s that two seminarians simply caught behind closed doors in the same bedroom were deemed to be guilty of homosexual conduct, "And out on their butt they went. Boom! Gone! The same thing's going to happen to you gorillas if try this here."
Alas, as I noted in an article about five years ago, life is not like a Perry Mason episode in which the guilty party confesses and admits all under cross-examination (and who would ever have thought that the late Raymond Burr, who hid his own perverse proclivities from public view very well, was what he turned out to be?). No, there will always be people, sometimes substantial numbers of them, who want to turn a blind eye and/or excuse the indefensible. Everything does get revealed on the Last Day at the General Judgment of the living and the dead, and it may very well be the case that those who are blind to the truth about certain situations now may not discover their errors until eternity. Such are the vagaries of fallen human nature.
Unlike what I wrote in the article upon which this current contemporary is based, Jorge Mario Bergolio is taking action against the conciliar "bishop," Rogelio Livieres, of the Ciduad del Este and against Urritogity himself. There are many dimensions to this remarkable set of developments, not the least of which that Livieres is striking back against Jorge's suspending all presbyteral installations in the Diocese of Ciudad del Este, claiming that none other than Joseph "Cardinal" Ratzinger, just days away from becoming "Pope Benedict XVI" in April of 2005, personally recommended Father Carlos Urrutigoity and his morally corrupt Society of Saint John to be brought into the Diocese of Ciudad del Este.
Here is a report, which will be followed by a brief set of comments, on this very significant development:
The Diocese of Ciudad del Este, Paraguay, has published an aggressive defense of the leadership of Bishop Rogelio Livieres Plano, claiming that a priest who had been accused of abuse in the US was placed in ministry on the recommendation of then-Cardinal Ratzinger.
Bishop Livieres incardinated Father Carlos Urrutigoity, who had been accused of sexual abuse in Pennsylvania, into his diocese in 2005. The diocese stated that the priest "came recommended by some cardinals with functions in the Holy See (one of them, elected a few days later Successor of Peter)." In 2005, Bishop Joseph Martino of Scranton suppressed the Society of St. John-- which had been known for its promotion of the extraordinary form of the Mass, but also criticized for reports of lavish spending-- following accusations of sexual abuse against its founder, Father Urrutigoity. Bishop Martino's predecessor, Bishop James Timlin, had suspended Father Urrutigoity's faculties after a diocesan review board found an abuse allegation credible. In defending Bishop Livieres, the Paraguayan diocesan website stated:
In 2004, Paraguay's bishops wrote to Pope St. John Paul II to protest his appointment of Father Livieres, a priest of Opus Dei, to the diocese, but the Holy See held firm.
Bishop Livieres was the only bishop who publicly opposed the presidential candidacy of former bishop Fernando Lugo, who governed the nation from 2008 to 2012.
Opposition to Bishop Livieres among religious orders intensified when he forbade the "political or ideological instrumentalization" of their work and when he called for the proclamation of the Gospel to indigenous peoples.
Ten priests from his diocese, and 150 from across the nation, urged Pope Benedict XVI to remove the bishop after he sought to "renew ecclesial discipline." Today, however, the vast majority of the diocese's "young and numerous" clergy support him.
Bishop Livieres faced opposition from his brother bishops after he founded a major seminary and minor seminary in the diocese, thus ending the "monolithic scheme of priestly formation" at the national seminary.
Father Urrutigoity "came recommended by some cardinals with functions in the Holy See (one of them, elected a few days later Successor of Peter)." The Vatican, through the apostolic nuncio, and "with the consent of the excardinating bishop," authorized the incardination.
The Congregation for the Doctrine of the Faith did not investigate the accusation against Father Urrutigoity because he was not accused of sexual abuse with a minor, but of an action involving an adult. The bishop is convinced of the priest's innocence.
In time, Father Urrutigoity was subsequently appointed vicar general: he was the "almost unanimous" choice of clergy and laity who had been consulted.
Following the election of Pope Francis, Paraguay's leading prelate, Archbishop Eustaquio Pastor Cuquejo Verga of Asunción, asked the Congregation for the Doctrine of the Faith to open a new investigation into Father Urrutigoity despite the lack of any new evidence.
Bishop Livieres has also faced opposition for admitting new religious and lay communities into the diocese and for using a grant to fund the education of seminarians.
The diocese also stated that since 2004, the number of priests has risen from 79 to 140, even though 51% of aspirants to the seminary are not admitted. The number of baptisms rose from 9,543 (2004) to 21,556 (2013). "The growth and strength of the people of God in Paraguay were cruelly mutilated" by the suppression of the Jesuit missionaries in the late 18th century, the diocesan statement concluded. "Those who are betting that history will repeat itself now in our diocese" may encounter the "surprise of discovering that, this time, the Bishop of Rome is an heir to those Jesuits calumniated and suppressed."
The strong defense of Bishop Livieres comes as the diocese awaits the final result of a Vatican-ordered investigation led by Cardinal Santos Abril y Castello. The cardinal advised Bishop Livieres immediately to suspend priestly ordinations in the diocese; he is now making a full report of his findings to Pope Francis, who will determine any further action. (Paraguay: diocese defends bishop, say Cardinal Ratzinger recommended accused priest".)
It is necessary to make only a few comments about the statements contained in the Catholic Culture, whose webmasters are not very enamored of this site, to say the very least, report quoted just above:
First, "Bishop" Rogelio Livieres is in abject denial about the guilt of Father Carlos Urrutigoity. The evidence is plain and it is overwhelming. Father Carlos Urrutigoity is a known homosexual predator who was diagnosed with various disorders when the Diocese of Scranton, Pennsylvania, was forced to send him for a psychological evaluation at the Southdown Institute in Toronto, Ontario, Canada:
At some point Bishop Timlin had been informed that SSJ priests were sleeping in the same beds with boys. Instead of immediately removing these priests, he simply told them to stop the practice. Of course, once the sexual molestation claim was made against Fr. Ensey and Fr. Urrutigoity, the two priests who molested the St. Gregory Academy student, Bishop Timlin really had no choice but to send the priests for a psychological evaluation. He sent them to the Southdown Institute in Toronto, known for treating priests with mental illness, addiction and other problems. Concerning the reports from Southdown, it states in the Minutes of the diocesan Independent Review Board dated March 21, 2002, that Rev. Urrutigoity's problems were classified under an "umbrella of personality disorders, principally antisocial and narcissistic." As for Rev. Ensey, the Minutes state that his "sexual attraction is toward adolescent boys, a stage that he appears to be locked into." The Minutes recommended that both priests be removed from active ministry. (From Mr. James Bendell's Pray for the Children.)
Second, "Bishop" Rogelio Livieres thus belongs to a long and distinguished cast of officials in the counterfeit church of conciliarism, including the supposed "watchdog" of abusive clergymen when he was the prefect of the conciliar Congregation for the Doctrine of the Faith, Joseph "Cardinal" Ratzinger, and Father Urrutigoity's chief enabler, retired Scanton "Bishop" James Clifford Timlin, in seeking to deny or to minimize the gravity of conduct that had been exposed by the then Father Andres Morello of the Society of Saint Pius X in the late-1980s in Argentina despite the support given to the predator by the then Father Alfonso de Galaretta, who has never admitted publicly that he was wrong and that Bishop Morello was correct. This is all covered in The Early Years of Father Carlos Urrutigoity's homosexual career.
Third, presuming that "Bishop" Livieres is indeed correct about his claim that Ratzinger recommended Urrutigoity to him, Ratzinger is shown to be as obvious to the danger of even the show of homosexual predilections and/or effeminate behavior on the part of a priest or presbyter as is Jorge Mario Bergolio himself. The documentation about Urrutigoity was voluminous and very public by 2005. Mrs. Randy Engel wrote Exploiting Traditionalist Orders: The Society of St. John in 2002 before incorporating its graphic text, ableit revised and updated, into The Rite of Sodomy, which was published in 2006 by New Engel Publishing. Carlos Urrutigoity roamed about in Rome after the Diocese of Scranton removed him from priestly ministry there, seeking out sympathetic ears to plead his case so that he could find a new home for his morally corrupt band of profligate spendthrifts, the Society of Saint John.
Fourth, Urrutigoity found a sympathetic patron in "Cardinal" Ratzinger because the latter had been working with the Ecclesia Dei Commission, whose offices are located in the same building, Uffizio 11 outside of the Bernini columns in Rome, as those of the Congregation of the Doctrine of the Faith, although the commission's offices are in a different wing of the building on the north side of the archway that serves as the entrance to the Uffizio 11 complex. It had long been a goal of "Monsignor" Arthur Calkins, who was a senior official in the Ecclesia Dei Commission at the time (he had taken over duties that were once excercised by "Father" John Zuhlsdorf during the early 1990s, which is where I met him in May of 1993), to use the Society of Saint John as a laboratory for Ratzinger's "reform of the reform. "Monsignor" Arthur Calkins has laid out his own view on the liturgy very clearly, and they are certainly sympathetic to the goals outlined to me by Father Urrutigoity in November of 1999:
One of the problems thus far, at least in this writer's humble opinion, is that too often traditionalists have stated their case in "black and white," "life or death" terms, and have not seen themselves as part of a greater movement in favour of "a return to mystery, to adoration, to the sacred," and to the common patrimony of the Roman Catholic Church.
Now, what do I mean by that? I wouldn't want you to have to read some of the things I am obliged to read. For instance, someone petitions his bishop for the traditional Latin Mass and in support of his argument says "we want the 'true' Mass, not the 'new' Mass." This is very unfortunate language that really undermines the faith because we must recognise that the sacrifice of Jesus is the sacrifice of Jesus in every rite that the Church has officially authorised. We may have our preferences, which is all well and good, but let us not assault and attack. What has happened in extremist hard-line literature is that the new Mass, almost always described with all the abuses imaginable, is demonised, so that the only way to preserve the faith is with the old Mass. This is not a healthy Catholic attitude and unfortunately it is present in all too many traditionalist circles. (See Msgr. Calkins on the Mass, the Council and Traditionalists.)
Father Urrutigoity was thus proceeding in the late-1990s with full support of the Ecclesia Dei Commission in Rome, something that was clear from that Easter Vigil Mass in 1999. The views held by Father Urruitgoity and "Monsignor" Calkins are almost identical to those expressed by the supposed "pope of tradition," Joseph Ratzinger/Benedict XVI, and is for this reason that Ratzinger was predisposed to lend his weighty assistance to Urrutigoity, whose charisma gained him entry in the highest echelons in the Vatican, where he was surely crying "perseuction" and "fabrication" by his "enemies." There's a lot of that even in some fully traditional circles, sad to say. When caught bad or inappropriate behavior, so many simply blame their "enemies" and claim that the fault rests with those who exposed and/or sought to correct their abusive behavior.
Fifth, apart from being in the thrall of the multilingual Carlos Urrutigoity, Joseph "Cardinal" Ratzinger, who protected Urrutigoity and indemnfied him as "Pope" Benedict XVI even though numerous people sent documentation to his office concerning facts that he ben sent when he was the prefect of the Congregation for the Doctrine of the Faith, is shown, as noted above, to be as cavalier about predatory homosexual behavior as "Pope" Francis, who will receive a bit of attention in a few moments, himself.
To claim as Ratzinger did that Urrutigoity was, in effect, "good to go" to Opus Dei's Rogelio Livieres because he was not accused of perverse immoral conduct with a minor child is to ignore the entire contex of Urrutigoity's perverse behavior, which included his habit of sleeping with minor children. Anyone who can make light of such completely aberrant and morally repugnant behavior might as well claim that the late, bizarre drug addict named Michael Jackson would have made a fit candidate for Holy Orders. There can be no true of homosexual tendencies or behavior in any man in the priesthood or in any man aspiring thereto. Moreover, Ratzinger conviently ignored the fact that Urrutigoity's trusted aide, "Father" Eric Ensey, did engage in immoral conduct, with a minor that was nonconsensual at the time when he was attending Saint Gregory's Academy in Elmhurst, Pennsylvania, and repeated that nonconsensual behavior when the man turned eighteen years of age soon thereafter. Urrutigoity enabled Ensey, supported him, claimed that he was innocent and being victimized by "enemies." Ensey was defocked from the conciliar presbyterate in 2013.
Attorney James Bendell, who represented the young man in question in a civil lawsuit, wrote to me to remind me that his client had at no time, whether as a minor or as an adult, gave any kind of consent whatsoever to the actions committed upon him by Urrutigoity and Ensey, and that there were three or four other such young men who had been coercively molested by Urrutigoity in the same way. Thus it is that the shared belief of Joseph Ratzinger and Rogelio Livieres that Urrutigoity's behavior had been with a "consenting" adult, not that it would have made this predator any less fit to exercise his priestly ministry, no less to be put back in contact with others he could subject to his manipulative grooming and subsequent perverse abuse, is without any foundation. These two may not believe this now in spite all of the evidence that exists. They will certainly discover it for sure at the moment of their Particular Judgment.
Sixth, it was, after all, Joseph Ratzinger/Benedict XVI who formalized on November 4, 2005, what had been up until that point a de facto abrogation of a 1961 Vatican directive that forbade the ordaining of known homosexuals to the Holy Priesthood by approving a new directive (Instruction Concerning the Criteria for the Discernment of Persons with Homosexual Tendecies With a View to Their Admission to the Seminary and Holy Orders) that was simply a half-measure that ignored entirely the simple fact that no one who has any tendencies to the commission of perverse acts against nature can be admitted to the Holy Priesthood. Always the Half Measure was a commentary that I wrote at the time, six months before taking the first public baby-steps in the direction of the true state of the Church Militant in this time of apostasy and betrayal, on the 2005 Vatican instruction.
The conciliar "popes" and their "bishops" have refused time and time again to admit that the root cause of their having to pay out over two billion dollars in settlements to victims of abusive clergy in the United States of America alone is the result of the systematic recruitment, retention, promotion and protection of known homosexuals into the highest echelons of the counterfeit church of conciliarism. Each of the older Catholic religious communities of men--and many of the religious communities of women--became infected with aberrant behavior and its celebration to such an extent that it became an endemic feature of their liturgy, their life and their very "spiritual" practices. A large part of the explanation for this is that at least one conciliar "pope" and numerous "bishops" have been homosexuals in their own perverted right. Remember, a man such as Ratzinger, who esteemed the symbols of false religions with his own hands and promoted one heresy after another throughout his priestly career, who has no sense of the horror of personal sin would certainly find no horror in the predatory conduct of Father Carlos Urrutigoity.
Here is a brief introduction to the sordid facts as taken from Mrs. Engel's documentation:
On March 21, 2002, a million dollar civil sexual abuse lawsuit was filed in U.S. District Court for the Middle District of Pennsylvania naming as defendants the Society of St. John based in Shohola, Pa., two of its founding members, Father Carlos Roberto Urrutigoity and Father Eric Ensey, the Diocese of Scranton, Bishop James C. Timlin, the Priestly Fraternity of St. Peter headquartered in Elmhurst, Lackawanna County, Pa. and St. Gregory's Academy also located in Elmhurst.[2]
Father Urrutigoity, the founder of the Society of St. John (SSJ) and Father Ensey, Chancellor for the SSJ are accused of the sexual molestation of plaintiff John Doe.[3] Ensey is accused of coercing John Doe into homosexual acts including sodomy while Doe was a minor and a student at St. Gregory's. Urrutigoity is charged with "inappropriate homosexual contact" towards the plaintiff when Doe was staying on the Shohola property and Doe was no longer a minor. Both SSJ priests were incardinated into the Diocese of Scranton by Bishop Timlin. They acted as chaplains, part-time teachers, and spiritual advisors at St. Gregory's, an all male Catholic boarding high school operated by the Priestly Fraternity of St. Peter.
The lawsuit charges Bishop Timlin, the FSSP and St. Gregory's Academy with gross negligence in failing to act on information known to them concerning the predatory homosexual background of Urrutigoity and Ensey, and failure to protect the plaintiff, a minor, from the two clerical sexual predators whose positions at the Academy were arranged by the FSSP with the approval of the Diocesan Ordinary, Bishop Timlin. Charges against the defendants include assault and battery, negligence, intentional and negligent infliction of emotional distress, invasion of privacy, and breach of duty.
The plaintiff and his parents, Jane Doe and John Doe, Sr. who reside in North Carolina, are seeking in excess of $75,000 compensatory damages and $ 1 million as punitive damages. A jury trial has been demanded.
This case study on the Society of St. John demonstrates how rapidly the vice of homosexuality can spread even in a "traditionalist" environment like that of St. Gregory's Academy and the Priestly Fraternity of St. Peter. . . .
Once the SSJ priests were ensconced at St. Gregory's, reports of homosexual acting out and other bizarre sexual behavior by the students began to find their way to Academy staff and officials.
One senior prefect at St. Gregory's was reported to have made a practice of "freaking out" lower classmen by jumping into their beds at night naked. There were incidents of young boys imitating fellatio in the boys' dorm facilities.[23] Rumors that Fr. Urrutigoity, was sleeping with some students started to circulate on campus.
In February 1999, Paul Hornak, a teacher at St. Gregory's, took a group of students on a winter camping expedition along the Appalachian Trail at the Pennsylvania-New Jersey border. Fr. Urrutigoity volunteered to go along as a "'spiritual director." During the trip, Hornak learned that the priest had supplied the boys in his tent with cigars and wine and that two of the boys bragged that they had shared Urrutigoity's sleeping bag. When confronted with the charge that he gave minors alcohol and tobacco and that he slept with boys in his sleeping bag, the priest defended his actions as a way of fostering "good camaraderie."[24]
In his affidavit for the John Doe Case, Hornak stated that Fr. Urrutigoity appeared to consider "sleeping with boys to be perfectly natural, and he evidently had succeeded in convincing the two boys there was nothing wrong with it."[25]
Hornak noted that during the 1998-1999 school year, "I often heard snatches of conversation between the boys that left me in no doubt that drinking, smoking and bed-sharing were standard occurrences." He said he "complained openly to anyone who would listen," but nobody at St. Gregory's seemed to care.
In the spring of 1999, Hornak gave notice that he would not be returning to St. Gregory's in the fall. In his exit interview with Fr. Devillers, Hornak told Devillers that he "strongly believed that the Society of St. John had engaged Saint Gregory's boys in near homosexual activity throughout the term of their stay at the school." The nonplused Devillers told Hornak that the SSJ would change its ways when it left the school and had to fend for itself. He also said that he believed that "some of the techniques the Society employed to win the favor of boys were perhaps intended to make them receptive to God's word." Hornak said he thought Devillers' statement "preposterous."[26]
Devillers did not inform Hornak that he was not the first to complain about the unsavory behavior of SSJ priests.
The Franciscan Fathers who shared the same wing of the building with the SSJ priests had also expressed their concerns about the dangerous influence of Fr. Urrutigoity and his priests over St. Gregory's boys to Devillers. They told him that Fr. Daniel Fullerton, a SSJ priest, told the students that swimming trunks were "optional" when they swam on the Society's Shohola property. The friars also said they witnessed upperclassmen exhibiting violent behavior in the form of hazing toward younger students, which they believed Fr. Urrutigoity encouraged as a means of giving the upperclassmen a "stake" in running the school.[27]
One of the Franciscan brothers who was asked by Headmaster Hicks to chaperon a trip to New York City sponsored by Fr. Urrutigoity reported that on the way the priest stopped to buy cigarettes for the boys and wined and dined the students during their stay in Manhattan.
The friars appeared to be fully aware of the homosexual activity of the SSJ at the Academy. They reported to Devillers that they often saw boys in the SSJ's quarters past curfew and some in their bedclothes in the SSJ's bathroom in the early morning. On one occasion they discovered a student alone in a room smoking and drinking with Fr. Urrutigoity after midnight. They also reported that for a time Fr. Urrutigoity set up his bedroom in the bathroom.
Further testimony to support Hornack's charge that the SSJ was turning St. Gregory's into a pederastic haven was provided by Brother Alexis Bugnolo who stayed with the Franciscan Fathers in the SSJ wing of the Academy for a weekend in February 1999.
Brother Bugnolo had acquired knowledge of homosexual behavior as a result of his work with a prolife group in Boston who conducted a street ministry in the homosexual sections of the city. He stated that during his stay at St. Gregory's he saw students exhibiting non-verbal homosexual gestures and behaviors that were inconsistent with normal boyhood affection. One night, after curfew, when he went over to the dorm/chapel side of the building to make his confession, Bugnolo said he saw two students kissing and embracing in front of the chapel doors. He also witnessed one boy carrying another down an adjacent dorm hall shouting, "Girls, girls, girls, get them while they're hot!"[28]
After going to confession to Fr. Urrutigoity, Bugnolo waited in the chapel for the priest to come out of the confessional in order to express his concern about the abnormal sexual behavior he had witnessed. He advised Father Urrutigoity to alert the superiors of the school and the diocesan bishop to the problems he had witnessed so that the situation could be remedied.
After Bugnolo returned to his home in Massachusetts, he wrote Fr. Urrutigoity about his concerns of possible homosexual activities and violations of chastity at St. Gregory's. In a touch of irony, Bugnolo suggested that Fr. Urrutigoity remove his community from the school to avoid moral contamination.[29]
Sometime later, Bugnolo recalled that he saw a picture of one of the students who exhibited inappropriate same-sex touching at St. Gregory's the weekend of his visit. The young man was now clothed in a cassock and the caption indicated he had joined the SSJ. Br. Bugnolo brought his concerns to Peter Vere, a canon lawyer for the diocese of Scranton and was advised that there was not sufficient evidence to bring the matter to the attention of Bishop Timlin. Brother Bugnolo let the matter drop, temporarily. (Mrs. Randy Engel, Exploiting Traditionalist Orders: The Society of St. John.)
The composite picture of Father Carlos Urrutigoity and his corrupt band of moral predators was fully known in 2005. What mattered to the ethereally-minded Joseph "Cardinal" Ratzinger was to advance his "reform of the reform," not the sordid, graphic details that were said to be, falsely, it should be noted, in "dispute."
Inconclusive, you say?
Well, look at the evidence of Urrutigoity's peversely immoral conduct at Saint Thomas Aquinas Seminary in Winona, Minnesota, and "Bishop" James Clifford Timlin's finding it "inconclusive" before coming to realize that there is nothing inconclusive about Urrutigoity's conduct, and that journalists such as Giuseppe Nardi in Italy to ignore these facts and imply that Urrutigoity is guilty solely of being the victim of Jorge Mario Bergoglio's well-known animus against the Immemorial Mass of Tradition and everything else to do with the Catholic Faith of the "past" is entirely irresponsible. Facts matter. Here are facts:
It was not until two years after Fr. Urrutigoity had been dismissed from St. Thomas Aquinas Seminary in Winona for "subversive activities," namely, the secret planning of the Society of St. John, and had settled into the Diocese of Scranton with temporary quarters at St. Gregory's Academy, that a Winona seminarian came forward to accuse the priest of sexual molestation.
The object of Urrutigoity's attempts at seduction and forced sexual attention was a young man named Matthew Selinger who once idolized the priest. The two men had formed a particular friendship at the seminary and Urrutigoity served as the seminarian's spiritual director for two years before making his move.
Selinger had some strange tales to tell about Fr. Urrutigoity.
He said that on one occasion he was constipated and went to Fr. Urrutigoity to get some Metamucil. The priest offered him a rectal suppository instead. Never having used one before, the seminarian thought it was an oral medication and put it in his mouth. The priest instructed him in its correct use and insisted that the young man insert it in his presence as an act of "humility." Selinger reluctantly resisted the order and went into the bathroom to insert the suppository all the while rebuking himself for not being spiritually mature enough to follow Urrutigoity's orders and crucify his "manly pride."[47]
On another occasion, Urrutigoity invited Selinger and his friend to swim with him in the nude.
One night, the young seminarian awoke from his sleep to find the priest kneeling by his side massaging his genitals hard enough to produce an erection. Selinger said his first instinct was to punch the priest's lights out, but because Fr. Urrutigoity was an Alter Christus, another Christ, he turned over and pretended to go back to sleep while Urrutigoity quietly slipped away into the darkness.[48]
The novel use of rectal suppositories as part of Urrutigoity's grooming repertoire is reminiscent of the grooming techniques employed by the early 20th century theosophist/pederast Charles Webster Leadbeater.
Leadbeater promoted enemas, genital manipulation, and onanism as a means of promoting physical, psychic and spiritual (occult) vigor among his youthful disciples. "This spiritualizing of paederasty absolves him from the guilt which makes him hate society. …His is no longer a common human weakness, for he has felt the cleansing fire of divinity," related Gregory Tillet, Leadbeater's biographer.[49]
By the time that Selinger informed his superiors at Winona that Urrutigoity had sexually molested him, the SSJ founder was safely ensconced as a chaplain at St. Gregory's Academy selecting his next victim from a large pool of young men, who like Selinger before he was molested, worshipped the ground that Urrutigoity walked on.[50]
In June 1999, a meeting took place in Winona between Matthew Selinger and SSPX Rector Williamson, and the pastoral team that the Diocesan Review Board had assigned to investigate the accusations against Urrutigoity. The pastoral team consisted of Auxiliary Bishop John Dougherty, a diocesan priest, and a lawyer from the Diocese of Scranton.
However, even after reading the Board's report on Selinger's testimony and with the knowledge that this was the second credible accusation of homosexual seduction and molestation against Urrutigoity, Bishop Timlin decided that the evidence against the SSJ founder was "inconclusive." He took no further action on the matter.[51] A classic cover-up was underway led by the Ordinary of the Diocese of Scranton with the cooperation of Timlin's silent partner Fr. Devillers, Superior of the FSSP.
Were it not for the courage and determination of Dr. Jeffrey M. Bond, President of the College of St. Justin Martyr and the moral and legal support given to Dr. Bond by Washington State attorney James M. Bendell, the cover-up may well have succeeded. (Exploiting Traditionalist Orders: The Society of St. John.)
The evidence is overwhelming against Father Carlos Urrutigoity. Yet it is that his crimes were idenmfied and/or covered up or excused by some within the Society of Saint Pius X, the Priestly Fraternity of Saint Peter, the Diocese of Scranton and others, including ultimately "Pope" Benedict XVI himself, and by Rogelio Livieres of the Diocese of Ciudad del Este. And "Father" Frederico Lombardi has had the temerity to repeat Livieres's claim that the charges against Urrutigoity were never proven. Reprehensible. (See Lombardi on the situation in Ciudad del Este, Paraguay.)
Eighth, the case of Father Carlos Urrutigoity has, it would appear, provided Jorge Mario Bergoglio to wage yet another campaign to wipe out what he views as a stronghold of "traditionalism" on his own native continent of South America. Roger Livieres belongs to Opus Dei (see Not The Work of God), which he, Bergoglio, believes holds to a "closed-in-on-itself" view of the Church and that opposes his sort of "reaching out to the existential peripheries," including embracing those who adhere to "liberation theology" as a means of helping the "poor." To use the indisputable case of Father Urrutigoity as means of ridding himself of what is thought to be a "bastion" of the Catholicism of the "past" that he depsies, suits Jorge Mario Bergoglio's purposes very nicely.
Quite unlike the trumped-up charges that Beroglgio has managed to make through his chosen intermediary, "Father" Fidenzio Volpi, O.F.M., Cap., against Father Stefano M. Manelli, the founder of the Franciscan Friars of the Immaculate, the very real facts about Father Carlos Urrutigoity matter to Bergoglio only because he is said to be devoted to traditionalism when the truth is that uses the Immemorial Mass of Tradition as means of ingratiating others to his very person as he insinuates the Society of Saint John cult of predatory behavior more and more into the sinews of the Diocese of Ciudad del Este.
While it is indeed arguably the case that Jorge Mario Bergoglio would have gone after Rogelio Livieres even if he had not, at Ratzinger's recommendation, welcomed Carlos Urrutigoity and the Society of Saint John into his diocese and then indemnified, up to and including this very day, this does not make Urrutigoity out to be any kind of martyr for the cause of the Catholic Faith. Quite the opposite, this shows just how preternaturally attractive Urrutigoity can be to those who see in him a man after their own designs to "restore" "balance" to the litugical aspects of the conciliar revolution.
For his part, of course, Jorge Mario Bergoglio is a complete hypocrite. So what else is new?
Remember, this is the same man who said "Who am I to judge?" just over twelve months ago now when asked about the completetly documented facts in the case of a known homosexual predator by the name of "Monsignor" Battista Ricca whom he had named to serve to direct the daily activities of the Institute for Religious Works (the Vatican Bank). The facts in Ricca's case were every bit as documented as they have been in Urrutigoity's (see Dispensing With The Last Pretenses Of Catholicism). Jorge merely shrugged his shoulders and said "Who am I to judge?", the slogan that warmed the hearts of practitioners of perversity worldwide, just two weeks after his spokesflack, "Father" Federico Lombardi, S.J., had called the accuations against Ricca to have been "not trustworthy," something that prompted Vaticanologist Sandro Magister to shoot back with a point-by-by-point refutation of Lombardi (see (On "Gay Lobby", Sandro Magister challenges the Vatican: "We have the evidence").
Then again, Ricca, whose perverse sins were said to be with "adults," not minors, is with the Bergoglio agenda and Urrutigoity, who has shown himself to be capable of adapting to all of the adverse conditions that surround him, is not, although it is not beyond the realm of possibility for this narcissistic man to find some way to be given an audience by Bergoglio to plead his nonexistent "case" with him.
Remember also that Jorge Mario Bergoglio has protected and promoted and personally endorsed all manner of unapologetic homosexual activitists within the ranks of the structures of his false church, including going so far as to hold the hand of the hand of a homosexual activist named "Father" Luigi Ciotti as they walked up the steps of a Roman church on April 2, 2014:
Jorge Mario Bergoglio also kissed the hand of a ninety-three year-old homosexual activist named Don Michele De Paolis when he met with him at the Casa Santa Marta on May 7, 2014 (See Jorge the Kissing Fool.)
Bergoglio has no problem with those who live in lives of unrepentant sins of perversion, and he has no problem with those who promote it, which is why he transferred Ranier Maria "Cardinal" Woelki from being the conciliar "ordinary" of the Archdiocese of Berlin to serving in the same capacity in the Archdiocese of Cologne, Germany. Here is just a brief look at Woelki's long track record of trying to "understand" the "gay community":
The Church must rethink its approach to remarried divorcees and gay relationships, the world's youngest cardinal has said.
Cardinal Rainer Maria Woelki, 55, made his comments in an interview with the German weekly Die Zeit and said that while the Orthodox Church considers only the first marriage sacramentally valid, divorce and a second marriage is tolerated. Asked whether this could be a model for the Catholic Church, he replied that the Church should talk about it.
Commenting on gay men in relationships he said he tried not to see them as just violating natural law but as people trying to take responsibility for each other in lasting partnerships. "We must find a way of allowing people to live without going against church teaching," he said. ('Rethink line on divorce and gays')
One of the key questions about Pope Francis is whether he'll be able to make his more moderate and tolerant vision of Catholicism stick by naming bishops around the world aligned with his way of seeing things.
To date there's been little to go on, because while Francis has shuffled the deck at the Vatican he hasn't made many top-shelf appointments elsewhere. On Friday, however, he did just that in Germany, and at least in this instance it seems the pope found his man.
Cardinal Rainer Maria Woelki of Berlin was appointed on Friday as the new archbishop of Cologne, which is among the largest and wealthiest Catholic jurisdictions in the world.
Woelki, who turns 59 next month, takes over from 80-year-old Cardinal Joachim Meisner, who stepped down in February. Generally seen as an arch-conservative, Meisner had been a close confidante of Pope Benedict XVI, with the two men typically speaking on the phone at least once a week.
Born in Cologne, Woelki was perceived as a Meisner protégé early in his career, meaning someone cut from the same ideological cloth. He earned a doctorate at Opus Dei's university in Rome, and was criticized when named to Berlin in 2011 for referring to homosexuality as an "offense against the order of creation." Critics worried that a son of heavily Catholic Cologne would be unsuited for Berlin's largely secular, and highly diverse, milieu.
Yet by most accounts, leading the church in such an environment brought something out in Woelki. He became an apostle of dialogue, holding meetings with leaders of the gay community and saying that, while the church believes marriage is between a man and a woman, it can also see that a long-term caring relationship between two people of the same sex deserves special moral consideration.
Woelki developed into a sort of Francis before his time, calling on the church to dial down the rhetoric in the culture wars.
"The church is not a moral institution that goes around pointing its finger at people," he said. "The church is a community of seekers and believers, and it would like to help people find happiness in life."
In 2012, a German "Alliance against Homophobia" actually nominated Woelki for a "Respect Award," saying he had promoted a "new cooperation with homosexuals in society." (Woelki expressed gratitude but politely declined.) (Bergoglio Sets His Course. See also Woelki to Cologne.)
Even more incredibly in light of all of the fast-breaking developments is the fact that Jorge Mario Bergolio has approved the lifting of "Saint Paul II's" excommunication of Father Miguel d'Escoto Brockman, who served as the foreign minister of the Sandinista Communist government under President Daniel Ortega, who won the presidency of Nicaragua once again in 2007 after an eighteen year interregnum following his defeat by Violetta Chamorro on February 25, 1990. Miguel d'Escoto is a Maryknoll priest who fought with the Communist Sandinista army against Nicaraguan dictator Anastasio Somosa. Encouraged by the administration of the great appeaser, James Earl Carter, Jr., the Sandinista's overthrow Somoza on July 17, 1979, thereby instituting a reign of repressive terror on all opposition groups in Nicaragua. D'Escoto, who served as the President of the United Nations General Assembly from 2008 to 2009, served as Ortega's foreign minister even after Karol Wojtyla/John Paul II had placed a ban on priests serving in public office. That mattered not to d'Escoto, who supported the Oretega government's systematic slaughter of the Mesquito Indians in Nicaragua, and Wojtyla/John Paul excommunicate him for his disobedience. D'Escoto also served at the the pro-abortion, pro-contraception, pro-perversity World Council of Churches. Oh, did I mention that he is a homosexualist supporter? Ah, that's the kind of "street priest" that is near and dear to the heart of Jorge Mario Bergoglio.
Una cum Francisco, anyone?
Hypocrisy, though, is par for the course in the realm of the world of the counterfeit church of conciliarism, a world where manipulation to protect one's "own" is commonplace. Livieres is protecting his "own," Urrutigoity. Bergoglio is protecting his "own," Ricca and so many others. And on and one it must go in a world of apostasy, blsaphemy, heresy and utter contempt for all truth, whether supernatural or natural.
There are still no excuses for those who continue to indemnify Father Carlos Urrutiogity and the Society of Saint John. Do not be agitated by the headlines into making Carlos Urrutigoity to be a "good guy" in any of this. It was his being enabled consistently by various personages in the structures of the counterfeit church of conciliarism, up to and including Joseph Ratzinger/Benedict XVI himself, that made possible the current set of developments.
Predators always find themselves the victims of their own schemes, if not now in this passing, mortal vale of tears then at the moment of their Particular Judgment if they do not repent of their crimes and their endless efforts to engage in a defense that they did not deserve and to blame all of their problems on "enemies" of one kind or another.
We must remember, as always, to make reparation for our own many sins as the consecrated slaves of Christ the King through the Sorrowful and Immaculate Heart of Mary, praying as many Rosaries each day as our state-in-life permits.
Our Lady, Help of Christians pray for us!
Vivat Christus Rex! Viva Cristo Rey!
Immaculate Heart of Mary, pray for us now and at the hour of our death.
Saint Joseph, pray for us.
Saints Peter and Paul, pray for us.
Saint John the Baptist, pray for us.
Saint John the Evangelist, pray for us.
Saint Michael the Archangel, pray for us.
Saint Gabriel the Archangel, pray for us.
Saint Raphael the Archangel, pray for us.
Saints Joachim and Anne, pray for us.
Saints Caspar, Melchior, and Balthasar, pray for us.
Saint Alphonsus de Liguori, pray for us.
Pope Saint Stephen I, pray for us.