Beaver Co. priest accused of sexual abuse, placed on leave
WPXI
August 4, 2014

http://www.wpxi.com/news/news/local/beaver-co-priest-accused-sexual-abuse-placed-leave/ngtFR/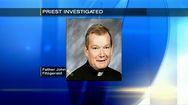 Father John Fitzgerald


[with video]



CONWAY, Pa. —

The pastor of a Catholic church in Conway, Beaver County, has been placed on administrative leave pending an investigation into an allegation of sexual abuse.

Father John Fitzgerald, 66, is accused of sexually abusing a minor in the late 1990s.

Officials from the Catholic Diocese of Pittsburgh reported the allegation against Fitzgerald, who is the pastor of Our Lady of Peace Parish, to the district attorneys of Allegheny and Lawrence counties, where the alleged abuse occurred.

According to the Diocese of Pittsburgh, Fitzgerald has not been previously accused of sexual abuse and denies the accusation. While on leave, he cannot administer the sacraments, dress in clerical attire or identify himself as a priest.

"If a determination is made that Father Fitzgerald did what he is accused of, those restrictions will become permanent. If it is determined that the allegation is unfounded, all that is possible will be done to restore Father Fitzgerald's reputation and return him to ministry," Bishop David Zubik wrote in a letter to parishioners of Our Lady of Peace.

Zubik is asking anyone with information to contact either the diocese or civil authorities.

"Removing Father Fitzgerald from ministry does not imply guilt. It is intended to safeguard the course of justice while preserving the rights of everyone involved, including both the person against whom an allegation has been made and the person who made the allegation," Zubik wrote.