Grand Blanc priest accused of inappropriate touching to enter assessment program
By Dominic Adams
MLive
August 5, 2014

http://www.mlive.com/news/flint/index.ssf/2014/08/grand_blanc_priest_accused_of.html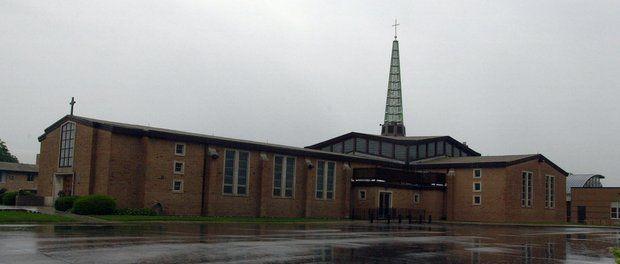 Holy Family Catholic church
FLINT, MI – A Grand Blanc priest accused of inappropriately touching two children remains on administrative leave three months after the allegations.
The Rev. Ken Coughlin was accused of inappropriately touching the hands and legs of two students in May at Holy Family Catholic School in Grand Blanc.
Meanwhile, Genesee County Prosecutor David Leyton said he is still reviewing the case before he will decide whether to bring charges.
The Catholic Diocese of Lansing placed Coughlin on paid administrative leave following the allegations.
Coughlin vows his innocence in a letter that was posted on the Holy Family website Friday, Aug. 1, and placed in the parish bulletin.
"As this investigation has progressed, it has become clear that some of my words and actions have upset some people in our parish," Coughlin said in the statement. "In response to these concerns, Bishop (Earl) Boyea has asked me to consider entering a program of assessment that assists clergy and religious with their ministry. I have agreed to this request."
Coughlin wrote in the letter that he does not know where the assessment will lead, but that it will help the bishop decide on the best course of action. He estimated that the assessment would take a month.
"My hope is that the investigation will prove what I know to be true, that I am innocent of anything criminal," Coughlin wrote.
Diocese Spokesman Michael Diebold said he could not give any specific details about the assessment because it was a privacy issue.
"I really can't say anything about the assessment or what it involves or even where it is," Diebold said. "Father Coughlin remains on administrative leave from the parish."
Attorney Frank J. Manley is representing Coughlin and said there have been discussions with prosecutors, the diocese and some of the families involved.
"It's our position that Father Coughlin was never involved in any criminal activity," Manley said. "We're cooperating with the church to make sure that this investigation has been full and fair to everyone."
The Catholic Diocese of Lansing sent a letter in May to parishioners and made a statement that the Rev. Ken Coughlin, of Holy Family Catholic School in Grand Blanc, was put on paid administrative leave after allegations that he inappropriately touched the hands and legs of two students.
The move followed the "Charter for the Protection of Children and Young People," which was adopted by the United States Conference of Catholic Bishops in 2005. The charter says it is a series of steps that ensures a safe environment within the church for children and young people and aims to prevent sexual abuse in the future.
Coughlin is the first priest put on leave in the Catholic Diocese of Lansing since a 2005 decision by the church to publicize the names of priests accused of abuse.
There have been no allegations of sexual abuse against Coughlin.
However, he was removed from the parish and placed on paid administrative leave when the complaints were made, according to the diocese.
Coughlin had been with the church since 2007. He has a degree in packaging from Michigan State University and completed pre-theology at a seminary in Minnesota.
He received a master's degree in theology at St. John Seminary in Plymouth in 1990, his bio says.
Manley said Coughlin looks forward to returning to his priestly duties.
"We don't want any lingering questions," Manley said. "We want to make sure that we fully clear his name."
Contact: dadams5@mlive.com