Marist Sex Abuser Gregory Sutton May Have Been Tipped Off, Inquiry Hears
By Helen Davidson
The Guardian
August 7, 2014

http://www.theguardian.com/world/2014/aug/07/marist-sex-abuser-gregory-sutton-may-have-been-tipped-off-inquiry-hears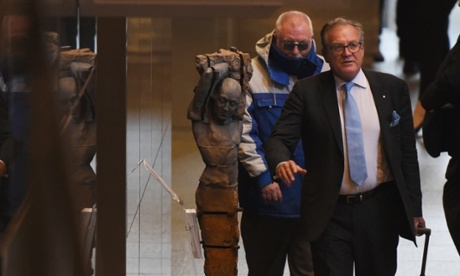 Convicted sex offender Gregory Sutton (left) with his lawyer Greg Walsh (right) attends the royal commission in Sydney in July. Photograph: Dean Lewins/AAP



A police officer who investigated early allegations of child sexual abuse by Marist Brother Gregory Sutton has added further testimony to claims Sutton was tipped off so he could evade arrest.

A royal commission is examining how the Marist Brothers responded to allegations of child abuse against Sutton and another of its former teachers.

Sutton was convicted in 1996 after pleading guilty to 67 charges of sexual assault against 15 children. He was sentenced to 18 years in prison, with a minimum term of 12 years, and was released in 2008.

Sutton's identity had been legally hidden for almost 20 years until the beginning of this public hearing, when the presiding commissioner, Justice Jennifer Coate, overturned the suppression order.

In new evidence submitted to the royal commission into institutional responses to child sexual abuse on Thursday, Detective Senior Constable Donna Lawrence said when she and fellow officers sought to arrest Sutton, they learned he was overseas and could not be found, and suspected he had been tipped off.

"When we went to make the arrest other [child mistreatment unit] investigators had made enquiries to locate Sutton ... and they advised me that he had gone overseas and they did not know which country and we could not or would not be able to find him now," Lawrence said in her statement.

"I do not recall exactly where they got this information but I believe it came from someone within St Thomas More school."

Lawrence went on to say she and fellow officers discussed his disappearance, and the search for him that had been conducted by other investigators.

"We speculated, although we had no evidence, that perhaps someone from within the St Thomas More school tipped him off that the police were coming to arrest him. We could not locate Brother Sutton anywhere," she said.

"I do not know how Brother Gregory Sutton came to learn of the police investigation. As far as I am aware, the police had not contacted Brother Sutton before he left the country."

In June, Sutton gave evidence to the commission that he was told by provincial Alexis Turton – the head of the Marist Brothers order – that police were investigating him and that Turton suggested he go to a Canadian centre for priests suffering psychological and addiction problems for "treatment".

Sutton said he did not consider he had a choice in the matter. He left four days later and was not arrested until his extradition in 1996.

Turton denied the allegation when he was called before the commission. He gave evidence that when he was still vice-provincial, he was made aware police were looking into other allegations against Sutton.