Kansas City Is Still Waiting for the Bishop and Catholic Diocese to Do the Right Thing
Kansas City Star
August 19, 2014

http://www.kansascity.com/opinion/editorials/article1259156.html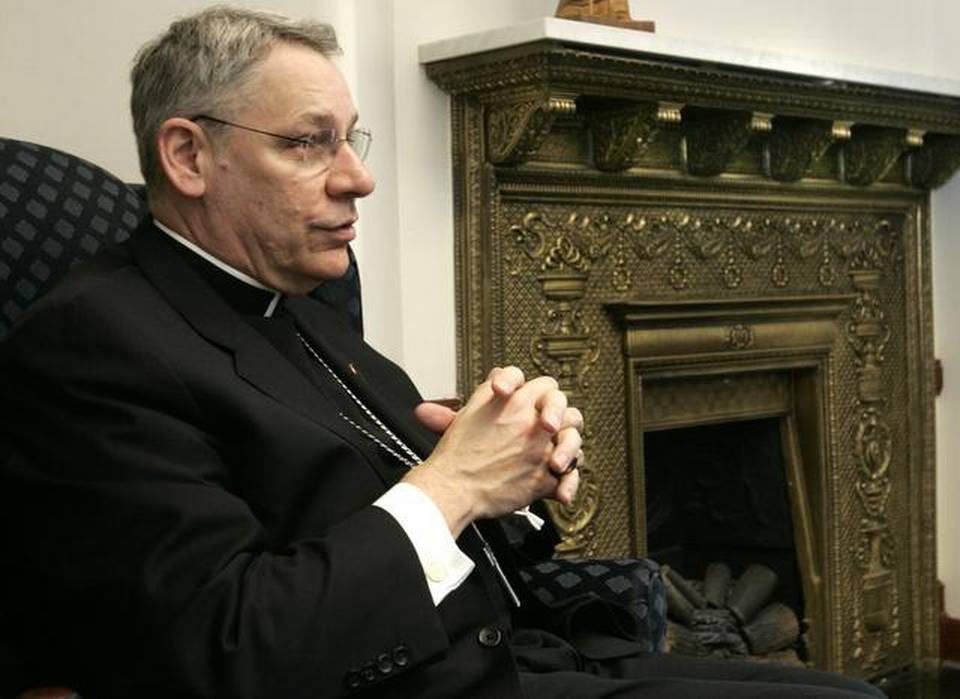 Bishop Robert Finn of the Catholic Diocese of Kansas City-St. Joseph.FRED BLOCHER/FILE PHOTO



The only reassuring news to come out of an arbitrator's recent finding against the Catholic Diocese of Kansas City-St. Joseph is that its Victim Advocacy Program, created in 2008 in response to the priest abuse scandal, is operating well.

But every other conclusion of the arbitrator — upheld last week by Jackson County Circuit Judge Bryan Round — brought shame to the diocese and provided more than enough reasons for Bishop Robert W. Finn, already convicted of a misdemeanor, to resign.

In ordering the diocese to pay $1.1 million for violating its agreement with sex abuse victims, arbitrator Hollis Hanover was blunt: "Where they (the victims) expected protection, they received desertion; where the assertion of authority on their behalf was required, they received betrayal."

He also said he hopes "that I am dead wrong in my opinion that this Diocese as presently constituted will not mend its ways."

Everyone hopes that. But there's little reason for optimism.

In his ruling, Round rejected every argument made by the diocese to challenge Hanover's award.

The agreement the diocese signed in 2008 grew out of a sexual abuse lawsuit filed against 12 current or former priests. The diocese settled that suit by paying $10 million and agreeing to various commitments. One of them required diocesan authorities to immediately report any further abuse or suspected abuse to law enforcement officials.

But the courts have ruled that didn't happen in the case of Shawn Ratigan, at the time a priest in the diocese. Disturbing photos of young girls were found on his laptop computer, but Finn did not immediately notify authorities.

Instead, he put restrictions on Ratigan and reassigned him. Eventually Ratigan pleaded guilty to five child pornography charges and was sentenced to 50 years in prison.

In turn, a Jackson County judge in 2012 found Finn guilty of failing to report suspected child abuse to police or state child welfare authorities in a timely way.

Finn's handling of this entire matter has been disgraceful and has outraged many faithful Catholics here and elsewhere.

As Round noted in his order last week, Hanover got it right in his award when he said the diocese "was and is constitutionally incapable of placing the preservation and protection of the clergy culture in a subordinate position to any other consideration, including the timely reporting to law enforcement of a priest involved in the use of diocesan children as pornography models."

Beyond that, the behavior of diocesan leaders has cost millions of dollars generously given by members of local Catholic churches — money that surely could have been more worthily spent providing ministry to people in need.

This whole affair has been baffling. Why didn't the church and its leaders do the right thing in the first place? When convicted of wrong doing, why didn't Finn take the honorable route and resign? Why does the diocese continue to spend money seeking to justify its bad behavior?

In the end, the true victims and potential victims — the children — get lost in the legal maneuvering.

One of the church's most important jobs is to protect children in its care. As the latest ruling confirms, the diocese has failed that moral obligation.