Nm Archdiocese Accused of Thirty-year Cover-up
By Jay Nelson
Renegade Catholic
August 19, 2014

http://www.renegadecatholic.com/blog/2014/08/nm-archdiocese-cover-up/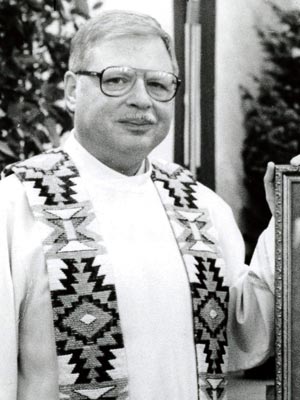 Be on the lookout for this fugitive priest, Arthur J. Perrault, a dangerous pervert



Just when you think it's really and truly finally over, the past reaches out and grabs at you like a zombie hand from a grave. Once again the scandal of clergy sexual abuse hangs over the Land of Enchantment as new lawsuits are filed.

The story below for some reason does not name the accused priest, and the details provided don't help that much, for there were at least two child-molesting priests who were sent to the Servants of the Paraclete from Connecticut and later became fugitives: Fr. Laurence Brett and Msgr. Arthur J. Perrault. But Brett was ultimately found, laicized and died, and there's no mention of any of that here, so it would have to be Perrault, who has never been seen again.

Perrault was a big apple here – popular (winning a local "People's Choice for Favorite Clergy" award), a close friend of later-disgraced Archbishop Robert Sanchez, a top liturgist who wrote columns for the archdiocesan newsletter, did the TV Mass regularly, and served as the coordinator of worship for bishops in the West. He'd been a colonel in the Air Force reserve Chaplains Corps, and served in the four biggest and richest parishes in the state.

And Fr. Perrault was also a major perp. Screwed male and female over a wide range of ages, and he nearly got me once, too. For he taught ethics, of all things, at St. Pius X High School here in Albuquerque back then. I went there back when it was located where the ABQ Uptown shopping mall is now. Thank God, I was only there for my freshman and sophomore years. But on one occasion, I had to see him in his office after school – I had found out about a gang fight that was scheduled for after school that I thought needed to be stopped.

I remember entering his small office, sitting down across the desk and telling him about it. A sheen of sweat covered his face as he stared at me bug-eyed. I felt very uncomfortable – I thought it was just because of my being a snitch – but I also remembered that I had been warned by older kids not to be alone with him. Fortunately, somebody interrupted the meeting.

But others were not so lucky. They had been molested in his office, or like two brothers, in their own home while their mother was in the next room. He raped Elaine Montoya, a talented graphic designer hired to help him put out the newsletter, and her brother Paul. Perrault even brought one of his victims with him on his visits to the Servants of the Paraclete for "treatment" and also abused him in Archbishop Sanchez' own home!

Perrault disappeared as if in a puff of smoke right as the scandals here were beginning back in September, 1992. He was undoubtedly warned and has likely been protected ever since. Supposedly Perrault was going on a sabbatical to study theology in Denver, but he never showed up. He likely fled to Canada instead. Seven lawsuits were filed against him, and there may have been up to two dozen victims that called but did not file claims.

All the suits were settled quietly, because it came out that Perrault was a known offender whom Archbishop Robert Sanchez protected. Why is still a mystery – Sanchez denied their close friendship, so perhaps the prelate was being blackmailed over his own sexual misconduct. He had given Perrault at least 3 chances, and reassigned him to the chancery or remote parishes. All such measures were as ineffective as the "treatment" the Paracletes gave him.

Perrault remained a monster. From what I was told confidentially by several of his victims, he was not just a vicious and opportunistic pervert, but an active Satanist, and possibly the leader of a coven or other group of black-magic practitioners active in the 60s and 70s. Yet he has never been accused of an actionable criminal offense – until now at least, all his heinous offenses were out of reach due to the statutes of limitations.

Perhaps that will change now; but it will be interesting to see if the world is ready for the whole truth.

NM Archdiocese Accused of 30-Year Cover-up

ALBUQUERQUE (CN) – The Archdiocese of Santa Fe protected a series of pedophile priests in a cover-up lasting at least 30 years, according to three recently filed lawsuits.

The lawsuits in Bernalillo County Court sketch a history of boys between the ages of 9 and 15 being molested by priests who the Archdiocese allegedly knew sexually children, but allowed to work with children nonetheless.

Two of the three plaintiffs claim that the priests had received treatment at the Servants of the Paraclete center in Jemez Springs, N.M., and that the Paraclete center charged an average of $10,000 for the treatment.

The treatment was intended to "cure" priests of sexual attraction to children, but "after some effort at treatment, usually by prayer, these abusers were released into New Mexico parishes and communities and hired by [the Archdiocese of Santa Fe]," John Doe D claims in his complaint.

John Doe D's lawsuit lists the names of 40 priests, including an archbishop, who the archdiocese allegedly admitted "have been credibly accused of child sexual abuse." The abuse allegedly occurred from the 1950s through the 1990s.

John Doe D claims that the archdiocese knew that its "culture of the day include(ed) a ratio of pedophile priests to non-pedophile priests of about 40 percent in the decades preceding and including plaintiff's birth and childhood."

John Doe D was born in 1981.

He claims he was abused on dozens of occasions when he was 10 and 11 years old by a priest known to the Archdiocese as a child molester.

The priest, in fact, had been sent to the Servants of the Paraclete from a parish in Connecticut after being accused of child sexual abuse and despite recommendations from the Connecticut parish that the priest no longer be allowed to work with children, according to the complaint. Nonetheless, he was sent to the University of Albuquerque to work with teenage boys and continued to have active contact with children for more than 20 years, John Doe D says in the complaint.

He claims that when accusations against the priest surfaced after decades of being hushed up, the archdiocese helped pay to send the priest to a treatment center in Canada, and when the priest went "on the lam" rather than enter the treatment center, the archdiocese continued to send him money.

In a second lawsuit, John Doe E accuses the archdiocese of deliberately concealing a priest's history of sexual abuse of children, allowing the priest to be put in a position of authority and trust over children despite his having undergone treatment at the Servants of the Paraclete center three times in 10 years.

John Doe E, who was born in 1967, claims he tried to report the priest's abuse but was told never to tell anyone what had been done to him.

In a third complaint, John Doe F says he remembers being "groomed" by his priest with gifts, praise, and special privileges before the man got him drunk and raped him. John Doe F says the priest told him that "he could not help himself."

All three men accuse the Archdiocese of Santa Fe of failing to protect or warn the victims and their families of the dangers of these abusive priests and of maintaining a culture of silence that allowed the abuse to thrive.

They seek damages for negligent hiring, failure to warn and infliction of emotional distress. All are represented by Brad Hall of Albuquerque.