Archdiocese Settles Suit with Man Abused by Priest As Boy
Fox 9
August 22, 2014

http://www.myfoxtwincities.com/story/26329989/archdiocese-settles-suit-with-man-abused-by-priest-as-boy?clienttype=mobile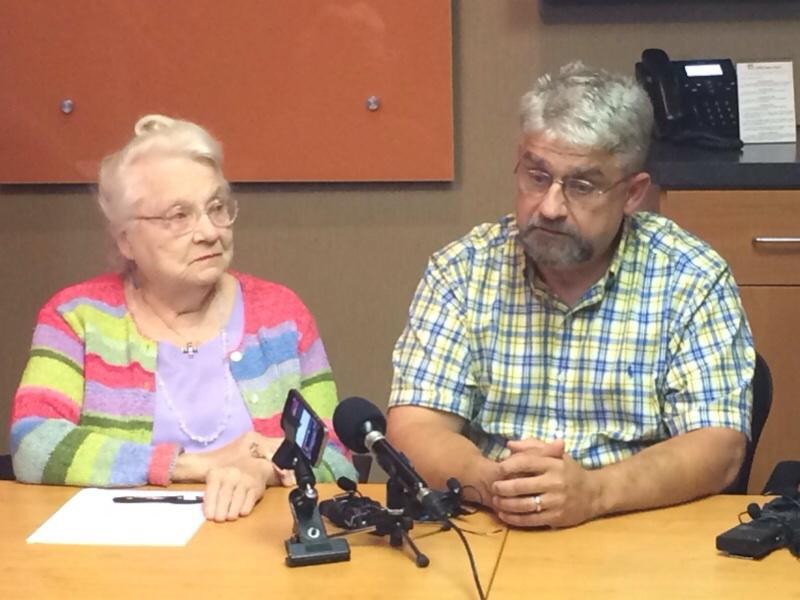 Jon Jaker, 57, and his mother | Photo by Maury Glover



It's a case that dates back to the early 1970s, but the Archdiocese of St. Paul and Minneapolis is settling a suit with a 54-year-old man who claims Father Tom Stitts sexually abused him while being shuffled through metro parishes.

"This is a bittersweet day," said Leander James, victim's attorney. "Our client was sexually abused and his mother silenced. After 43 years, his abuser's employer has finally heard him, his mother and acknowledged his injury. It's a first step."

It took more than 40 years for the man known only as John Doe 100 to get the resolution he'd hoped for. On Wednesday, he and his mother intend to emerge from that confidentiality to speak publicly about the case with their attorneys.

"I need to speak up," John Doe 100 said. "I'm no longer afraid."

Seated next to his mother, Yvonne, at a Wednesday afternoon press conference, he announced, "My name is Jon Jaker, and I am a survivor, and today, we won a little bit back."

Jaker went on to tell reporters that he felt safer inside a nuclear submarine in the Navy than he did on land, where he would lay awake and lock the door to the bedroom every night.

Mother: 'They didn't take complaints like that'

The victim was sexually abused more than 10 times by Stitts in 1971, which is when he was 11 years old and serving as an altar boy at St. Leo's Catholic Church in St. Paul. His mother called the chancery shortly after her son was abused to file a report, but she said she was turned away at the time.

"They wouldn't listen to me 43 years ago," she said. "They said they didn't take complaints like that and sent me away. This has to change."

Prior to her son's abuse, Stitts had served at several metro churches -- including Grace Catholic Church, in Edina, and Guardian Angels Catholic Church, in Hastings. He was also accused of being sexually inappropriate with young boys at those parishes, and watching him remain in the church despite her son's abuse was a source of significant strife for the family, according to Yvonne Jaker.

"I suffered many years -- 43 years -- of anguish, thinking I had failed as a mother," she explained.


Her attorneys say the settlement proves it was the church that failed her. The suit filed against the archdiocese details a timeline that shows multiple instances where church leaders moved Stitts to other churches despite the allegations against him.

"The Archdiocese held Stitts out as a man of God to unsuspecting parishioners, instead of protecting him and other children from sexual predation," Attorney Patrick Noaker said. "He was hurt by an assault, he was hurt by betrayal, and he was hurt by silence. The Archdiocese rightfully is taking responsibility for someone they employed."

Before Stitts died in 1985, he served at churches in St. Paul, Edina, Hastings, Long Lake and New Brighton. Attorneys claim church officials failed to use ordinary care in supervising him as he invited boys to sleep overnight at the rectory, and the lawsuit accused the archdiocese of negligence in retaining him and therefore exposing children to harm.

Case is 1st to be settled under Minnesota Child Victims Act

In a statement from Bishop Andrew Cozzens, the archdiocese confirmed the settlement and said it is the first to be settled under a law that eliminates the civil statutes of limitation regarding the sexual abuse of minors.

"The settlement mediation involved attorneys for the victim and for the archdiocese, as well as the archdiocese's vicar general, who functions as the archbishop's chief of staff," the statement read in part. "We regret that the victim's pleas for help were not heard earlier by the archdiocese. We are grateful now that we were able to listen to Doe 100."

Although the terms of the settlement are not confidential, the archdiocese said it will not disclose the terms out of deference to the victim. Since U.S. bishops passed the Charter for the Protection of Children and Young People in 2002, no dioceses have engaged in confidential settlements. The agreement means the trial, which was set for Dec. 15, 2014, will not occur.

"The archdiocese apologizes for the harm suffered by abuse victim/survivors and their families and friends and asks for forgiveness for the Church's shameful failures of the past," Cozzens said. "We were grateful this week to hear this victim and make a positive step toward helping."