Ramsey County Priest Abuse Trial Put Off; Winona Diocese Wants It Moved
By Emily Gurnon
Pioneer Press
August 26, 2014

http://www.twincities.com/localnews/ci_26411058/ramsey-county-priest-abuse-trial-put-off-winona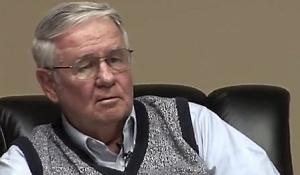 Thomas Adamson (Courtesy of Jeff Anderson and Associates)



The Diocese of Winona has made another attempt to move a civil court trial involving one of its former priests out of Ramsey County.

The trial of Doe 1, a man who claims he was sexually molested by former Rev. Thomas Adamson, was scheduled to begin Sept. 22 in Ramsey County District Court. It has been delayed until Nov. 3.

The Winona diocese asked the state Court of Appeals on Tuesday to force the trial judge to reverse his previous ruling on where the trial should be held. In the alternative, the diocese asked the appeals court to temporarily halt the case proceedings.

Judge John Van de North on Aug. 4 denied the Diocese of Winona's petition to move the trial to another county. Thomas Braun, attorney for the diocese, argued Tuesday in his petition to the appeals court that the "excessive pre-trial publicity" has made it impossible for the diocese to get a fair and impartial trial.

Plaintiff's attorney Jeffrey Anderson said the action was another attempt "to obstruct, delay, prevent exposure and disclosure" of church officials' role in hiding clergy sexual abuse of children.

Doe 1 sued Adamson, the Diocese of Winona and the Archdiocese of St. Paul and Minneapolis in May 2013, claiming sexual abuse by Adamson at St. Thomas Aquinas in St. Paul Park. Anderson has used the case to successfully argue for disclosure of records by both the diocese and archdiocese on priests with substantiated claims of abuse.

Emily Gurnon can be reached at 651-228-5522. Follow her at twitter.com/emilygurnon.