Davis Priest Sentenced to Probation, 90 Days in Jail for Sex with Minor
By Sarah Dowling
Daily Democrat
August 29, 2014

http://www.dailydemocrat.com/breakingnews/ci_26433401/davis-priest-sentenced-probation-90-days-jail-sex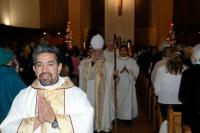 Davis priest Hector Coria Gonzalez, front, was sentenced for unlawful sex... (Courtesy of Facebook)



Girl tells court it was consensual

A Roman Catholic priest began to cry on Friday as his attorney read the words of the teenage girl in which he admitted to having a sexual relationship while working at a Davis church.

Rev. Hector Coria Gonzalez, 45, entered his plea at a conditional hearing in June, where he admitted to one felony count of unlawful sexual intercourse with a minor, identified as M.L., a 17-year-old parishioner at St. James Parish in Davis.

The remaining charges — two counts of unlawful sexual intercourse, and a single misdemeanor count of oral copulation with a minor — were dismissed.

Gonzalez was present and out of custody at Friday's hearing, where he was sentenced three years of felony probation, with 90 days in county jail for his acts, which M.L. claims were consensual.

Prior to sentencing, Gonzalez's attorney Linda Parisi read a letter written by M.L., which detailed her response to the investigation and outcome of the case. Gonzalez, who was assisted by a Spanish-language interpreter, was visibly shaken by her words.

From an early age, it was M.L's dream to work in law enforcement, specifically the FBI, but those "dreams were shattered" on May 9, the day of Gonzalez's arrest.

"I was disappointed in how this matter was investigated," the victim wrote. "The police pulled me out of class that day, and questioned me without my parents. I asked for a lawyer, but they continued to question me."

M.L. emphasized she was not abused or manipulated by Gonzalez in any way, and she "did not need or want protection."

Later that week, she was pulled out of class by Child Protective Services, and again questioned about her relationship with Gonzalez, which began when she was 16 years old.

"Davis is a small town and word got around who the minor was," she wrote. "The chain of events is what victimized me, not Hector."

The letter asked Yolo County Superior Court Judge Paul Richardson to forego jail time, stating Gonzalez has a "big heart" and has had a "positive impact" on the Davis community.

When M.L. began to list Gonzalez's positive attributes, Parisi had to stop reading for a moment, passing a box of tissues to her client, who started to shake, tears welling up in his eyes.

"He always thought the best of people," she wrote. "I am asking for no jail time, Hector has suffered enough."

M.L. also asked Richardson to lift the no-contact order presently in place, indicating the best way for her to move past this trauma is to talk to Gonzalez and possibly continue their relationship.

"I have never feared Hector, I am not a victim of his," she said. "Just because something is not typical does not mean it's bad."

After reading the letter, Parisi discussed sentencing with counsel, referring to a report from the Yolo County Probation Department, which outlined suggested parameters for sentencing. Parisi asked to lift the no-contact order.

"M.L. is a strong, capable woman," she said. "This particular victim is not vulnerable and there were no reported injuries."

Deputy District Attorney Diane Ortiz disagreed, stating although there were no physical injuries, "emotional harm done by this relationship in violation of the law is significant."

Ortiz continued to list reasons why M.L. is a victim, even if the sexual acts were consensual.

"I feel very sad for the victim in this case," she said. "I want to remind the court and others he was the adult in this relationship. It's disheartening that she feels responsible for it and feels she is a victim of the justice system."

Ortiz emphasized Gonzalez not only violated the trust of M.L. and her family, but the trust of the Catholic church.

Calling his behavior "a crime and a sin," Sacramento Catholic Church officials told the Sacramento Bee they will ask the Vatican to defrock Gonzalez after he pleaded guilty in June.

"Only one failed here," Ortiz said. "And it was not the child. The damage is already done, let her move on with her life."

After listening to counsel, Richardson emphasized Gonzalez's position of "significance" and "trust" in the community.

"I find that this was a violation of trust," Richardson said. "Given the age difference and lack of life experience of the victim, I find the terms outlined by the probation department applicable."

Richardson sentenced Gonzalez to 90 days in the Yolo County Jail, with three years of formal probation, and he is required to attend sex offender counseling. He also ordered Gonzalez to stay away from the victim until November, when she turns 18.

"People of a certain age because of a lack of experience in life need some protection," Richardson said. "We have in this case a person who simply knew better."

Contact Sarah Dowling at 530-406-6234.