Victim Finds Closure in Death of "Jackal" Priest
By Heidi Ulrichsen
Northern Life
September 5, 2014

http://www.northernlife.ca/news/localNews/2014/09/05-hod-marshall-dead-sudbury.aspx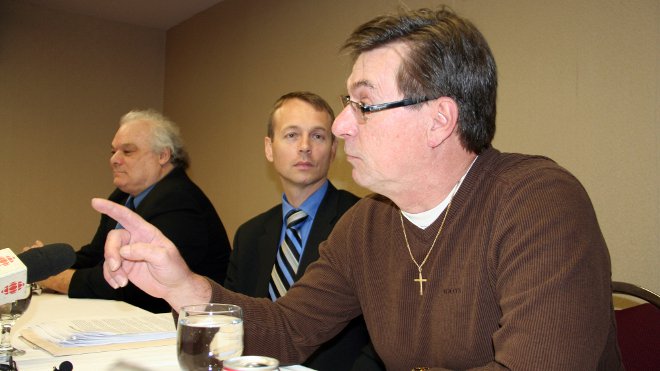 Litigation lawyer Robert Talach (centre) sits with victims of Father William Hodgson Marshall — Ted Holland (left) and Denis Beland — at a March 2012 press conference announcing lawsuits against the former priest for sexual abuse. File photo.



One of the Sudbury victims of a former Roman Catholic priest and St. Charles College staff member found guilty of sexual abuse said learning of his death earlier this summer at the age of 92 has brought a bit of closure.

The Windsor Star reported last month William Hodgson (Hod) Marshall died in Toronto on July 28.

But the victim, who cannot be identified due to a court-imposed publication ban, said his anger lingers despite his abuser's death.

Marshall worked at St. Charles College for a total of 14 years in the 1960s and 1970s, part of the time as the school's principal. He was given the nickname "Happy Hands" in the 1950s for his tendency to touch students.

He was convicted in Windsor in 2011 to 16 counts of indecent assault of minors and one count of sexual assault for incidents that occurred between 1952 and 1986 in Sudbury, Windsor and Toronto.

Marshall served a total of 16 months behind bars before being released in October 2012 on probation. After his release, he lived at Cardinal Flahiff Basilian Centre in Toronto, a home for retired and infirm priests.

On top of the criminal convictions, Marshall's victims launched civil lawsuits against the priest in 2012.

Also included in the lawsuits are the Basilian Fathers of Toronto, the Sudbury Catholic District School Board, the Roman Catholic Diocese of Sault Ste. Marie and Bishop Ronald Fabbro, all being Marshall's employers or supervisors.

According to The Windsor Star, Marshall asked to be removed from the priesthood, a request granted by the Pope in late 2013.

The victim who reached out to Northern Life said he was sexually molested by Marshall as a young teen attending St. Charles College in the mid-1960s.

"There's nothing reverend about him," he said. "He was a jackal."

Now 67, he said his life has been impacted less than some of Marshall's victims, as he had a successful 40-year career at Inco, although he admits he's had two failed marriages.

He said he only opened up about the abuse to family members five years ago, when he heard media coverage of the Marshall case. His parents never learned what happened to him as a child, though.

"Marshall was a good friend of the family," he said. "He was down at our cottage all the time ... My mother loved Father Marshall. She thought he was God. A blueberry pie couldn't go in the oven fast enough when she saw him coming."

While the man said he's sure all of Marshall's victims "are certainly glad he's gone," he said he's angry the Roman Catholic church is failing to live up to what he sees as its responsibilities.

He'd like the church to properly compensate the priest's victims for what they've gone through, something he says they've so far failed to do.

"They're hoping all of us die so they don't have to pay out," he said.