Hc Notice on Accused Catholic Priest's Plea against Extradition to US
By New Delhi
Odisha Sun Times
September 11, 2014

http://odishasuntimes.com/85968/hc-notice-accused-catholic-priests-plea-extradition-us/

The Delhi High Court Thursday sought response from the central government on the plea of Catholic priest Rev Joseph Palanivel Jeyapaul, accused of molesting a child in the US when he was there during 2004, against his extradition order.

Justice Pratibha Rani issued notice to government and asked it to respond on the plea of Jeyapaul, 59, challenging the order of trial court here recommending his extradition to the US to stand trial there.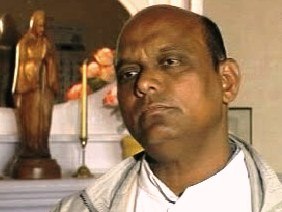 Rev Joseph Palanivel Jeyapaul



The trial court recently said that "prima facie" case was made out for his extradition. If extradited, Jeyapaul will stand trial on charge of a "first degree criminal sexual conduct" in Minnesota, USA.

The priest, a fugitive from US law, has been charged with molesting a 14-year-old girl in the US in 2004 when he was at a pastoral ministry at Roseau county of Crookston Diocese in Minnesota. The priest had allegedly met the girl at a youth conference in 2004, and abused her for nearly a year till he left for India on Aug 28, 2005, after which he maintained a low profile.

A year later in December 2006, the teenage victim filed a criminal complaint against him accusing him of sexual assault.

In 2010, Archbishop of Madras Mylapore A.M. Chinnappa had asked Jeyapaul to return to the US to face the charges.

On Feb 1, 2011, the US embassy in New Delhi sent a diplomatic note to the external affairs ministry requesting extradition of Jeyapaul claiming that he was wanted to stand trial on charges of criminal sexual conduct.

On receipt of the request, the ministry March 8, 2011 approached the trial court here for determining whether a prima facie case exists for Jeyapaul's extradition.

Jeyapaul was arrested on March 16, 2012 at Chimitahalli near Sathyamangalam in Erode district and has since been lodged in Tihar jail. The charge against him carries a maximum punishment of 30 years in jail.

According to the extradition treaty between India and the US, an offence punishable with more than one year in jail is extraditable.