Priest facing sex abuse suit resigns from St. Thomas
By Tad Vezner
Pioneer Press
September 17, 2014

http://www.twincities.com/crime/ci_26555088/priest-sued-over-alleged-abuse-13-year-old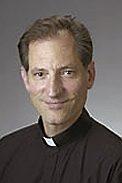 Rev. Michael Keating
A University of St. Thomas professor accused of molesting a young girl when he was studying to be a priest has resigned.
Father Michael Keating, who has been a member of the Catholic Studies department since 2005, "has informed the university of his decision to resign from St. Thomas," according to a release posted Wednesday on the university's website.
A statement by Keating said:
"After careful consideration of my current situation in light of my employment options and long-standing goals, I have decided to resign my faculty position with the University of St. Thomas effective immediately. I have greatly enjoyed my time at the university and take with me fond memories of the St. Thomas community."
In October, a lawsuit was filed in Ramsey County District Court by a Chisago County woman referred to as Jane Doe 20. She alleged that from 1997, when she was 13, to 2000, Keating -- who was studying to be a priest and nearly 30 years her senior -- repeatedly molested her in her home.
No criminal charges were filed in connection with the allegations.
Keating, 58, took a leave of absence when informed of the lawsuit and his classes were assigned to other instructors. He has denied the allegations, and his attorney has called them "false and highly defamatory."
Days before St. Thomas President Julie Sullivan was inaugurated in October, she said in an email to faculty, staff and students that she was "shocked" by news of the suit and added that the university "will conduct whatever inquiries we determine are appropriate.
Later that month, St. Thomas spokesman Doug Hennes said the university had hired an outside law firm to conduct an independent review.
Asked Wednesday about the investigation, Hennes declined to comment -- including on whether the investigation had been completed.
The release Wednesday stated only that Sullivan "thanked Keating for his years of service to the university."
After the announcement Wednesday, David Clohessy, national director of the Survivors Network of those Abused by Priests, said Keating's resignation "achieves virtually nothing."
"It's incumbent on Archbishop John Nienstedt to quickly announce whether Twin Cities Catholic officials find the child sex abuse accusations against him credible. ... And it's deceitful for St. Thomas university officials to ignore the credible child sex abuse allegations against him."
In 2007, the Clergy Review Board of the archdiocese concluded there was insufficient evidence that Keating had sexually abused a minor and recommended he not be suspended. It did recommend, however, that he be restricted from "retreats, spiritual counseling or mentoring, particularly of adolescents or young adults."
In May, Center for Catholic Studies founder Don Briel retired amid an internal investigation into whether he or others at the university knew of that recommendation.
Tad Vezner can be reached at 651-228-5461.
Contact: tvezner@pioneerpress.com