Shock Probation Hearing Set for Priest Abuser
By Matthew Glowicki
The Courier-Journal
November 3, 2014

http://www.courier-journal.com/story/news/crime/2014/11/03/convicted-sex-offender-rev-james-schook-asks-shock-probation/18413901/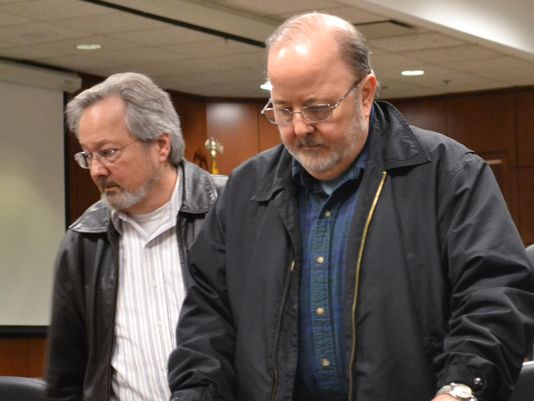 Former Catholic priest James Schook, right, leaves a Louisvillecourtroom with his brother on April 15.



Convicted sex offender Rev. James Schook will learn in December if he will be released early from prison on shock probation after serving six months of a 15-year sentence for molesting an altar boy in the 1970s.

Sixty-six-year-old Schook, who is dying of cancer, filed a request for shock probation, which allows offenders to be released after serving one to six months of their sentence.

"Mr. Schook now realizes the importance of obeying and conforming to the community's rules," defense attorney David Lambertus wrote in a motion filed in October.

Monday morning, Jefferson Circuit Court Judge Mitch Perry set a shock probation hearing date for Dec. 19.

He was tried in April for molesting two boys and was found guilty of abusing one. He was sentenced to 15 years on three counts of sodomy and one count of indecent and immoral practices.

RELATED: Abusive ex-priest seeks prison release

If released, Schook would have the support of family and friends, Lambertus said in the motion.

Schook was assigned to the Kentucky State Reformatory in Oldham County, which has a medical facility capable of caring for terminally ill inmates, The Courier-Journal previously reported.

The Archdiocese of Louisville sent a report about Schook's case to Pope Francis, as is required of all sex abuse cases involving clergy, said archdiocese spokeswoman Cecelia Price in a statement.

Due to Schook's age and health, Francis determined the priest will "remain under the restrictions of leading a life of prayer and penance," which means he cannot publicly identify as a priest, wear priest vestments, lead Mass and preform sacraments, Price said.

It is the same status within the church Schook has held since he was permanently removed from ministry in 2010 after the allegations against him were deemed credible.

Colleen Powell, a member of Survivors Network of those Abused by Priests, said Schook is entitled to ask for shock probation, but does not deserve to receive it.

"We very strongly feel, for all the years of torment the victims have gone through, a few months in prison is not adequate," Powell said. "It's not justice."

Reporter Matthew Glowicki can be reached at (502) 582-4989.