Report Says Des Plaines Priest Kissed, Exposed Himself to Teenage Girls
By Charles Keeshan
Daily Herald
November 6, 2014

http://www.dailyherald.com/article/20141105/news/141108897/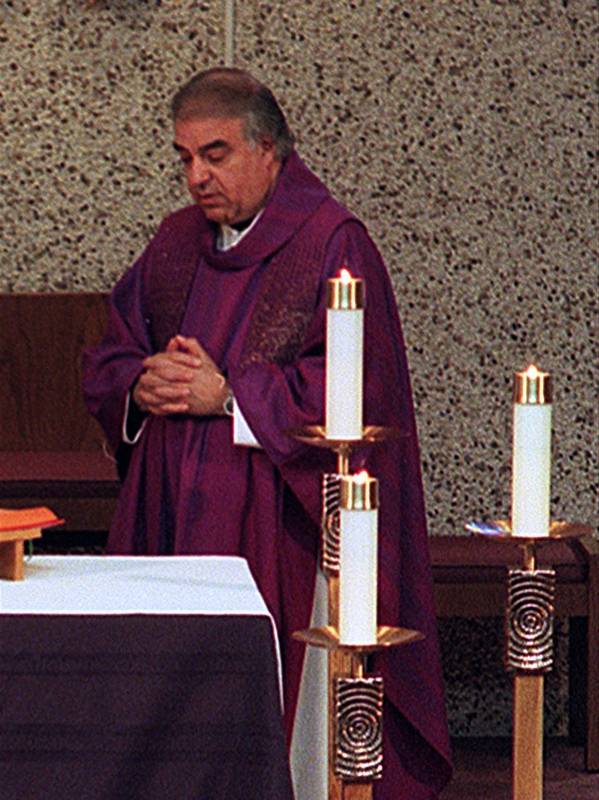 The Rev. William Lupo resigned the priesthood in 2002 after repeated allegations of sexual misconduct with teenage girls and young women from his time at St. Mary Parish in Des Plaines in the mid-1980s, according to documents released Thursday by the Archdiocese of Chicago.



For nearly 25 years, Rev. William Lupo administered to the religious needs of Catholics in Des Plaines, Arlington Heights and Bartlett.

But according to documents released Thursday by the Archdiocese of Chicago, he spent several of those years under restrictions and monitoring by church leadership, the result of accusations of sexual misconduct involving teenage girls and young women from his time at St. Mary Parish in Des Plaines.

Lupo admitted appearing at least partially nude in front of one girl accidentally, and kissing and hugging others, according to the documents, but repeatedly denied any ill intentions in his behavior.

"I came to understand how my casual attitude toward touch and embracing could be misconstrued," he wrote in a 1995 letter to church leaders during his time as pastor of St. Peter Damian Parish in Bartlett.

"Believe me, it was never my intention to cause them any harm, but now I know that my behavior was detrimental to them. I deeply regret these behaviors and the hurt I have caused," he wrote.

Lupo served as associate pastor at St. Mary from 1979 to 1986, when he was assigned to the same position at Our Lady of the Wayside Catholic Church in Arlington Heights. He remained there until July 1990, when he was appointed pastor at St. Peter Damian.

The first allegation against Lupo came in April 1993 when a person called the archdiocese reporting that the priest had exposed himself to two teenage girls at St. Mary on multiple occasions, and had hugged and kissed them "hundreds of times," documents show. Lupo initially denied the claims, but admitted kissing the girls "like a father."

Another accusation soon followed, according to church records, this one from a woman who said Lupo inappropriately kissed her at St. Mary when she was 18.

The archdiocese's review board acted quickly, finding "reasonable cause" to suspect Lupo engaged in sexual misconduct with a minor, and placing him on restrictions that required another adult present whenever he interacted with a minor and assigned a retired priest to live with and monitor Lupo at St. Damian Peter. Two months later, the board decided to allow him to remain at the Bartlett church but kept the restrictions and monitoring in place.

The restrictions were lifted in 1995 but reinstalled three years later for reasons not made entirely clear in church documents.

The archdiocese opened a new sexual misconduct investigation into Lupo in late 2001, after a woman reported she had a sexual relationship with him in 1984, when she was 23 years old.

Lupo denied the allegations, saying only that kisses he had given the woman were "more than a peck on the cheek." He called the woman "needy and flirtatious" and said she "had a big crush on me."

Less than a year after those allegations surfaced, Lupo tendered his resignation to Cardinal Francis George in June 2002, saying he no longer had the will to fight and feared doing so would harm his health.

"Taking this step is in no way to be regarded as an admission to the truth or validity of the allegations made against me," he wrote.

Lupo could not be reached for comment Thursday.