Popular St. Joseph's Priest Still in Limbo
By Thor Jourgensen
Daily Item
November 7, 2014

http://www.itemlive.com/news/popular-st-joseph-s-priest-still-in-limbo/article_88ad553c-6637-11e4-9bd9-4b338a33909a.html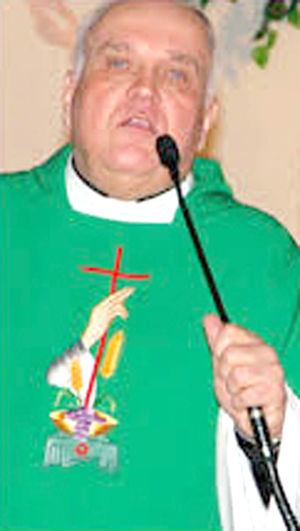 The Rev. James E. Gaudreau



The Rev. James E. Gaudreau's resignation from St. Joseph's Church saddened and angered parishioners who said they have remained faithful to their pastor two years after an allegation of sexual abuse of a child surfaced against him.

"We will miss him, the church without him will not be the same," said parishioner Paula Reyes.

Archdiocese of Boston spokesman Terrence Donilon confirmed Rev. Gaudreau's resignation but declined to provide details. "We generally do not comment beyond statements we have issued," he said.

Essex District Attorney Jonathan Blodgett's office in September 2013 said it did not plan to file criminal charges against Gaudreau. Donilon said Thursday Gaudreau remains on administrative leave.

"Because there is an ongoing canonical process, I am not going to be able to comment further," Donilon said.

Attempts to reach Gaudreau Thursday were unsuccessful. The Rev. Israel J. Rodriguez is St. Joseph's current administrator.

In September 2012, the Archdiocese announced Gaudreau had been placed on leave "...as a result of receiving an allegation of sexual abuse of a child." Parishioners on Thursday said they rarely saw him or spoke to the priest after his leave began, but they did not forget him.

"He has done so much for the community. It's hard to know he is not going to be here," said Reyes.

Reyes and longtime parishioner John Connor, who said Gaudreau "is like a brother" to him, said the accusations and decision to place Gaudreau on leave triggered negative reactions among parishioners.

Some withheld collection contributions until Gaudreau appealed to them to change their minds, Connor said, and Reyes said her son stopped volunteering as an altar server.

"He missed him so much," she said.

Ordained in 1969, Gaudreau was assigned to parishes in Chelsea and Roxbury before coming to St. Joseph's in 1984. Connor said 100 Spanish-speaking families worshipped at St. Joseph's when Gaudreau arrived, and he launched a campaign to pull more Spanish-speakers into the large church on Union Street.

"I remember him saying, 'Some day, there will be standing room only here.' Today, there's 1,800 people — he built it up," Connor said.

Alicia Javier said she met Gaudreau in 2007 after a visit to her home by missionaries prompted her to come to St. Joseph's.

"I was nowhere. I was in limbo. When I came to the parish, he welcomed me," she said.

Javier said Gaudreau rarely rested from his parish work and "was always available to someone." She has seen him once since he was placed on leave.

According to the Archdiocese's 2012 statement, the abuse allegation concerned conduct occurring in "approximately 2006" and reported "only recently" before the Archdiocese announced the allegation. In placing Gaudreau on leave, church officials said the decision did not represent a determination of the priest's guilt or innocence.

Jimmy Gonzalez, who has been a St. Joseph's parishioner for 37 years, said Gaudreau brought a sense of humility and discipline to St. Joseph's. His style angered some parishioners, Gonzalez said.

"The accusation against him was not right; he never did that," Gonzalez said.