US priest exonerated of sex abuse by Vatican 'deeply happy,' thanks God
By Gillian Flaccus
Neepawa Press
November 12, 2014

http://www.neepawapress.com/news/international/us-priest-exonerated-of-sex-abuse-by-vatican-deeply-happy-thanks-god-1.1548483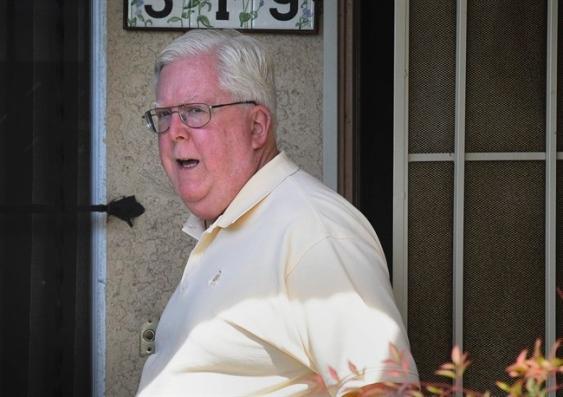 This March 5, 2011 file photo shows Roman Catholic monsignor Richard Loomis at his Carson, Calif. home. Loomis who was removed from duty a decade ago after he was accused of sex abuse has been exonerated following a church trial and review of the case by the Vatican. A spokeswoman for the Archdiocese of Los Angeles, Monica Valencia, said Monday that Msgr. Richard Loomis has not been assigned to any parish.
LOS ANGELES, Calif. - A man who accused a high-ranking Roman Catholic monsignor in Los Angeles of molestation said Wednesday he is furious that an internal Vatican tribunal recently exonerated the priest.
The 58-year-old man told The Associated Press that Msgr. Richard Loomis molested him once between 1969 and 1971 when he was a freshman at Pater Noster High School, a Catholic school where Loomis taught. He said he was never contacted by the Vatican and was unaware it had been examining the case for a decade.
The man spoke to the AP only on condition of anonymity because he said he hasn't told his adult children the allegations.
"They never contacted me for anything. It just infuriates me," he said. "They're laughing in my face."
Loomis has been on leave and living privately outside the church since the man accused him in 2003 in a civil lawsuit that was settled by the Archdiocese of Los Angeles four years later.
Loomis, who always said he was innocent, said in an emailed statement to the AP on Wednesday that his exoneration was a "vindication not only for me, but for the priesthood" and thanked God and everyone who had prayed for him over the past decade.
Loomis has never been criminally charged and the internal church tribunal was the only body to review the evidence because the civil lawsuit was settled, his canon law attorney, Charles Renati, said.
In 1974, another boy told his parents that he had been molested by Loomis and the family reported it to a parish priest, according to church documents. It's not clear whether the Vatican considered those allegations, and they won't say. Loomis was never charged in that case either.
Generally, in a church — or canon — trial, the church appoints the equivalent of a prosecutor to advocate for the alleged victim's interests and the accused also has a canon lawyer.
The case can be decided by a local tribunal and can be appealed to Rome by either side or it can be heard by the Vatican tribunal from the beginning.
It wasn't immediately clear how the case against Loomis unfolded.
Renati, the canon lawyer, declined to answer questions about the tribunal proceedings, citing "pontifical confidentiality."
Between 7 and 10 per cent of priests accused of clergy abuse are cleared through canon proceedings, according to Nicholas Cafardi, a canon law expert and law professor at Duquesne University in Pittsburgh.