Pope's prosecutor tied to abuse cover-up: Report
Press TV (Iran)
November 24, 2014

http://www.presstv.ir/detail/2014/11/24/387306/popes-prosecutor-tied-to-abuse-coverup/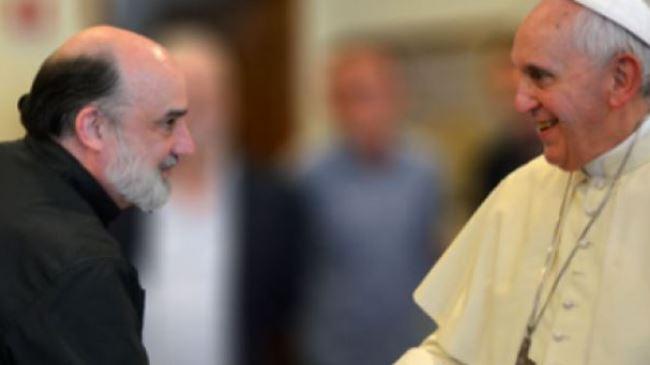 Pope Francis (R) and Rev. Robert J. Geisinger
A priest named by Pope Francis as the Vatican's sex crimes prosecutor was himself involved in covering up abuse committed by a priest, a recent report says.
According to legal documents reviewed and reported by The Boston Globe, American Reverend Robert Geisinger knew of sex abuse complaints against Rev. Donald McGuire as early as 1995, but had failed to report it to police earlier.
The documents say that Geisinger, the second-highest-ranking leader of the Chicago Jesuits in the 1990s, only advised church officials on how to discipline McGuire as late as August 2002.
The documents include church records produced during lawsuits by alleged victims of McGuire, who is currently serving a 25-year prison sentence for molesting two boys. Records also show that McGuire had abuse complaints filed against him back in the 1960s.
The director of Survivors Network of those Abused by Priests, David Clohessy, questioned the Pope's selection of Geisinger back in September, in a statement made after the report was released.
"Why choose one who so clearly and repeatedly refused to call the law or tell the truth about a notorious, now-imprisoned serial predator?" Clohessy asked in his statement.
Last year, Jesuit officials paid $19.6 million to settle a lawsuit by six men who alleged they were abused by McGuire between 1975 and the early 2000s.

More than 4,000 priests in the United States have reportedly faced sexual abuse allegations since the 1950s in cases involving more than 10,000 children.
Earlier this year, Pope Francis warned that there will be "no privileges" for bishops when it comes to child sex offenders. The pontiff also promised more action in response to accusations of cover-ups and excessive leniency by the Vatican.