L.I. Woman Files Lawsuit Alleging Sexual Abuse At Hands Of Priest When She Was 8
CBS New York
January 21, 2015

http://newyork.cbslocal.com/2015/01/21/l-i-woman-files-lawsuit-alleging-sexual-abuse-at-hands-of-priest-when-she-was-8/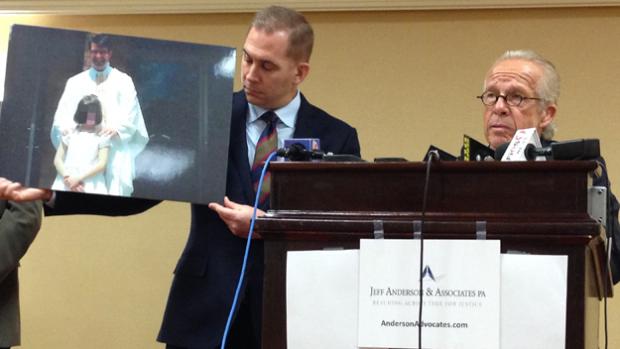 Lawyers John Michael Reck (left) and Jeff Anderson (right) holds photo of Father Gregory Yachyshyn, accused of sexual abuse, with accuser at news conference on Wednesday, Jan. 21, 2015


[with video]



UNIONDALE, N.Y. (CBSNewYork) – A 20-year-old Long Island woman is filing a civil lawsuit, alleging she suffered sexual abuse as a young parishioner at St. Francis of Assisi Church in Greenlawn at the hands of the Rev. Gregory Yachyshyn.

Father Yachyshyn is now a pastor at St. Jude's in Mastic Beach, 1010 WINS' Mona Rivera reported.

"As a child, I was sexually abused by Father Greg. With counseling and support of my family, I now know I did nothing wrong," the woman's attorney John Michael Reck said, reading from his client's statement.

Reck said the alleged abuse took place around the woman's first communion when she was 8 years old.

As WCBS 880's Sophia Hall reported, the woman filed the lawsuit because she said she wants the priest no longer to lead a parish and for no other child to become a victim.

The lawsuit claims the diocese "failed to protect children, ignored credible complaints of sexual abuse and failed to act on obvious warning signs of sexual abuse."

Yachyshyn's attorney, Elizabeth Kase, claims her client is innocent.

"To suggest otherwise today is defamatory and wholly without merit," Kase said in a news release.

"The Diocese of Rockville Centre looks forward to presenting the actual facts of this matter in a court of law, rather than in the atmosphere of an unfortunate publicity stunt. Among other things, the facts will show that the Diocese was in immediate and close contact with the Office of Suffolk County District Attorney when allegations against Fr. Yacyshyn were first made. And importantly, that the allegations were never substantiated," the diocese said in a statement.

A law enforcement source tells 1010 WINS no criminal charges have been filed against Father Yacyshyn but the investigation is ongoing.