Dutchess priest suspended in decades-old sexual abuse allegation
By Nina Schutzman
Poughkeepsie Journal
January 28, 2015

http://www.poughkeepsiejournal.com/story/news/local/2015/01/28/peter-kihm-dutchess-priest/22459361/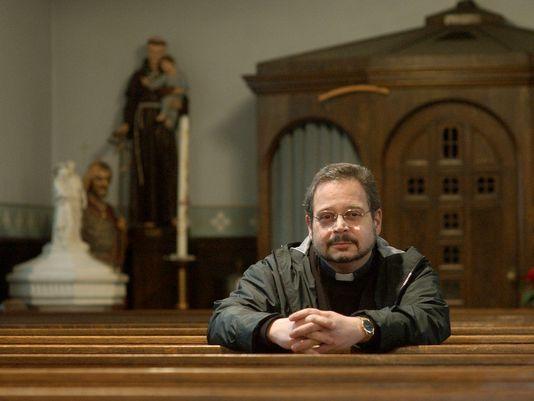 Rev. Peter Kihm sits in a pew at St John the Baptist Church in the City of Poughkeepsie in 2007.
Several months ago, the Archdiocese of New York had "concerns" about possible past incidents of sexual abuse involving a longtime Dutchess County priest, according to a spokesman for the archdiocese.
The archdiocese alerted the Dutchess County District Attorney's Office, which began investigating, said Joseph Zwilling, the archdiocese director of communications.
Then in the past few weeks, the archdiocese "received a credible allegation that, approximately 30 years ago, Father Peter Kihm committed acts of sexual abuse against a minor," according to a statement from the archdiocese Rev. Gerald Walsh.
Kihm has denied the allegations, Zwilling said.
Kihm was suspended and removed as priest of the Good Shepherd Church in Rhinebeck on Jan. 19, because the suspension falls under archdiocese policy after such accusations, Zwilling said.
"We had concerns about incidents in Father Kihm's past, which we brought to the Dutchess DA a few months ago," Zwilling added. "However, it was only within the last few weeks that an individual came forward with credible information that we could act upon."
The allegation involved more than one occurrence and "one individual," Zwilling added.
Kihm could not be reached for comment.
The suspension shocked some locals.
"I find this very hard to believe... but will reserve any judgment either way until the truth is known," said Brian McDonough, a parishioner at Our Lady of Mount Carmel, where Kihm had been the pastor before moving to Good Shepherd Church.
McDonough said he always found Kihm "to be engaging, interesting and and a very nice man. I enjoyed his sermons very much."
The Dutchess County DA's office has been investigating the matter with state police assistance, said District Attorney William Grady.
The incidents allegedly occurred beyond the five-year statute of limitations, so Kihm would not be criminally charged, but "we're obviously very concerned as to whether there are other cases involving similar allegations," Grady said.
"It's important that we investigate this particular type of offense... although an offender may not be able to be criminally prosecuted," victims of sexual abuse should be able to access services and support available, Grady added.
Notice of the allegations was sent to all of the religious establishments with which "Kihm was associated," Zwilling said. A statement was also read to parishioners who attend those churches during Mass this past Sunday.
Before he was assigned to Good Shepherd in 2013, Kihm spent more than a decade as pastor of Our Lady of Mount Carmel Roman Catholic Church in Poughkeepsie, according to Catholic New York.
He was on the faculty at Our Lady of Lourdes High School in Poughkeepsie from 1987 to 1992, and before that, he was the parochial vicar at Saint Mary Mother of the Church in Fishkill from 1984 to 1987.
Since he was ordained in 1981, Kihm has also served at churches in other counties and as administrator at the Church of St. John the Baptist in Poughkeepsie.
Regardless of how long ago the incidents allegedly occurred, Grady requested that anyone with information about the case contact the DA's office at 845-486-2300 or state police at 845-677-7300.
Having the statement read aloud during Mass was "poor form on behalf of the archdiocese," said Kevin McCarthy, a parishioner at Saint Mary in Fishkill. This past Sunday was the start of National School Choice Week, including Catholic schools, and morning Mass "was filled with children from the school.
"Entering a Mass that is intended to celebrate Catholic schools, and having to leave that Mass explaining to my 6-year-old what the pastor just said... is unfair to my" child, McCarthy added. "I definitely see the need for it (the statement) to be read" but the timing was wrong.
A person who answered the phone at the Good Shepherd church on Tuesday said there would be no comment, and hung up.
Right now, Kihm is in a facility — not operated by the Archdiocese — which is "designed to work with priests accused of this, or who have had other difficulties," Zwilling said. Kihm will be evaluated "to determine his risk."
Contact: nschutzman@poughkeepsiejournal.com