More Twin Cities clergy accused of sexual abuse
By Elizabeth Mohr
Pioneer Press
February 11, 2015

http://www.twincities.com/localnews/ci_27507540/more-twin-cities-clergy-accused-sexual-abuse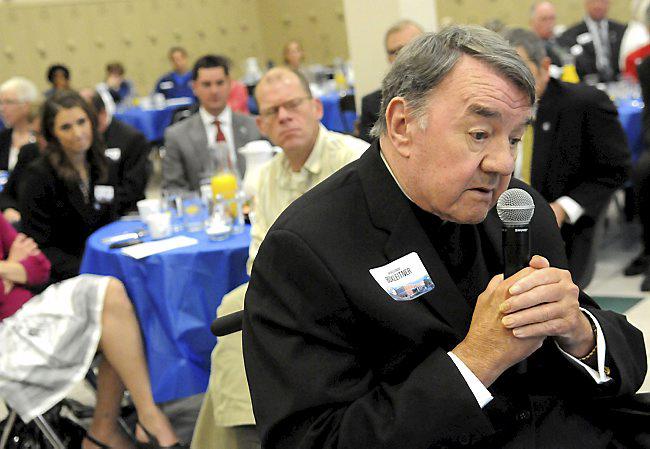 Monsignor John Jerome Boxleitner, former CEO of Catholic Charities in St. Paul, speaks at a community breakfast at the Dorothy Day Center on May 2, 2012. Boxleitner has been accused of abusing a boy at St. Joseph's Home for Children in Minneapolis between 1975 and 1980.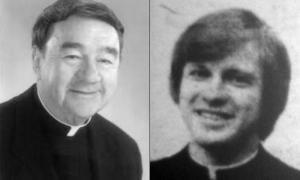 John Jerome Boxleitner and Gerald Grieman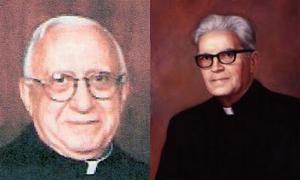 James Namie and Ladislaus Sledz
Seventeen more priests accused of sexual abuse within the Roman Catholic Archdiocese of St. Paul and Minneapolis were identified Wednesday by lawyers for alleged victims.
Though some names have surfaced in previous discussions of abuse, none of the clergy had been formally accused of sexually abusing children until now.
Lawyer Jeff Anderson's firm said a notice of claim has been filed with the archdiocese for each named clergy member. A claim is a precursor to a lawsuit, but because the archdiocese has filed for bankruptcy protection, no new suits can be filed and the claims will be filed with U.S. Bankruptcy Court as part of its reorganization.
The 17 names bring to 55 the number of priests against whom Anderson's firm has filed lawsuits or claims.
"The more information that gets out about the abuse here, the better our kids are protected," said Mike Finnegan, a lawyer with Anderson's firm. "Also, having the names out there allows others who were abused by these people to know they are not alone and that they can come forward and get help now."
The 17 are: Joseph Baglio, John Jerome Boxleitner, Patrick William Coates, Leonard Cowley, Alphonsus Ferguson, Thomas Gardner, Jerry Grieman, Marvin Klaers, James Namie, Jerome Plourde, Noel Shaughnessy, Ladislaus Sledz, Emil Twardochleb, Joseph Warnemunde, Harold Whittet, Karl M. Wittman and Vincent Worzalla.
Boxleitner, a monsignor and former head of Catholic Charities in the Twin Cities, was lauded at the time of his death in 2013 for his work in the community.
Wednesday's statement is the first formal accusation of child sexual abuse against Boxleitner. Finnegan said he is accused of abusing a boy between 1975 and 1980 at St. Joseph's Home for Children in Minneapolis.
Boxleitner's name appeared in news stories about clergy abuse last year, when documents were released under court order as part of a sexual abuse lawsuit. Former priest Michael G. Kolar, who was accused of sexually abusing underage girls in the 1970s, reportedly told church officials his misconduct was the result of his abuse at the hands of Boxleitner.
Boxleitner tried to rape him, Kolar said.
Jennifer Haselberger, the archdioce's former chancellor for canonical affairs, said in a July 2014 court affidavit that there were substantiated allegations of sexual contact between Boxleitner and seminarians but that allegations involving minors had not been established.
Whittet's name came up last year in a deposition of former Archbishop Harry Flynn.
Anderson read from a memo sent to Flynn and other church officials in 2002 naming priests identified internally as having "known abuse histories."
Flynn said of many of the names, including Whittet's: "I'm looking at that name, I believe, for the first time."
Whittet is accused of abusing a girl between 1963 and 1966 at St. John Vianney Catholic Church in South St. Paul, Finnegan said.
Finnegan said about 180 people have given or are giving notice to the archdiocese regarding claims of abuse. Formal written notice of the claims will be filed with the bankruptcy court once the judge establishes a final filing date.
The church filed for Chapter 11 bankruptcy in January after news of a $9.1 million operating deficit for fiscal year 2014 and expectations of more lawsuits over alleged clergy sexual abuse -- more than two dozen have been filed so far.
Church officials called the move the best option to address all claims of sexual abuse at once, "fairly and with finality."
The court ordered the archdiocese, its insurance companies and its creditors into mediation.
When accusations are submitted to the archdiocese, it triggers an internal review, according to Tim O'Malley, director of ministerial standards and safe environment for the archdiocese.
"If it is a credible claim, we then take steps to have the person removed from ministry while we try to figure out what's going on," O'Malley said. "Some of these notice of claims we were aware of or we knew they had been reported to police. But if we have an allegation of abuse of a child, that gets reported to police right away. ... We aren't going to interfere with their investigation."
If the internal investigation determines that a claim is substantiated, meaning "sufficient evidence exists to establish reasonable grounds to believe that the alleged abuse occurred," then the clergy member's name is published on a list maintained by the archdiocese, O'Malley said.
That list currently contains names of 59 clergy with claims of abuse that occurred within the Twin Cities archdiocese and nine outside of the archdiocese.
The archdiocese Wednesday added four names to that list and released them. One name also appeared on Anderson's list: James Namie, who was removed from active ministry in 1970 and permanently removed in 1995. Namie died in 2010. The other three are Michael Bik, permanently removed from ministry in 2002 and currently in Collegeville, Minn.; James Robert Murphy, removed from ministry in 1990 and now in Phoenix; and Raimond Rose, removed from ministry in 2002 and current whereabouts unknown, according to the archdiocese.
Also Wednesday, the Ramsey County attorney's office said it would not be filing criminal charges related to two claims of clergy abuse.
One case stemmed from alleged abuse of a child between 1992 and 1994 by a church official at St. John the Baptist parish school in New Brighton.
"The suspect denied the allegations, there are no witnesses to corroborate the allegations of the complainant, and no other victims of this suspect have come forward," the county attorney's office said in a statement. "Moreover, restrictions contained in legal authorities make cases that rely on the repressed memories of victim very difficult to prove."
The other case related to alleged abuse of a child between 1979 and 1984 by a priest at St. Casimir's Church in St. Paul.
"Because this case is 33 years old and because we likely cannot prove beyond a reasonable doubt that the suspect was acting in a position of authority over the complainant at the time of the offense and that he used that position of authority to cause the complainant to submit, we cannot prosecute the suspect for a violation of (fourth-degree criminal sexual conduct) as that crime was defined in 1981," the attorney's office said.
Contact: emohr@pioneerpress.com