Former Blessed Sacrament pastor Curtis Wehmeyer is defrocked
By Patrick Larkin
Lillie News
March 11, 2015

http://eastsidereviewnews.com/articles/2015/03/11/former-blessed-sacrament-pastor-curtis-wehmeyer-defrocked#.VQDK0Y7F-So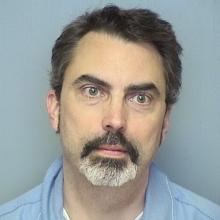 Curtis Wehmeyer
Following a clergy sexual abuse scandal that rocked the East Side's Blessed Sacrament Catholic Church, the priest in question, Curtis Wehmeyer, has been officially been removed from the clergy.
According to a statement from the Archdiocese of St. Paul and Minneapolis issued Wednesday, March 11, the Vatican has defrocked Wehmeyer.
Archbishop John Nienstedt said that "the effect of this decision is that Wehmeyer has been permanently and definitively barred from presenting himself as a priest or exercising priestly ministry."
In February 2013, Wehmeyer was convicted in Ramsey County of 20 felony charges for sexually abusing two boys and for possessing child pornography. He was sentenced to 60 months in prison and is incarcerated at the state correctional facility in Lino Lakes.
Additionally, the 50-year-old Wehmeyer was charged last November in Chippewa County, Wisconsin, with second-degree sexual assault for an alleged incident that occurred in 2011.
A statement from Frank Meuers of the Survivors Network of those Abused by Priests, or SNAP, criticized the Roman Catholic archdiocese's handling of the Wehmeyer case.
"The recklessness and callousness shown by Twin Cities Catholic officials in this case is among the most egregious that we've seen in the past decade," a statement reads. "This move is a decades-late drop in the bucket. When church officials defrock predator priests, it's less about safeguarding kids. It's more about church damage control."
Nienstedt was alleged to have failed to report Wehmeyer's sexual abuse to authorities last January, but he was not charged -- the Ramsey County attorney's office announced it couldn't prove beyond a reasonable doubt that he'd failed to report the abuse.
The SNAP letter goes on to note that, despite its criticism of the archdiocese's handling of sexual abuse cases, it's a positive change that Wehmeyer can no longer be considered a priest.
"Without that Roman collar and the respect that accompanies it, he will find it a bit harder to win the trust of parents, gain access to kids, and sexually assault them after he is released from prison."