Paedophile Priest to Be Sentenced on New Charges
News Letter
March 12, 2015

http://www.newsletter.co.uk/news/regional/paedophile-priest-to-be-sentenced-on-new-charges-1-6629658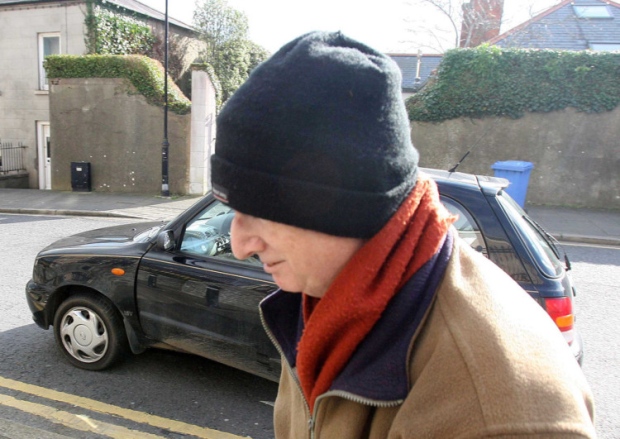 Daniel Curran arriving at a previous court appearance in 2012



A notorious paedophile Catholic priest has pleaded guilty to more offences of chid sexual abuse.

Fr Daniel Curran, 64, Bryansford Avenue, Newcastle, Co Down, appeared at Downpatrick Crown Court.

Defence counsel Jim Gallagher QC asked Judge Piers Grant that Curran be rearraigned on two charges he faced dating back almost 25 years.

Curran, dressed in a long green overcoat and wearing glasses, pleaded guilty to one count of gross indecency towards a male child and also admitted a single charge of indecent assault on the same victim who is now aged 31.

The offences took place between August 1990 and August 1993 at a cottage owned by his family in the seaside village of Tyrella, Co Down when the victim was aged between seven and 10.

Mr Gallagher QC said Curran had committed no further offences in over 20 years since his first arrest by police and had received treatment in England for his addiction to alcohol.

"He no longer drinks alcohol,'' he added.

The defence QC said it would be the fifth time that Curran would be sentenced for crimes of a similar nature relating to the same incident at the cottage.

The court heard that Curran was first sentenced in 1995 to seven years in custody. In 2005, he received an 18-month sentence suspended for three years.

The following year, the priest was handed down a 14-month sentence and in 2012 received a four-year sentence which was later reduced to three years by the Court of Appeal.

Earlier in yesterday's proceedings, Curran's defence team had failed in an effort to have the case against him thrown out.

Mr Gallagher QC had asked the court to stay the proceedings against Curran saying: "He does not remember this complainant. He is not saying that the allegation is not true, it is simply that he can't recall."

Judge Grant ordered that Curran re-sign the sex offenders' register before leaving the courthouse on continuing bail.

The judge also instructed the prosecution to review Curran's Sexual Offences Prevention Order (SOPO) to see if it needed to be amended in the light of his guilty pleas.

Curran is expected to be sentenced later this month.