Joliet Diocese Settles Victims' Abuse Claims Against 'Savage, Scary' Priests for Over $4M
By Lorraine Swanson
Patch
April 15, 2015

http://patch.com/illinois/joliet/joliet-diocese-settles-victims-abuse-claims-against-savage-scary-priests-over-4m-0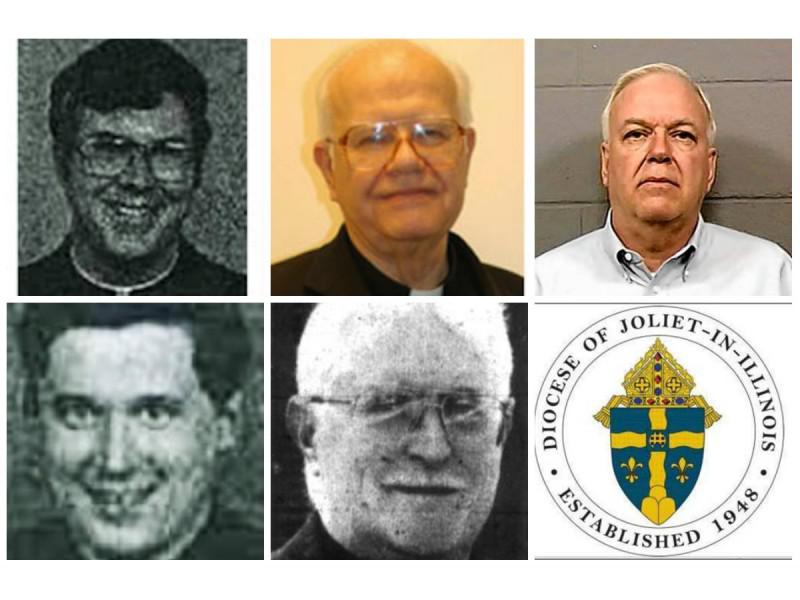 Caption: (Top row, left to right) Fr. Lawrence Gibbs, Fr. James Nowak, Fr. Fred Lenczycki. (Bottom row, left to right) Fr. Michael Gibbney and Fr. Myles White.
Savage. Scary. Those are just a few of the words used to describe five Roman Catholic priests named in an out-of-court settlement for $4.137 million by the Roman Catholic Diocese of Joliet.
James Nowak, Michael Gibbney, Lawrence Gibbs, Myles White and Fred Lenczycki were once trusted priests who allegedly preyed upon young boys spanning Will and DuPage County parishes from the 1960s to 1980s. None of the accused priests are today involved in active ministry.
The boys -- some of them now men in their sixties -- claim that they were abused in school classrooms, private living quarters and a cabin owned by one of the priests' families.
One of the allegations involved an elaborate ruse in which one boy was tricked into stripping out of his street clothes and donning a loin cloth so that one of the abusers could practice "administering" funeral rites.
The settlement culminates a previous lawsuit filed by four men in Will County Circuit Court. Their suits alleged that Diocese of Joliet allowed known or suspected predators and pedophiles to meet with young boys at remote or private locations outside the presence of other adults.
The complaints also maintain that the Diocese of Joliet knew or should have known about the risk of abuse or actual incidents of abuse. Instead, diocesan administrators covered up what they knew, covertly transferring pedophile priests around the diocese and out of state in an effort to protect the Diocese's own interests, leaving innocent children unprotected.
The out-of-court settlement that came about Tuesday involved 14 men in total after others came forward with allegations of abuse.
Each of the five priests accused of abusing the 14 victims had substantiated claims of abuse in the 16 "secret" priest files released in 2013 by the Diocese of Joliet. All of the victims claimed that they were sworn to strict secrecy by their abusers, said one of the plaintiffs' Chicago attorneys Mark McKenna.
Early Signs
Lawrence "Larry" Gibbs, said to be the Joliet's "most notorious priest abuser," was identified early on as a poor candidate for the priesthood even before he was ordained in 1964, according to the plaintiffs' Chicago attorneys.
The Chicago attorneys maintain that the faculty of St. Mary of the Lake Seminary in Mundelein voted against Gibbs continuing in his vocation and at one point had asked him to leave. St. Mary is said to have repeatedly warned then-diocesan Bishop Romeo Blanchette that Gibbs "bears watching." Gibbs was able to continue his religious studies at another seminary and was ordained in 1973 as a priest of the Diocese of Joliet.
"Gibbs was the most savage out of all of them," McKenna said. "He was a sodomist. Fr. Gibbs took kids to his family's cabin in Wisconsin. He'd get kids drunk and take advantage of them in the worst possible way."
McKenna said that most of the allegations involved Nowak, who was accused by eight of the 14 victims in the 1970s and 1980s. Nowak continued to serve as a priest with the Diocese of Joliet until 2007, and served on the board of directors of Montini Catholic High School in Lombard. He left ministry in 2012 after being placed on administrative leave because of numerous claims of sexual abuse against children.
Like Gibbs, red flags arose when Nowak was still in the seminary. He was asked to leave the Capuchin Order in 1960 because he was "not fit in regard to the vow of chastity," according to the Chicago attorneys' blog. There, Nowak reportedly was known to watch other men in the shower or using the restroom, and "would roam the corridors and frequent the showers in order to seek opportunities."
Despite admitting in a letter to Bishop Blanchette that he had been asked to leave his order because of his "problems with chastity," he was still ordained into the Diocese of Joliet.
In 1967, the Diocese allegedly became aware that Nowak was taking groups of children to swimming pools, including the Bolingbrook Park District, "where he would swim and shower with them." The Diocese did not place restrictions on Nowak's interaction with children in "locker room situations" until the 1990s.
"Nowak was the scariest,"McKenna alleged. "He was an attorney in Canon law as well as a priest. The Joliet Diocese knew he was a problem."
Parishes
According to McKenna, Lenczycki and White were convicted of sex crimes against children and served prison terms. White died in 2012.
Lenczycki is believed to have molested an estimated 24 boys in three separate states over his 25 year career as a priest.
Gibbney, too, was ordained into the Diocese of Joliet allegedly over the objections of superiors at his seminary. In 1985, a father accused him of molesting his sons during an overnight camping trip. The Diocese reportedly gave him certain rules to follow about interactions with children, including not taking boys on overnight trips, through the 1990s.
During his time in the Diocese of Joliet, Gibbney was accused of abusing numerous children at parishes in Elmhurst and Bolingbrook, Bensenville, Steger, and Morris.