Hibbing Priest Arrested, Suspected of Sex with Minor
Pioneer Press
May 6, 2015

http://www.twincities.com/localnews/ci_28066576/hibbing-priest-arrested-suspected-sex-minor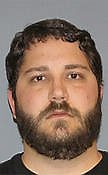 The Rev. Brian Lederer of Hibbing, Minn. (Forum News Service)



A Hibbing priest has been arrested on suspicions of having sex with a minor.

The Rev. Brian Lederer, 29, a priest of the Roman Catholic Diocese of Duluth, was arrested in Hibbing on Tuesday as a result of allegations of sexual misconduct, according to a news release from the diocese office.

Lederer was in the St. Louis County Jail in Duluth on Wednesday on preliminary charges of second-degree felony criminal sexual conduct with a person between ages 13 and 15 by a person of authority.

Hibbing police said they could not comment on the case because it remains an active investigation and that a criminal complaint is expected to be filed in court Thursday or Friday.

"While the circumstances leading to his arrest are currently unknown to us and while we believe Father Lederer is entitled to the presumption of innocence, we take this development very seriously and are monitoring it closely," the diocese said in a statement. "We will cooperate fully with civil authorities in any investigation and, as more facts emerge in this case, we will uphold our responsibilities to civil law, to church law and under our policies and procedures for the protection of young people. We continue to pray for all those affected by sexual abuse and urge anyone who has been a victim of it to come forward to church authorities and to civil authorities."

Lederer was ordained in June 2012 and is parochial vicar, or associate pastor, at Blessed Sacrament Parish in Hibbing.

Lederer also was involved with the Assumption Catholic School associated with the parish.