Twin Cities Archbishop Resigns after Charges of Abuse Coverup
By Maureen McCarthy
Star Tribune
June 15, 2015

http://www.startribune.com/archbishop-deputy-resign-after-charges-of-abuse-coverup/307365911/

Archbishop John Nienstedt, facing mounting pressure for his oversight of sex-offending priests, ended his yearlong fight Monday to retain leadership of the 800,000 Catholics in the Archdiocese of St. Paul and Minneapolis.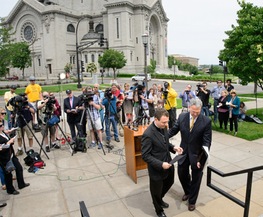 Auxiliary Bishop Andrew Cozzens climbed up the Chancery steps after speaking to the media outside the Archdiocese of Saint Paul and Minneapolis in the wake of Archbishop John Nienstedt's resignation. With him is director of communications Tom Halden.



Nienstedt's resignation, announced in Rome, reflects a change in approach to Catholic bishops accused of mismanaging or protecting priests who abuse children — bishops who have been largely shielded from church reprimand or criminal prosecution.

It comes on the heels of sweeping criminal charges filed against the archdiocese for failing to protect young children, and days after the Vatican announced the creation of a new tribunal to address the bishops' role in child sex abuse.

"I think it is a new era," said Massimo Faggioli, a University of St. Thomas Vatican expert currently visiting Rome. "Benedict XVI started the new policies but he never moved to force bishops out. This sends a signal to … other bishops."

Pope Francis appointed co-Adjutor Archbishop Bernard Hebda, now of Newark, N.J., as the temporary administrator of the archdiocese.

On Monday morning, Nienstedt sent a letter to the priests at the 187 archdiocese parishes explaining that he was leaving because he had become a distraction to the church's real work.

"My leadership has unfortunately drawn attention away from the good works [of the church]," Nienstedt wrote, adding that he leaves with a "clear conscience."

But Catholic observers say that Nienstedt was no doubt feeling heat from Rome. Nienstedt, for example, told the priests he had hoped to inform them in person about his resignation at an assembly in Rochester this week, "but the desire of the Holy See to announce this made it impossible to wait."

Only two other U.S. bishops have resigned in the wake of clergy abuse charges, said the Rev. Tom Doyle, a former canon lawyer at the Vatican Embassy in Washington, D.C., and now an abuse victims' advocate. Archbishop Robert Finn of Kansas City resigned in April, and Archbishop/Cardinal Bernard Law of Boston resigned in 2002.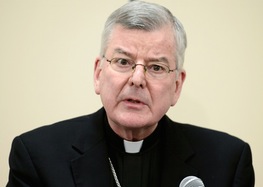 Archbishop John Nienstedt: "My leadership has unfortunately drawn attention away from the good works of His Church and those who perform them. Thus, my decision to step down."



Bishop Lee Anthony Piche, Nienstedt's second in command, also resigned.

"To have two of them going, I've never seen that happen," said Doyle. "I expect it's because both of them were significantly involved in the problem."

Pivotal period

Named to head the archdiocese in 2007, Nienstedt has presided over a tumultuous period for the church. He led an ill-fated effort to ban same-sex marriages in Minnesota, earning the reputation as a social conservative in the process. For the past two years, he has been a lightning rod for critics of the exploding clergy sex abuse scandal, facing numerous demands to step down.

Last year, Nienstedt himself was accused of sexual improprieties with priests and seminarians before he had become archbishop. The archdiocese hired the Greene Espel law firm to investigate. Its report was completed last August, but never made public.

Sources familiar with the investigation told the Star Tribune Monday that Nienstedt's administration halted Greene Espel's work last year while investigators were still pursuing leads. The Star Tribune learned that three priests and a seminarian were among the people who gave Greene Espel signed affidavits about Nienstedt's behavior — statements that would have been included in any report to the archdiocese.

Nienstedt has denied all allegations of personal sexual impropriety. He said at the time that the allegations were "a personal attack against me due to my unwavering stance on issues consistent with church teaching, such as opposition to so-called same-sex marriage."

The archdiocese late Monday declined to comment on the Green Espel investigation.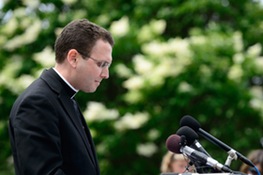 Auxiliary Bishop Andrew Cozzens spoke to the media outside the Archdiocese of Saint Paul and Minneapolis in the wake of Archbishop John Nienstedt's resignation. With him is director of communications Tom Halden.



Nienstedt's resignation comes as the Twin Cities Catholic church is facing mounting charges of clergy sexual misconduct, bankruptcy proceedings and, most recently, the criminal and civil charges in Ramsey County for failure to protect children. It marked the first time that a U.S. archdiocese has been criminally charged with such offenses.

Jennifer Haselberger, a former canon lawyer in the chancery, first blew the lid on mishandling of priest sex abusers two years ago. She said she was "relieved" by the resignation.

"There's a lot of people who view this as a victory," said Haselberger. "Victory would be if no child had been hurt."

Minnesotans who say they were sexually molested by priests also were relieved — and surprised.

"My first reaction was, 'Wow, I never thought I'd see this,'?" said Al Michaud, who has sued the archdiocese for abuse he says took place at his Edina church when he was 12 years old in the 1970s. "It's a good step. But there are more people from the top who need to come down.

Catholic donor Tom Madison, part of a group of well-heeled Twin Cities businessmen who have pushed for Nienstedt to resign, said the resignation will end a withdrawal of financial support and volunteerism among some Catholics who wanted the archbishop out.

"This will be well-received," said Madison, the former head of U.S. West. "It will make a big difference in financial support for the church."

Nienstedt's resignation should not affect the sweeping Ramsey County attorney action filed June 5, charging the archdiocese with failure to protect three children who were abused by a former priest, Curtis Wehmeyer, now in prison. County attorney John Choi called the resignations "an affirmative step toward a new beginning and much needed reconciliation."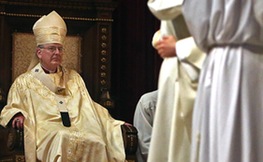 Archbishop John Nienstedt resigned Monday, culminating months of mounting pressure, and criminal charges, over his handling of clergy sexual abuse cases.



Though no individuals were named in the criminal charges filed against the archdiocese, Choi said, "We are alleging a disturbing institutional and systemic pattern of behavior committed by the highest levels of leadership of the Archdiocese of St. Paul and Minneapolis over the course of decades."

Looking ahead

The archdiocese said it could not provide details about Hebda's arrival date, the future plans of Nienstedt, or other succession strategies.

"This has been a painful process," said Auxiliary Bishop Andrew Cozzens. "I know you have a lot of questions, and I have to ask for your patience. "

If history is any guide, Hebda is expected to arrive soon, said Doyle.

Hebda said Monday that he hoped to start meeting with local parishioners in the coming weeks in preparation for his interim post.

"The law of the church reminds us that an administrator is not to introduce change, but rather to facilitate the smooth continuation of the ordinary and essential activities of the church," he said.

As for Nienstedt, there are no provisions in canon law addressing the future of bishops who resign under such circumstances, said Doyle. Some bishops who resign, in general, stay around to assist with the transition, he said. Others leave.

"I would not be surprised if he left the Twin Cities and disappeared from sight," said Doyle.

St. Paul attorney Jeff Anderson, who has sued the archdiocese for 30 years on behalf of abuse survivors, said Monday that the resignations are "an important step in the necessary reckoning in the child abuse crisis," but cautioned that they aren't solutions to a systemic problem.

"It falls short of full accountability because this whole problem is not about one man or two bishops," Anderson said in a written statement. "It is about the system that's entrenched in the old ways and adhering to secrecy and self-governance operating above the law.