A Look at Key Archdiocese Leaders, How They Handled Wehmeyer
By Amy Forliti
Washington Times
June 21, 2015

http://www.washingtontimes.com/news/2015/jun/21/a-look-at-key-archdiocese-leaders-how-they-handled/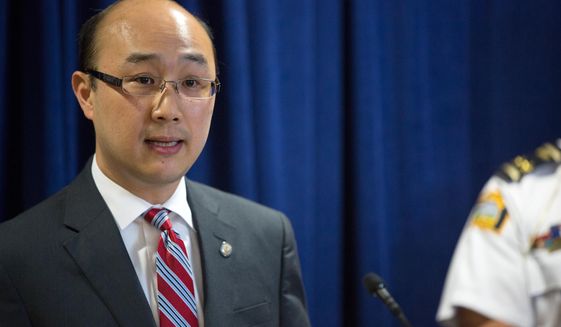 FILE - In a Friday, June 5, 2015 file photo, Ramsey County Attorney John Choi announces criminal charges against the Archdiocese of Saint Paul and Minneapolis during a news conference in St. Paul. Prosecutors charged the archdiocese as a corporation ... more >



When Archbishop John Nienstedt resigned last week as leader of the Archdiocese of St. Paul and Minneapolis, Ramsey County Attorney John Choi said he'd "allow the facts to lead the way" in his ongoing investigation into an alleged cover-up of sexual abuse.

Choi filed criminal charges against the archdiocese as a corporation this month, and hasn't ruled out charges against individuals if evidence warrants. So far, that hasn't happened.

"In a criminal investigation that's being undertaken by someone as careful as John Choi, it's very hard to guess what they are doing … because there's a lot that goes on under the surface," according to Mark Osler, a criminal law professor at the University of St. Thomas.

The initial charges could be a prelude to something more, or not: "A prosecutor is going to hold their cards pretty close to the vest," Osler said.

The court documents list several instances in which church leaders missed opportunities to report information about Curtis Wehmeyer, 50, a former priest convicted in 2012 of molesting two boys.

Here's how prosecutors say key church leaders handled the Wehmeyer case:

Nienstedt became archbishop in 2008. About a year later, Wehmeyer asked to become a pastor. Canon lawyer Jennifer Haselberger repeatedly warned Nienstedt that Wehmeyer had engaged in risky behavior, which included a 2004 incident in which he approached two younger-looking males about sex in a bookstore.

Nienstedt appointed Wehmeyer as pastor of two parishes in 2009.

In a 2014 interview with The Associated Press, Nienstedt said he knew about the bookstore incident but that Wehmeyer had been evaluated and there was nothing "that would indicate he would be a danger to young people."

When he heard about the child molestation allegations, Nienstedt said he was devastated.

"I was really blindsided. I knew that he had this attraction toward young men, but I didn't know he had an attraction toward minors, and I was just completely stunned when I learned of what he had done," he told the AP.

Nienstedt, who has not been available for interviews in recent weeks, has been the focus of two investigations himself.

He was cleared in what police called an unlikely allegation that he touched a boy in public. The other investigation involved accusations of inappropriate sexual behavior with seminarians and priests, which Nienstedt denies. A Minnesota Public Radio report last week found Nienstedt interfered with the investigation. The archdiocese hasn't released its findings.