Defamation Case against RTE by Former Archbishop Settled at High Court
RTE News
July 2, 2015

http://www.rte.ie/news/2015/0702/712167-defamation-case-against-rte-settled-at-high-court/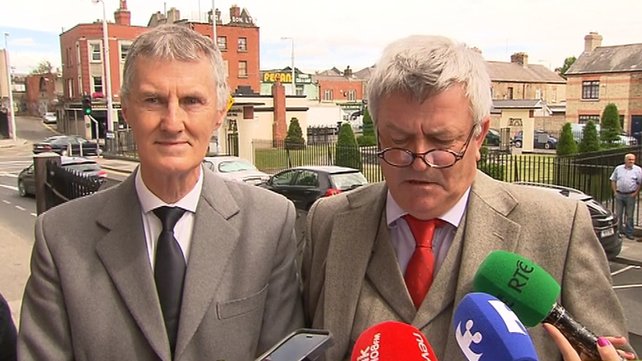 Richard Burke had alleged that he was defamed in the RTE programme



A case being taken against RTE by a former Catholic archbishop who had alleged that he was defamed by the broadcaster has been settled at the High Court.

Richard Burke, 66, a member of the Kiltegan Fathers, had alleged that he was defamed in the RTE Prime Time Investigates: Mission to Prey programme broadcast in May 2011.

Mr Burke claims that material used in the programme wrongly branded him as a paedophile.

He said he had not known he was to be featured in the documentary until it was broadcast, despite numerous emails having been sent by RTE to the Kiltegan Fathers.

Mr Burke said he had not been directly contacted by the station, or given an opportunity to respond to the allegations against him.

Yesterday, the court heard evidence from Dolores Atwood, who claimed she had been abused by Mr Burke in Nigeria when she was aged 13 or 14.


Mr Burke had told the court that he had had consensual sex with Ms Atwood when she was 20.

RTE had denied defamation.

In its statement read to the court, Senior Counsel, Paul O'Higgins said the Mission to Prey programme alleged Mr Burke had sexual relations with Ms Atwood who was underage.

RTE accepts it incorrectly stated that he had declined to be interviewed for the programme and for that the broadcaster apologised.

He said RTE acknowledged that Mr Burke had consistently and vehemently denied the allegation and had done so throughout his evidence at the hearing.

Mr O'Higgins said Ms Atwood stood over her allegations and RTE considered her to be a sincere and honourable person.

Mr Burke and RTE agreed the matter was now closed and no further order of the court was required.

RTE has not paid damages in the case, but has made a contribution towards Mr Burke's costs.

Outside court, Dolores Atwood said that she was very happy.

She said she was very pleased RTE believed her and stood by her and she said she was very happy the truth had finally come out.

RTE's Deputy Director General and Managing Director of News and Current Affairs, Kevin Bakhurst, said RTE was very grateful to Ms Atwood for coming over from Canada to give evidence.


He said RTE considered Ms Atwood to be a truthful and honourable woman.

Mr Burke's solicitor, Robert Dore, said his client had consistently and vehemently denied the accusations made in the Mission to Prey programme.

He said his client was a truthful person.

He said the matter had been settled to Mr Burke's satisfaction and he had no exposure to costs.