Priest Who Has Served in New Haven, East Haven Suspended over Sex Abuse Claim at Waterbury School
By Ed Stannard
New Haven Register
July 2, 2015

http://www.nhregister.com/general-news/20150702/priest-who-has-served-in-new-haven-east-haven-suspended-over-sex-abuse-claim-at-waterbury-school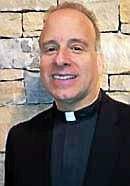 The Rev. Jeremiah Murasso Photo from Graduate Theological Foundation



A Waterbury priest who has served in New Haven and East Haven and once ran the St. Francis Home for Children has been suspended as a result of accusations that he sexually abused a minor at the school.

The Rev. Jeremiah N. Murasso has been pastor of two Waterbury parishes, Blessed Sacrament and the Shrine of St. Anne, since 2012.

He was director of the St. Francis Home, also known as Highland Heights, from 1992 to 1995. He also served at St. Joseph Church in New Haven from 1982 to 1985 and at St. Vincent de Paul Church in East Haven from 1985 to 1989.

"The Archdiocese of Hartford has learned that an allegation of sexual abuse of a minor has been made against the Rev. Jeremiah N. Murasso," said the statement by the archdiocese. It said he had been placed "on administrative leave until this allegation is resolved."

Criminal charges have not been filed, according to the state judicial branch website.

The archdiocese said it "condemns the type of misconduct that has been alleged." It asked anyone who has been a victim of child abuse to contact police or the state Department of Children and Families and the victims' assistance coordinator of the archdiocese at 860-541-6475.

However, David Clohessy, director of the Survivors Network of those Abused by Priests, based in St. Louis, asked for anyone with information about Murasso or other suspected abusers to contact "secular officials, not church officials" because of the history of bishops allowing priests to stay in positions of authority after they were accused of being abusers.

"It's alarming that a credibly accused child molester headed a children's home, especially one for already victimized youngsters," Clohessy said.

The St. Francis Home, which closed in 2012, was an orphanage on Prospect Street for more than 160 years but failed to get a grant renewed when rules changed to require a doctor on staff.

Murasso, who is a professor of logotherapy, received an award from the Graduate Theological Foundation for "outstanding contributions to the fields and interfaces of psychology and religion" from the Viktor Frankl Institute of Logotherapy in 2013, according to the foundation's Facebook page.

In a video on the GTF website, Murasso defines logotherapy as "giving meaning to that moment … that spark of joy as one remembers one's past and relives it, even for a moment." According to a parish bulletin, he is dean of the Waterbury Deanery of the archdiocese and a school and pastoral psychologist.

Murasso, who could not be reached for comment, also has served parishes in Meriden, Naugatuck and South Windsor.

Call Ed Stannard at 203-680-9382.