Religious order releases names of 7 'credibly accused' priests
By Chao Xiong
Star Tribune
July 07, 2015

http://www.startribune.com/catholic-religious-order-releases-names-of-seven-credibly-accused-priests/312321191/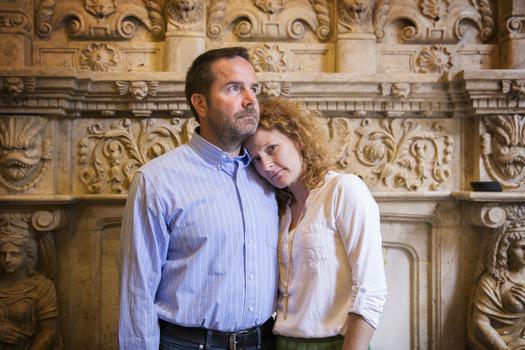 Joe McLean, a survivor of alleged abuse by a priest of the Oblates of Mary Immaculate, with his wife, Colleen, after a press conference at the office of Jeff Anderson & Associates in St. Paul on Tuesday, July 7, 2015.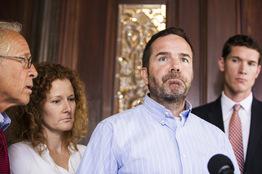 Joe McLean of Minneapolis, was joined at Tuesday's news conference by his wife, Colleen, and attorneys Jeff Anderson, left,
It took 13 years, but Joe McLean finally felt vindicated Tuesday when the priest whom he said sexually abused him decades ago was publicly named as a "credibly accused" predator.
Former Oblates of Mary Immaculate priest Michael Charland and six other priests credibly accused of sexually abusing children were identified publicly Tuesday by attorney Jeff Anderson as part of a settlement reached earlier this year with the Catholic religious order.
It's the first time the Oblates publicly named Charland as a credibly accused perpetrator, even though McLean shared his story with officials at the Archdiocese of St. Paul and Minneapolis in 2002.
"It's a huge relief," McLean said of identifying the priests. "For so long it's been very difficult, because you feel so alone."
McLean, 51, of Minneapolis, said it was especially important to publicly identify Charland because he works as a psychologist at Affiliated Counseling Center in Woodbury.
Charland's biography on the center's website describes him as a licensed clinical social worker and marriage and family therapist, with interests in couples and marriage therapy, sexuality, "life-direction/meaning" and parenting, among other areas.
"He is experienced in and able to provide faith-based counseling if so requested," the biography says. "He believes strongly in counseling approaches that not only deal with the issue at hand but at the same time build strengths in the client."
Charland and clinic president and owner Marcie Stresemann did not return messages seeking comment.
The names of the priests' identified — Charland, James Vincent Fitzgerald, Paul Kabat, Orville Lawrence Munie, Thomas Meyer, Robert Reitmeier and Emil Twardochleb — and their files and assignments were released to Anderson as part of a settlement between Anderson and the Oblates in February.
The settlement came after Doe 30 — not McLean — sued the Oblates and the Dioceses of New Ulm and Duluth alleging that Fitzgerald sexually abused him in 1976 when he was 13. Fitzgerald, who is dead, had been employed by the three defendants.
The dioceses have not settled their cases.
"We agreed to the public release of this information … because transparency and a safe environment for minors who are involved in church activities were of deep concern to Doe 30 and are of deep concern to us as well," the Oblates said in a written statement.
The priests worked in Minnesota, Missouri, Illinois, Wisconsin and South Dakota, among other states. They are either deceased or no longer members of the Oblates.
Like Fitzgerald, other Oblate priests worked in some capacity through the archdiocese or dioceses. McLean said he was sexually abused by Charland when he was on a retreat at St. Mary's Catholic Church in St. Paul in the early 1980s. At the time, Charland was director of campus ministry at the College of St. Thomas (now the University of St. Thomas).
McLean said that he was 17 at the time and that the assault occurred during a confession. He was not familiar with Charland before the retreat.
McLean told his parents what had happened six months after the alleged assault, and he told his wife, Colleen, when they started dating in the early 1990s. But he was struck with an urgency to alert church officials when his first child was born in the fall of 2001.
"Once I became a father, that was a game changer," he said.
In early 2002, McLean, then in his late 30s, told the Archdiocese of St. Paul and Minneapolis that he had been sexually abused by Charland, who was laicized in 1989. That information eventually led to Charland losing his job with the 4-H youth program, McLean said.
Anderson said Charland's file suggests that he has more victims.
"If anybody is encouraged by this news getting out there, it's worth it," McLean said. "It's entirely worth it."
Contact: cxiong@startribune.com