Rogelio Livieres Plano, Bishop Ousted by Pope Francis, Dies at 69
By Sam Roberts
New York Times
August 18, 2015

http://www.nytimes.com/2015/08/19/world/americas/rogelio-livieres-plano-bishop-ousted-by-pope-francis-dies-at-69.html?_r=0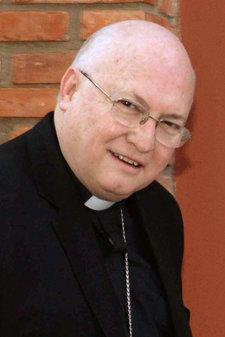 Rogelio Livieres Plano last year.
Rogelio Livieres Plano, a conservative bishop in eastern Paraguay who was deposed by Pope Francis last year, died Friday in Buenos Aires. He was 69.
His death, from complications of diabetes, was confirmed by Archbishop Edmundo Valenzuela of Asunción, Paraguay, according to The Associated Press.
Bishop Livieres sheltered an Argentine priest, the Rev. Carlos Urrutigoity, who had been accused of molesting seminarians in Pennsylvania and Argentina. He then promoted Father Urrutigoity, making him his vicar general, responsible for handling accusations of sexual abuse by clergymen in the diocese. Bishop Livieres said Father Urrutigoity had been recommended by cardinals in the Vatican, including Cardinal Joseph Ratzinger, who became Pope Benedict XVI.
In 2004, the Diocese of Scranton, Pa., settled a lawsuit against Father Urrutigoity and another diocesan priest for $400,000.
Bishop Livieres was removed in September 2014, primarily, the Vatican said, because he was viewed as a renegade who had clashed with his colleagues.
Pope John Paul II had promoted him to bishop in Ciudad del Este, Paraguay, in 2004. Shortly afterward, the new bishop opened his own diocesan seminary, which was distinguished by a more orthodox style than the country's main one in Asunción.
A Vatican spokesman said Pope Francis' decision to oust Bishop Livieres had been made "under the weight of serious pastoral concerns" to preserve "the unity of both the bishops and of the faithful."
While he was embraced by conservative Roman Catholics, Bishop Livieres clashed repeatedly with more liberal clergy. After his ouster, a review by The Associated Press found spending irregularities during his tenure.
Rogelio Ricardo Livieres Plano was born in Corrientes, Argentina, on Aug. 30, 1945. He moved to Paraguay to pursue his studies, graduated with a law degree from Our Lady of the Assumption Catholic University in Asunción, and was ordained in 1978.
After his removal, he posted a rebuttal on his diocesan website, saying that he was a victim of ideological persecution by liberal parishioners. He later sought to reconcile with the pope, expressing his "full communion" with Rome.