Maurizio child sex trial: 45 potential jurors excused but no jury seated after 'long' first day
By David Hurst
Tribune-Democrat
September 08, 2015

http://www.tribdem.com/news/maurizio-child-sex-trial-potential-jurors-excused-but-no-jury/article_9cba71d4-567f-11e5-9ca6-6b0635705309.html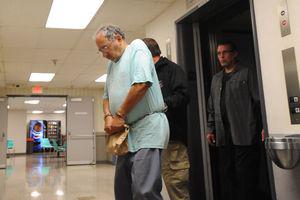 John Rucosky
A U.S. District Judge spent nearly seven hours Tuesday questioning a pool of prospective jurors for a Central City priest's sex tourism trial.
But it wasn't enough to seat a jury.
After excusing
45 potential jurors for extreme hardship or cause – such as bias or prejudice toward one side or the other – Judge Kim R. Gibson said a second batch of prospective jurors would need to be interviewed Wednesday to complete the process.
Out of an original pool of 70 men and women, 25 remained at the close of court.
Gibson is seeking 12 jurors and four alternates to hear the trial evidence.
But the remaining group still falls short because federal prosecutors and the Rev. Joseph Maurizio's defense team still have an unspecified number of "strikes" they can use to disqualify jurors viewed as unfavorable to their case.
"It's been a long day," Gibson told the remaining group.
The field of mostly middle-aged residents from Bedford, Blair, Cambria, Clearfield and Somerset counties arrived for jury duty at 8:30 a.m. and were excused for the day shortly after 6 p.m. They spent the first few hours taking a written questionnaire that included queries from attorneys from both sides in the trial.
By 11 a.m., they were seated in court.
Five people raised their hands when asked if they've ever met Maurizio.
And, a short time later, several of them were among a group of eight people who told the judge they could not render an impartial verdict regardless of evidence presented before them.
They briefly and quietly spoke with Gibson at sidebar and were excused Tuesday evening along with other possible jurors who expressed issues.
The judge indicated at least one person was excused for medical reasons.
A gray-haired man wearing a priest's attire was also among the initial 70 person pool.
He was also excused.
Maurizio has been making mission trips to Honduras for more than 15 years, working with orphanages and charities.
But prosecutors say he used the mission as a vehicle to prey on street orphans for sex – and that he transferred money across national borders to fund his fetish.
According to his federal indictment, he lured the minors with cash and candy.
But the longtime priest has maintained he is innocent of the charges.
According to defense attorney Stephen Passarello, the allegations materialized after Maurizio's mission broke ties with a Honduran charity, which turned to bribing children to fabricate stories about the priest in retaliation.
He has said the allegations were investigated by the FBI in 2009 and no charges were filed.
Gibson told Tuesday's remaining jurors they won't have to return to court until Thursday. If all goes as planned, attorneys would consider that group and Wednesday's finalists after the second day of selection with the goal of seating a panel Thursday morning.
Contact: dhurst@tribdem.com