Ex-priest Befriended Victim's Family
By Mike LaBella
The Eagle-Tribune
October 9, 2015

http://www.eagletribune.com/news/lawyer-ex-priest-befriended-victim-s-family/article_a0631190-7144-5f88-a027-62d828c1a316.html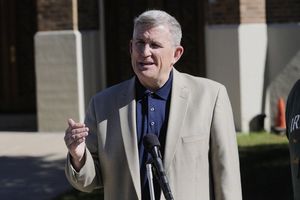 TIM JEAN/Staff photo Explaining the lawsuit against the Archdiocese of Boston is Robert Hoatson, president of Road to Recovery, Inc., during a press conference outside All Saints Church in Haverhill.



Standing a few dozen feet from where a 5-year-old girl was allegedly sexually assaulted by a former priest, Robert Hoatson told her story.

As he stood on the sidewalk outside All Saints Church on Thursday morning, Hoatson, co-founder and president of Road to Recovery Inc., said the victim is now 21 and has decided to come forward and file a civil lawsuit because she cannot live with the emotional pain caused by the assaults.

The suit claims some of the assaults on her by former All Saints priest Kelvin Iguabita happened in the basement of the church, which Hoatson stood in front of during his press conference on Thursday. Other assaults by Iguabita on the girl happened in the rectory behind the church, according to the suit.

Minutes after Thursday's press conference, the Rev. Timothy Kearney, pastor of All Saints, who was in the church sacristy preparing to oversee a funeral, told an Eagle-Tribune reporter that All Saints and the larger Catholic church is saddened by the stories of sexual assault victims. The church continues to pray for them and their families, he said.

Boston lawyer Mitchell Garabedian, who has represented several victims of the Catholic church sexual abuse scandal, filed a civil suit on the alleged victim's behalf on Wednesday. The suit claims Iguabita sexually assaulted her repeatedly from 1999 to 2001 when she was a little girl.

"My clients are to be commended for raising the awareness of the horrors of sexual abuse by publicly coming forward," Garabedian told The Eagle-Tribune following the press conference. "Hopefully, their examples will help sexual abuse victims realize that they are not alone and do not need to be."

Lawyer: Girl grew up in Haverhill

Garabedian said the girl lived in Haverhill at the time of the assaults and grew up in Haverhill. He said the alleged victim, now a woman, was left in the care of Iguabita several times by her family.

"The woman's mom would let the woman be with Fr. Iguabita as a little girl when the mom was volunteering at the church,'' Garabedian said in an email to The Eagle-Tribune. "Fr. Iguabita cunningly became a friend of the family and would socialize with the family at the family home and on trips.''

This is the second time Iguabita has been accused of assaulting a young female parishioner of All Saints Church. He was convicted in 2003 of raping a 15-year-old girl on church property in 2000 and in 2005 was defrocked by the Archdiocese, or thrown out of the priesthood. He was sentenced to 12 to 15 years in prison, served his sentence and is now free. Garabedian said he believes Iguabita, a native of Columbia, is in Hondouras.

The civil suit on behalf of the alleged second victim, then 5 years old, says two priests in administration of the Catholic Archdiocese of Boston share responsibility for the assaults.

In the civil complaint, Garabedian said the two priests failed to properly supervise Iguabita, which allowed him to become a threat to her. The complaint identifies those priests as the Rev. William Murphy, now the bishop of Rockville Centre, N.Y., who was the first assistant to Cardinal Bernard Law; and the Rev. Paul Miceli, now dean of seminarians at the John XXIII Seminary in Weston and former secretary of ministerial personnel under Cardinal Law.

Garabedian said he filed a civil complaint on behalf of his client in Middlesex Superior Court in Woburn on Wednesday and that his client has reported the alleged abuse to law enforcement authorities, who are looking into the matter.

Garabedian said that as a result of Iguabita's abuse, the victim suffers severe emotional pain, has had to pay for medical and therapeutic care, has lost long-term earning capacity and deals with other problems. They include depression, sleep difficulties, agitation, anger and suicidal tendencies, he said.

"What's also significant here is that it's a woman," Garabedian told The Eagle-Tribune. "Most (alleged church abuse victims) who come forward are males."

In the civil complaint, Garabedian said that from about 1999, when his client was approximately 5 years old to about 2001, when she was 6 years old, Iguabita repeatedly sexually assaulted her.

The complaint states the abuse took place in the All Saints Church rectory, in the basement of the church and at other locations.

The complaint says that prior to Iguabita being assigned to All Saints, he is alleged to have engaged in sexually abusive conduct with another person while serving as a deacon and training to become a priest for the Archdiocese of Boston.

The complaint also notes that the supervisory priests, Murphy and Miceli, knew or should have known that Iguabita would interact and was interacting with minor children of All Saints Parish, including the plaintiff.

Methuen man says he was a victim

During Thursday's press conference in front of All Saints, Hoatson introduced a Methuen man he said is working up the courage to talk about his own sexual abuse as a child at the hands of a priest.

"I'm trying to get myself strong enough to come out with my story," said Billy Giblin, 47, of Methuen. "I deal with it (the emotional pain of having been sexually assaulted) every day and it isn't an easy thing."

Giblin told The Eagle-Tribune that the assaults took place around 1993, when he was in ninth grade.

Hoatson said he has been counseling Giblin, who may be ready to tell the full story as early as a few weeks from now.

"Hopefully, in a little while, he'll have the courage to talk about it," Hoatson said.

Hoatson said his organization has worked with more than 3,000 people worldwide who were the victims of sexual abuse by priests and that he continues to receive three to four calls per week from new victims.

"They include the victims of Jerry Sandusky (convicted serial child molester and former college football coach) from Penn. State," Hoatson said. "We work with all kinds of victims. As you know, it (sexual abuse by priests) is an epidemic in our society."

Hoatson's announcement on Thursday followed the recent visit of Pope Francis' to the United States.

"Here we are, a week or two after the Pope was here and more evidence of sexual abuse," he said.

Road to Recovery is a nonprofit organization that offers counseling and referral services to survivors of sexual abuse. Launched in 2005 to provide direct assistance to victims of clergy sexual abuse, the organization has expanded its mission to include survivors of all sexual abuse.